National Spelling Bee crowns youngest champion in history
Nihar Janga, 11, tied with his 13-year-old rival Jairam Hathwar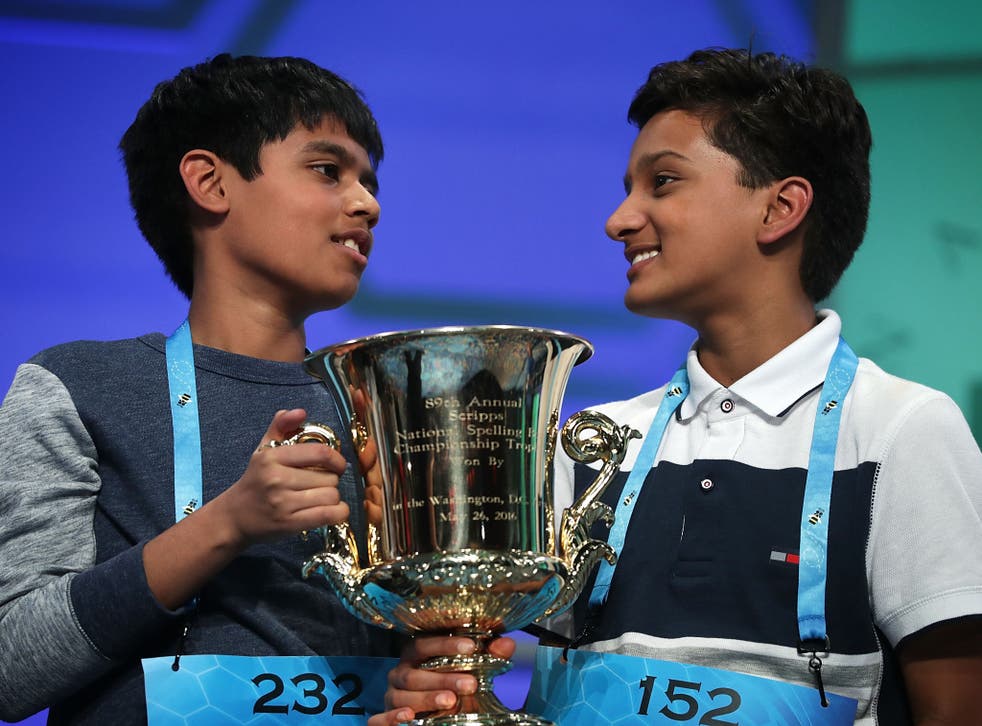 Although the Scripps National Spelling Bee ended in a tie for the third year in a row, the two boys left standing celebrated like champions.
The winners, Nihar Janga from Austin, Texas, and Jairam Hathwar of Painted Post, New York, were determined victors after the Bee had no more words to give the spellers.
Nihar, only 11-years-old, became the youngest winner of the Bee.
"I'm just speechless. I can't say anything," he said, holding the oversized trophy. "I mean, I'm only in fifth grade!"
Jairam, 13, is no stranger to the Bee, as his brother, Sriram, stood in the same spot two years ago when he too spelled his way to victory.
Both contestants misspelled two words each – Jairam first, then Nihar, who denied that he missed the two words on purpose. He and his rival had become quite good friends over the year they trained for the match, and the timing of his misses seemed suspect. Nihar said he just did not know the words.
"I wanted to win, but at the same time, I felt really bad for Jairam," Nihar said.
Nihar's winning word was "gesellschaft", which means a social relationship based on impersonal ties. Jairam won by spelling "Feldenkrais", or a system of therapeutic body motions.
Nihar's celebration – crossing his arms into an "X" – caught the attention of his favourite athlete whose move he was mimicking, Dallas Cowboys wide receiver Dez Bryant.
"#NiharJanga you just made my whole day buddy," Bryant tweeted. "Congrats on winning the #spellingbee champ.. Some how some way I have to get you to a game #x."
Jairam also channeled his favourite athlete, golfer Jordan Spieth, who is known to rebound after failed shots.
"When I missed those two words, I didn't let them get to my head, and I just focused on the next word," Jairam said.
The co-champions will both receive $45,000 and a trophy.
Both Nihar and Jairam's families immigrated from south India, according to the Associated Press. Indian American children have performed quite well in the National Spelling Bee, having won for the past nine consecutive years, and 14 of the last 19 games.
Join our new commenting forum
Join thought-provoking conversations, follow other Independent readers and see their replies