Navy investigator John Beliveau pleads guilty in multi-million dollar bribery investigation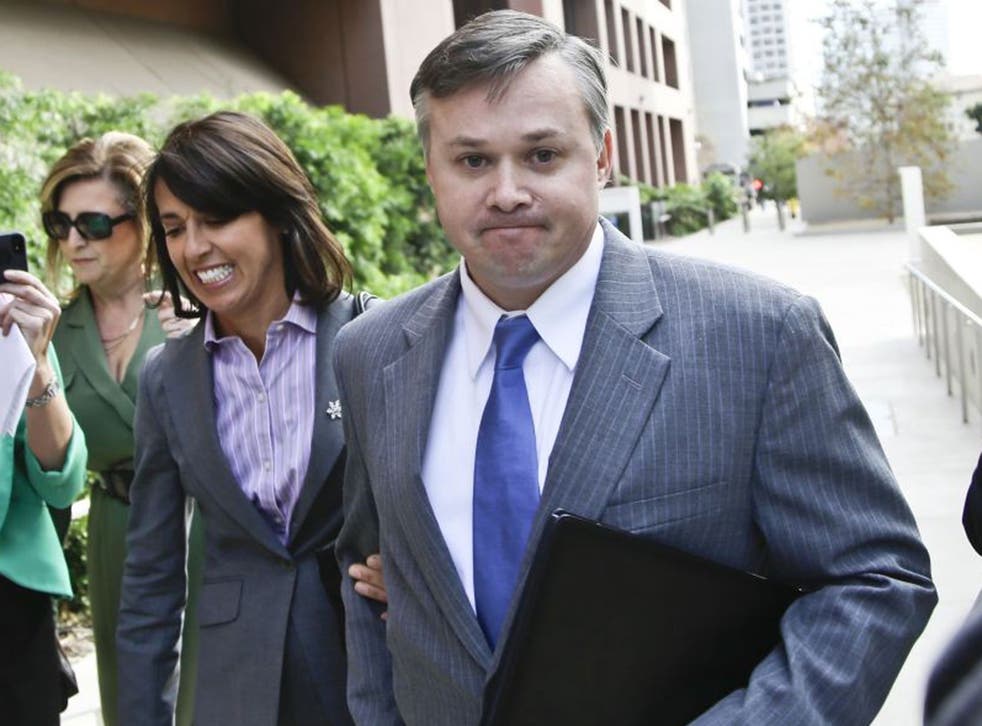 A senior US Navy criminal investigator has pleaded guilty to bribery stemming from a multi-million dollar fraud probe targeting an Asian defence contractor.
John Beliveau II entered his guilty plea in federal court Tuesday in San Diego after being arrested in September and charged over bribery. A sentencing hearing will be held on 7 March.
Beliveau admitted supplying Malaysian contractor Leonard Francis with information of the extensive fraud investigation NCIS agents were conducting on his company, Glenn Defence Marine Asia (GDMA) in exchange for plane tickets, hotels and prostitutes for Beliveau from Francis.
Francis has pleaded not guilty in the case that claims GDMA overbilled the navy by up to $20m (£12.3m) for port services. GDMA has provided fuel, food and supplies for navy ships for 25 years.
According to the plea, Beliveau provided Francis with detailed advice on how to counter the investigation, sharing the names of witnesses with him and downloading hundreds of pages of confidential NCIS files.
Beliveau, 44, who faces a maximum sentence of 20 years, said after the hearing: "I'm here to do the right thing, and that's what I did today."
His lawyer, Gretchen von Helms, declined to say whether her client would now assist the investigation, but said he was prepared to "prove he is honourable".
"This was a mistake generated by Mr Francis, who knows of a man's weakness and exploited that," she added.
Two navy captains have also been charged. Prosecutors say they provided Francis with confidential ship route information or directed the movement of navy vessels to Asian ports with lax oversight so the company could inflate costs and invent tariffs by using fake port authorities.
In exchange for the assistance from the navy staff, Francis, known in military circles as "Fat Leonard", lined up prostitutes, hotel stays and tickets to shows, including a Lady Gaga concert in Thailand, according to a criminal complaint.
His cousin, Alex Wisidagama, a company manager who was also arrested, has also pleaded not guilty in the case. Navy commander Jose Luis Sanchez and Cmdr Michael Vannak Khem Misiewicz have entered not guilty pleas.
Two admirals have lost security clearance and two other navy officials have been relieved. None have been charged with a criminal offence.
Francis and Beliveau exchanged thousands of text messages, and at one point, the contractor told an associate in an email: "I have inside Intel from NCIS and read all the reports," according to court documents.
"This is an audacious violation of law for a decorated federal agent who valued personal pleasure over loyalty to his colleagues, the US Navy and ultimately his own country," said US Attorney Laura Duffy.
When authorities became aware that Beliveau was leaking information, they planted bogus reports in NCIS files, including one indicating that they were dropping the case against Francis, according to the prosecution.
Shortly after that, Francis flew to San Diego, believing he was meeting navy officials for business and was arrested, according to court records. Beliveau, who worked for NCIS for 11 years, was taken into custody that same day in Virginia.
Additional reporting by Associated Press
Register for free to continue reading
Registration is a free and easy way to support our truly independent journalism
By registering, you will also enjoy limited access to Premium articles, exclusive newsletters, commenting, and virtual events with our leading journalists
Already have an account? sign in
Register for free to continue reading
Registration is a free and easy way to support our truly independent journalism
By registering, you will also enjoy limited access to Premium articles, exclusive newsletters, commenting, and virtual events with our leading journalists
Already have an account? sign in
Join our new commenting forum
Join thought-provoking conversations, follow other Independent readers and see their replies