Correction office staff suspended over Nazi salute photo
US prison staff and cadets fired over Nazi salute photo
'This kind of behaviour will not be tolerated on my watch,' says governor Jim Justice
More than 30 prison cadets and staff will be fired after they were photographed giving a Nazi salute in their uniforms.
The class regularly made the hand gesture "as a sign of respect" for their instructor, Karrie Byrd, at the academy in West Virginia, according to an investigation into the incident.
Ms Byrd claimed that she was unaware of the salute's historical and racial implications and said she thought it was a greeting.
However state investigators concluded that the instructor "encouraged it, revelled in it, and at times reciprocated the gesture".
Republican governor Jim Justice issued a statement announcing he had approved recommendations that all 34 cadets in the photo should be sacked.
World news in pictures

Show all 50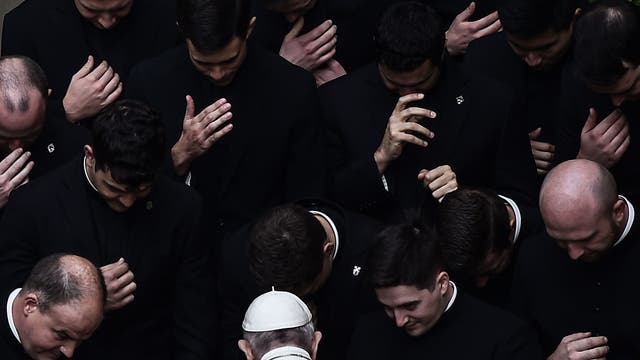 Two further staff members – in addition to Ms Byrd – will also be fired, while four instructors who failed to report the behaviour will be suspended without pay.
The governor said: "As I said from the beginning, I condemn the photo of Basic Training Class 18 in the strongest possible terms.
"I also said that this act needed to result in real consequences – terminations and dismissals. This kind of behaviour will not be tolerated on my watch in any agency of state government."
The photograph shows trainees at the West Virginia Division of Corrections and Rehabilitation making the Sieg Heil gesture underneath a sign reading "Hail Byrd".
According to the report, Ms Byrd explicitly directed her class to use the gesture, even after 10 cadets resisted. Seven of them eventually gave a closed fist salute instead.
When she later asked a secretary to print the photo with the caption "Hail Byrd," she explained it was "because I'm a hardass like Hitler".
The report concluded: "There is no dispute that the 'Hail Byrd' gesture and photograph were highly offensive and egregious in appearance, but the investigation did not reveal any overt motivation or intent that this was a discriminatory act towards any racial, religious, or ethnic group."
Join our new commenting forum
Join thought-provoking conversations, follow other Independent readers and see their replies