US prison staff pictured doing Nazi salute
Governor calls for all involved to be dismissed from duty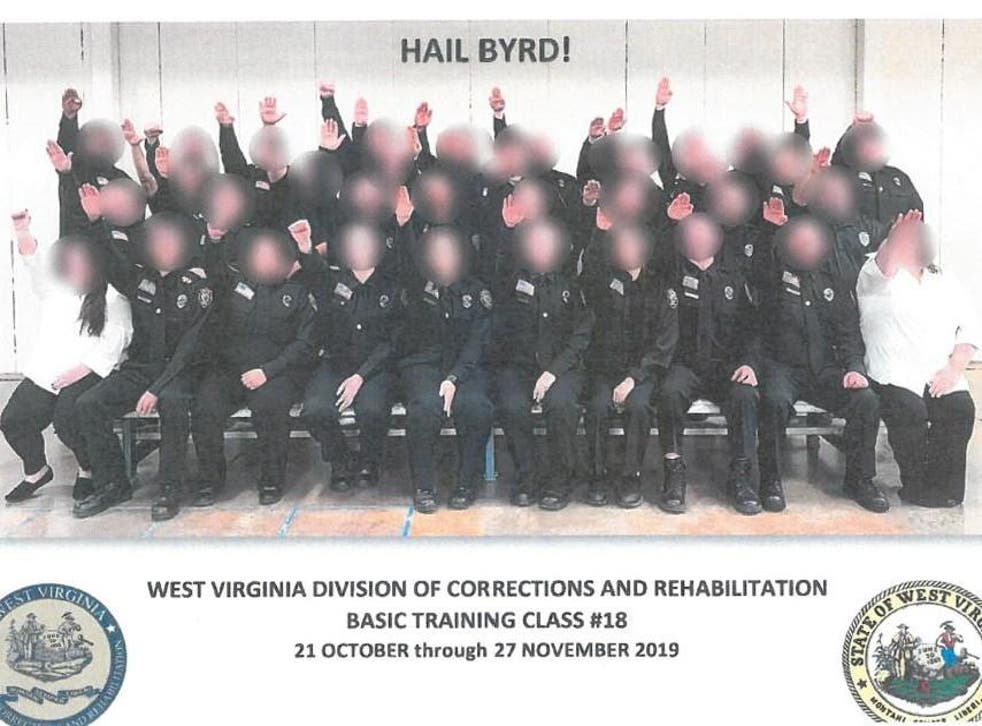 Several prison employees have been fired and more than 30 others suspended after their training class was photographed making a Nazi salute in their uniforms.
Two academy trainers and one cadet were dismissed from duty after the image emerged, the US Department of Military Affairs and Public Safety (DMAPS) announced on Friday.
The photograph shows trainees at the West Virginia Division of Corrections and Rehabilitation making the Sieg Heil gesture underneath a sign reading "Hail Byrd" – a reference to a class trainer.
Every trainee involved has been suspended without pay amid an investigation by DMAPS and the Division of Corrections and Rehabilitation, amounting to 34 individuals.
Secretary of state for military affairs and public health, Jeff Sandy, said he was "outraged" by the incident.
The far-right plot to normalise white supremacy in the US

Show all 23
"I cannot stress enough how this betrays the high standards and professionalism of the men and women of corrections, who successfully carry out their vital and daunting public safety mission every day and around the clock," Mr Sandy said.
"We are committed to a full and complete investigation that we will present to Governor Justice and to the public once it is finished."
West Virginia governor Jim Justice called for everyone involved in the photograph to be fired.
An investigation into the incident is nearly complete and will then be released to the public, Mr Sandy said in a statement.
The incident comes as the number of violent hate crime incidents hit a 16-year high in the US, according to the FBI.
A report on hate crimes in 30 major US cities recorded the steepest rise since 2015 last year, with nearly all extremist killings carried out by the far-right.
The Centre for the Study of Hate and Extremism's report declared 2018 "the worst year ever for antisemitic killings in the United States".
In 2015, a classified FBI report found that domestic terrorism investigations "often" found links between law enforcement and white supremacists, while in November it emerged that Stephen Miller, a senior adviser to Donald Trump, frequently encouraged the Breitbart news site to push white supremacist propaganda.
Register for free to continue reading
Registration is a free and easy way to support our truly independent journalism
By registering, you will also enjoy limited access to Premium articles, exclusive newsletters, commenting, and virtual events with our leading journalists
Already have an account? sign in
Register for free to continue reading
Registration is a free and easy way to support our truly independent journalism
By registering, you will also enjoy limited access to Premium articles, exclusive newsletters, commenting, and virtual events with our leading journalists
Already have an account? sign in
Join our new commenting forum
Join thought-provoking conversations, follow other Independent readers and see their replies