Netanyahu dwells on Iran threat to win votes
Analysis
Ben Lynfield
Thursday 26 February 2015 20:22 Comments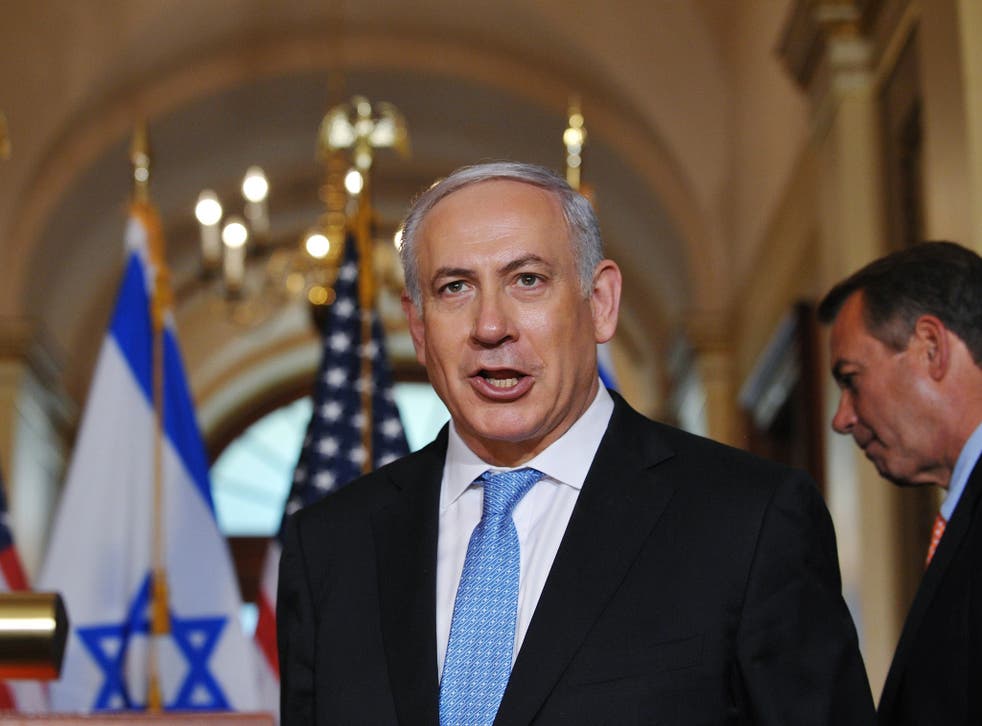 Benjamin Netanyahu's speech before Congress about the perceived Iranian threat to Israel's existence is a trump card. It may divert attention from the economy and high cost of living issues that are the strength of his rivals in the Zionist Camp and enable him to pose as Israel's security saviour.
He faces a close election on 17 March that will be decided by whether he or his challengers succeed in focusing public attention on their respective strengths during the home stretch of the campaign. Recent polls show Mr Netanyahu's Likud party neck and neck with the Zionist Camp but with Likud at this point seen as more likely to be able to form a coalition. However, there are many undecided variables and in contrast to the last election two years ago, Mr Netanyahu does not have it in his pocket.
It was telling that on Wednesday Mr Netanyahu responded to a report by Israel's state comptroller casting blame on his government's practices for the absence of affordable housing in Israel by quickly shifting to Iran. "The biggest challenge to our lives presently is Iran's arming itself with nuclear weapons," the Prime Minister said.
Against a palpable sense that many Israelis are fed up with him, Mr Netanyahu is playing on the existential fear of annihilation among a still Holocaust-haunted populace. The Zionist Camp leader Isaac Herzog appears to lack security credentials. Going from one standing ovation to the next on Tuesday, Mr Netanyahu message will be that he is the only one who can save Israel.
In pictures: The children of Gaza

Show all 30
"This trip is all about the election. He knows he won't be able to change the course of US-Iran relations with this speech," says Yossi Alpher, former director of the Jaffee Center for Strategic Studies. "He is gambling that it will score him points at home and I think he's probably right."
Still, it is a risky proposition because Israeli voters have shown in the past that they punish leaders whom they think have mismanaged relations with the country's top ally and protector. Mr Netanyahu's spin doctors will be hard at work to show that the damage is only in personal relations with Barack Obama, not to the overall fabric of the US-Israeli relationship. And they will explain that it was necessary to slight the US president for the sake of Israel's very survival to rouse Congress and America against an emerging Iran deal.
Register for free to continue reading
Registration is a free and easy way to support our truly independent journalism
By registering, you will also enjoy limited access to Premium articles, exclusive newsletters, commenting, and virtual events with our leading journalists
Already have an account? sign in
Join our new commenting forum
Join thought-provoking conversations, follow other Independent readers and see their replies