New clue sparks bid to solve mystery of missing aviator Amelia Earhart
Hillary Clinton launches search after photograph appears to show fate of US pioneer's aeroplane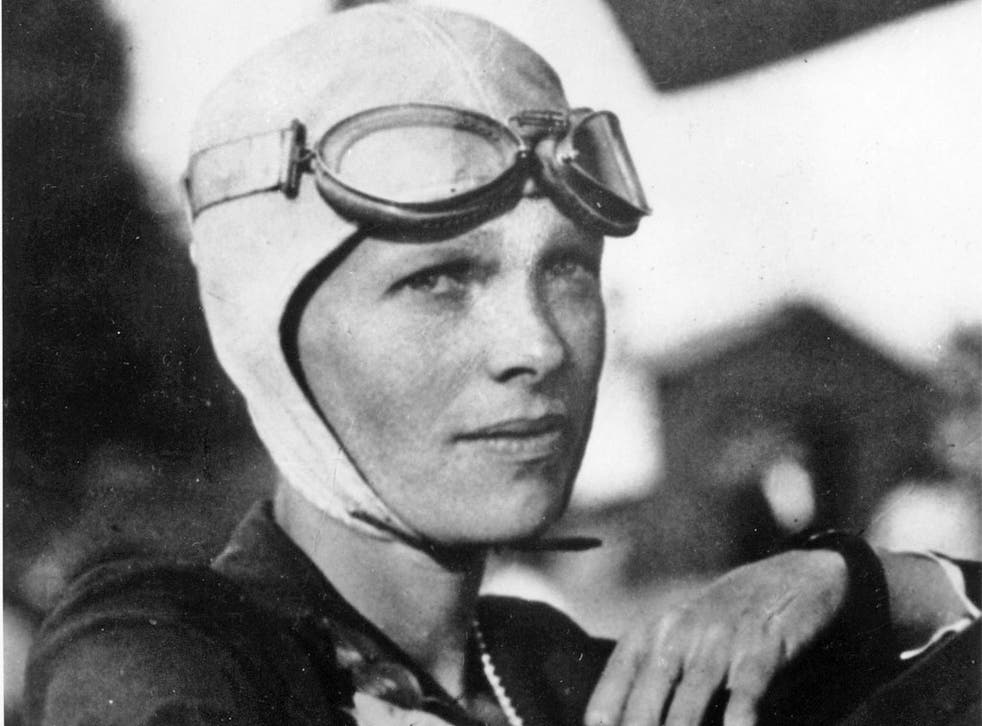 The US Secretary of State Hillary Clinton is launching a fresh effort to discover the fate of the pioneering aviator Amelia Earhart – a woman no less famous in her time than Ms Clinton today – who vanished over the South Pacific almost 75 years ago.
The latest attempt to resolve one of America's most enduring and intriguing mysteries has been sparked by fresh analysis of a photo from the time. It shows what could be a strut and wheel of Ms Earhart's Lockheed Electra aircraft sticking up out of the water close to Nikumaroro, an island that today is part of the nation of Kiribati.
Yesterday, Ms Clinton held a meeting at the State Department with experts from The International Group for Historic Aircraft Recovery (TIGHAR), which has already carried out 10 expeditions to Nikumaroro and will conduct another one in June.
All that is known for sure is that on 2 July, 1937, Ms Earhart took off from Lae in eastern New Guinea – now Papua New Guinea – on the perilous trans-Pacific stage of her planned round the world flight, accompanied by her navigator Fred Noonan. They were aiming for tiny Howland Island, barely a mile long and half a mile wide, lying some 2,500 miles to the east. Her last confirmed position came about a third of the way along the intended route, though apparently she was in contact with a US coast guard vessel waiting off Howland Island. But nothing more was seen or heard of the Electra and the two people aboard.
The long prevailing belief was that Ms Earhart and Mr Noonan, using navigational equipment far less sophisticated than today's, simply could not find Howland Island, and died when their plane crashed into the sea after its fuel ran out. In the absence of hard fact, however, the most bizarre theories have been aired: that the pair were spies, that they survived and were captured by the Japanese – even that Ms Earhart, weary of publicity, returned to the US under an assumed identity and lived out her days in New Jersey.
But gradually, largely as a result of TIGHAR's efforts, the focus has shifted to Nikumaroro, in 1937 known as Gardner Island, in the Phoenix archipelago 200-odd miles south-east of Howland. Over the past two decades, tantalising clues have emerged that she and Mr Noonan might have made it to Gardner, an atoll of four square miles enclosing a lagoon, where they survived for a while before succumbing to exhaustion, lack of drinking water or disease, their bodies consumed by coconut crabs.
On Nikumaroro's north-west side, TIGHAR has found artifacts including a shattered mirror from a woman's make-up compact, parts of a folding pocket knife, traces of campfires and of American bottles pre-dating World War II. The island is uninhabited today, but between 1938 and 1963 was an experimental British colonial settlement, which might account for some of the items found.
Ms Earhart was declared dead in 1939. But she remains a compelling figure. Yesterday's event, the State Department said, reflected "America's spirit of adventure and courage, as embodied by Amelia Earhart".
Register for free to continue reading
Registration is a free and easy way to support our truly independent journalism
By registering, you will also enjoy limited access to Premium articles, exclusive newsletters, commenting, and virtual events with our leading journalists
Already have an account? sign in
Register for free to continue reading
Registration is a free and easy way to support our truly independent journalism
By registering, you will also enjoy limited access to Premium articles, exclusive newsletters, commenting, and virtual events with our leading journalists
Already have an account? sign in
Join our new commenting forum
Join thought-provoking conversations, follow other Independent readers and see their replies