New Jersey political candidates targeted by xenophobic abuse all win respective election races
Hoboken mayoral contender Ravinder Bhalla and Edison school board prospects Jerry Shi and Falguni Patel all subjected to hate campaigns on racial grounds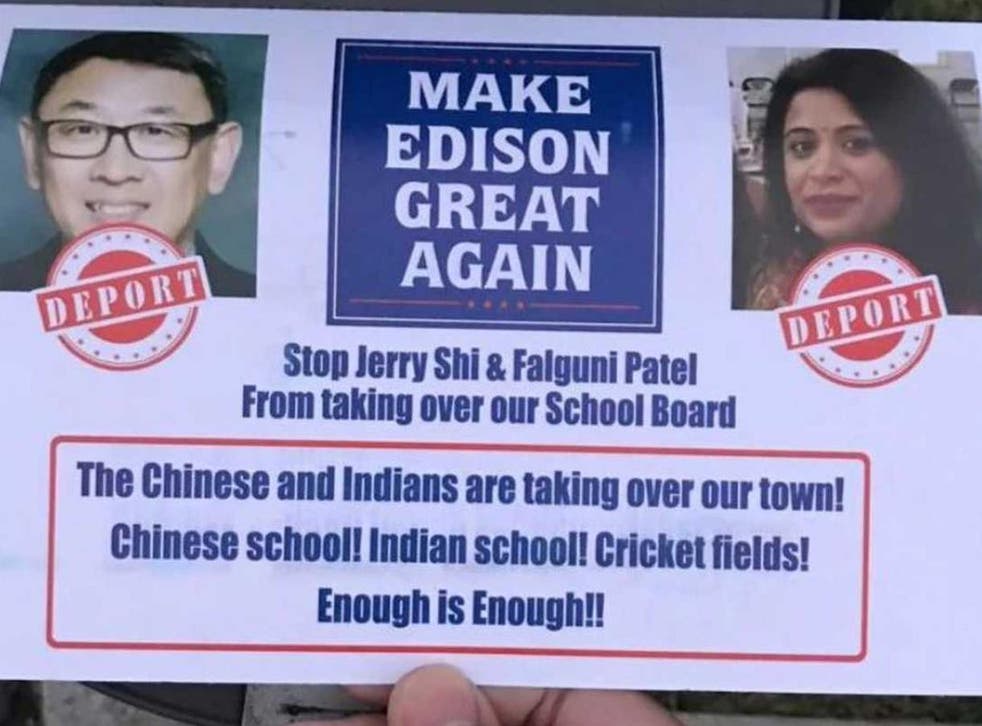 The message on postcards mailed to voters in the New Jersey township of Edison was not ambiguous.
Stamped beneath the pictures of two Asian school board candidates is the word "DEPORT." Between the photos, in large white letters against a navy blue background, is an iteration of a familiar campaign slogan: "MAKE EDISON GREAT AGAIN."
Within the same week, a mayoral candidate in nearby Hoboken, New Jersey, became the target of xenophobic flyers left on doorsteps and tucked underneath windshield wipers.
Those did not mince words, either: "Don't let TERRORISM take over our Town!" Below that is a picture of the candidate, a Sikh man wearing a turban.
All three were declared winners in the elections on Tuesday, just days after the postcards and flyers began circulating. Jerry Shi and Falguni Patel won two of the three open seats on the Edison Township Public Schools board. Ravinder Bhalla, who had previously served as a council member, won in Hoboken's contentious mayoral race, becoming one of the first Sikh mayors of a US city.
While many find the explicit racism of the messages troubling, they see the victories of the three candidates as proof that, in at least two diverse communities in New Jersey, voters have banished anti-immigrant rhetoric into the sidelines - even as such sentiments, at times, dominate national conversations.
"It's kind of similar to some of the national rhetoric around white people losing power, kind of a last effort at holding on to power in an increasing diverse, multicultural and multiracial society," Scott Novakowski, associate counsel at the New Jersey Institute for Social Justice, told The Washington Post. "It's important to emphasise the strong message that was sent with these folks winning the elections in terms of what that says about their community and New Jersey as a state."
Indeed, the results of the elections are probably manifestations of an ongoing trend in New Jersey, where the population has increasingly become more diverse in recent years. For instance, the Hispanic and Asian populations in the state each jumped by about 15 percent from 2010 to 2015. In Edison Township alone, people of Asian descent, the majority of whom are Indian, make up nearly half of its 101,000-strong population.
Shi and Patel will be among the four minorities - all of Asian descent - on the nine-member Edison Township Public Schools board.
Hence, the racist hysteria conveyed in the postcards that attacked the two.
"Stop Jerry Shi & Falguni Patel from taking over our school board," the postcards said.
And enclosed in a red rectangular box: "The Chinese and Indians are taking over our town! Chinese school! Indian school! Cricket fields! Enough is Enough!"
Patel, a Democrat who was running for public office for the first time, told NJ 1015 Radio that some residents may not have embraced her as she was campaigning but that she was shocked by the outright racism of the campaign mailer.
"I'm obviously disgusted by it, to say the least," Patel, a lawyer, told the radio station. "I was born and raised in New Jersey. To see the word 'deport' on my picture - where are you going to deport me to? Really, it's just outrageous."
The attacks were a shock to many who didn't expect to see such messages in communities they consider both diverse and welcoming.
"I was sitting back and thinking... 'This is not what we know of our communities,' " said Sharmila Jaipersaud, incoming president of the South Asian Bar Association of New Jersey. "That resonated throughout our membership."
Authorities are still investigating who may have been behind the postcards and flyers, and it remains unclear whether the motive was to change the minds of voters or to simply intimidate.
The Middlesex County prosecutor's office has yet to determine where the postcards originated and whether sending them amounted to a criminal offence. In Hoboken, police are looking for two people of interest who were seen in surveillance footage as they left flyers at doorsteps.
For Bhalla, whose parents immigrated to the United States, being labelled a terrorist because of a head garment he wears as part of his faith is not new. People tend to confuse Sikhs - members of a 500-year-old monotheistic Indian religion that is not related to either Islam or Hinduism - with Muslims.
"However, I want to be clear that this type of incident is not reflective of Hoboken or the state of New Jersey," he said. "And I hope the result of this election affirms that... We responded to hate with love, and we showed that at the ballot box."
Hoboken council member Michael DeFusco, who would have been Hoboken's first openly gay mayor, also condemned the attacks against Bhalla. The flyers attacking Bhalla state that they were paid for by DeFusco's campaign. DeFusco had denied involvement, saying someone had altered a flyer that his campaign had created to highlight Bhalla's potential conflict of interest - and added a reference to terrorism.
"Hoboken is far better than this and whoever made this flyer is not only insulting one of my opponents in a despicable way, they are also painting me as racist, which as the only openly gay elected official in Hudson County and a progressive Democrat simply could not be further from the truth," he said in a statement.
Bhalla, a Democrat, said he hopes his victory would lift up the Sikh community, which has suffered frequent racism and acts of violence since the 11 September 2001 attacks on the United States.
"I think those in Hoboken elected me based upon my merits," he said, "not my appearance, race or religion."
The message from voters on Election Day was clear, some members of the community say.
"New Jersey voters are just fed up with the overall divisiveness and rhetoric that targeted the Asian and immigrant community in New Jersey," said Bhaveen Jani, departing president of the South Asian Bar Association of New Jersey. "I personally think that despite all the hateful rhetoric... people are more inclined to vote on the issues and make certain changes, especially in the South Asian community."
World news in pictures

Show all 50
Shi topped the nine-person school board race, winning 17 percent of the vote. Patel came in second, with 16.7 percent. Beth Moroney won the third open seat, with 16.3 percent.
Days before the election, the city of Hoboken was looking at three scenarios. It could elect its first Sikh mayor, or its first openly gay mayor, or its first Latino mayor to replace Dawn Zimmer, its first female mayor.
Bhalla defeated five other candidates, winning 34 percent of the votes, narrowly beating DeFusco by more than 600 votes.
The Washington Post
Join our new commenting forum
Join thought-provoking conversations, follow other Independent readers and see their replies