New York attacker followed Isis's instructions almost exactly, says NYPD
Notes found near the suspect's car read: 'Islamic State will endure forever'
Emily Shugerman
New York, Paterson
,
Clark Mindock
Wednesday 01 November 2017 19:26 Comments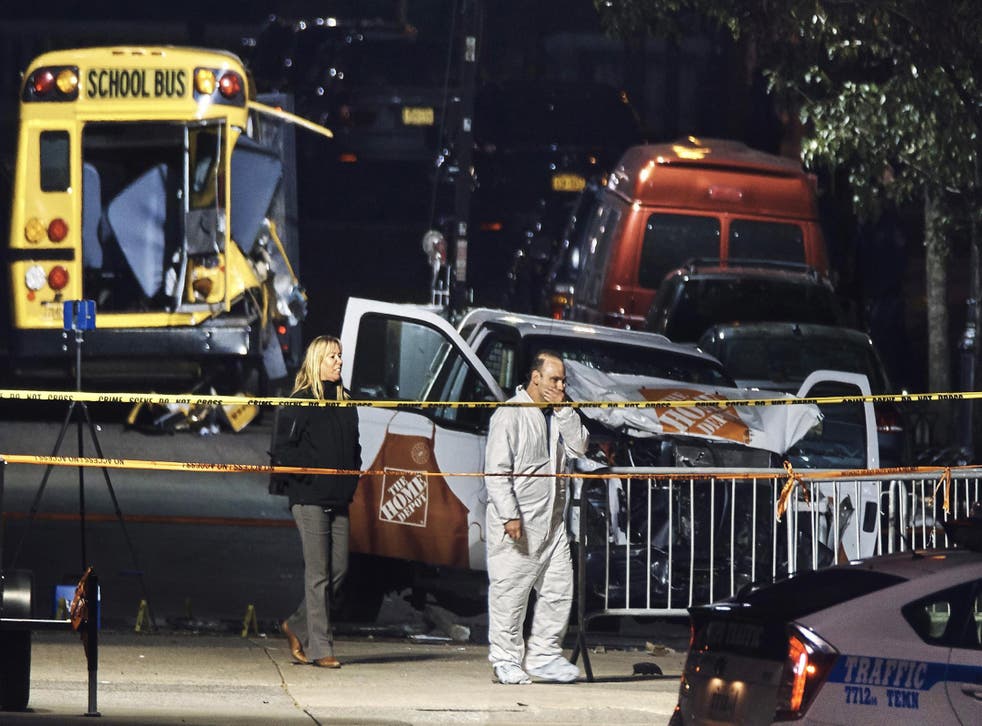 The man suspected of driving a truck into a Manhattan bike path, killing eight and injuring 12, followed instructions posted by Isis on social media "almost to a 'T'," the New York Police Department has revealed.
Although officials said they had uncovered no formal links to Isis or any other international extremist groups, the suspect planned his attack for weeks and carried it out in the name of Isis, according to NYPD deputy commissioner of intelligence and counterterrorism John Miller.
Police identified the suspect in the attack as 29-year-old Sayfullo Saipov, who was born in Uzbekistan and immigrated to the US in 2010. He is currently being treated in a New York hospital, after being shot by a police officer during the attack.
"He did this in the name of Isis," Mr Miller said at a press conference on Wednesday. "Along with the other items recovered at the scene [were] some notes that further indicated that."
The notes, the commissioner said, were hand-written in Arabic and read: "Islamic State will endure forever".
Mr Miller added that the suspect appeared to have followed instructions that Isis members had posted on social media, teaching followers how to carry out such an attack.
Isis has released detailed instructions on carrying out vehicle attacks like those seen in Nice, Barcelona, and London. The group has named crowded streets as prime targets, and declared murdering civilians permissible under Islam.
New York Truck attack

Show all 6
New York Governor Andrew Cuomo told CNN that Mr Saipov appeared to have been radicalised domestically, and followed the "lone wolf" model of attackers who were trained online, rather than in a training camp.
Members at a mosque near Mr Saipov's New Jersey home told The Independent that they had seen him around, but that he was not a regular attendee. Mosque president Ibrahim Matarihe said the suspect was "not associated with the mosque".
Mr Saipov had never been a suspect in FBI or NYPD investigations, according to Mr Miller. Authorities are now looking for ties between the suspect and others who had been named in investigations.
At the press conference, Mr Cuomo called the suspect a "depraved coward" who had failed in his goal to terrorise the city.
The day after the attack, Mr Cuomo noted, "people got up; they went to work; children went to school".
"That's what makes New Yorkers special," he added. "That strength, that resilience, that ability to be undeterred in the face of ugliness."
New York terror attack: What we know so far
Authorities have stepped up security throughout Manhattan in the wake of the attack, deploying officers and explosive-detecting dogs to subway stations and tourist attractions across the city.
But Mr Cuomo told CNN that authorities had no evidence yet of continuing or connected plots.
"Our only evidence to date is that this was an isolated incident that he himself performed," the Governor said.
President Donald Trump, meanwhile, vowed to crack down on US immigration policies – particularly the diversity lottery programme, which the President claimed Mr Saipov had used to enter the country.
"We have to get much tougher and we have to get much smarter," Mr Trump told reporters on Wednesday. "And we have to get much less politically correct. We're so politically correct that we're afraid to do anything."
Authorities say Mr Saipov rented a truck in New Jersey and drove it to lower Manhattan on the afternoon of 31 October. From there, he allegedly ploughed the truck through a foot path in the Tribeca neighbourhood, appearing to target cyclists and pedestrians.
The attack ended when Mr Saipov's vehicle ran into a school bus, authorities said. The suspect exited his vehicle, allegedly brandishing a paintball gun and pellet gun, and was shot by police.
The attack killed eight people, six of whom came from countries other than the US. Five were visitors from Argentina, and one was from Germany, NYC Fire Department commissioner Dan Nigro said.
A dozen other people suffered injuries spanning from a bilateral amputation to severe head trauma. Three victims have been released from the hospital, four are critically injured, and the rest are seriously injured.
Register for free to continue reading
Registration is a free and easy way to support our truly independent journalism
By registering, you will also enjoy limited access to Premium articles, exclusive newsletters, commenting, and virtual events with our leading journalists
Already have an account? sign in
Join our new commenting forum
Join thought-provoking conversations, follow other Independent readers and see their replies