New York bombing: FBI looking for two men seen taking suitcase that contained second bomb
The men were captured on CCTV removing the bomb before making off with the bag, and are not thought to be connected to Ahmad Khan Rahami's alleged plot
Tim Walker
US Correspondent
Wednesday 21 September 2016 20:25 Comments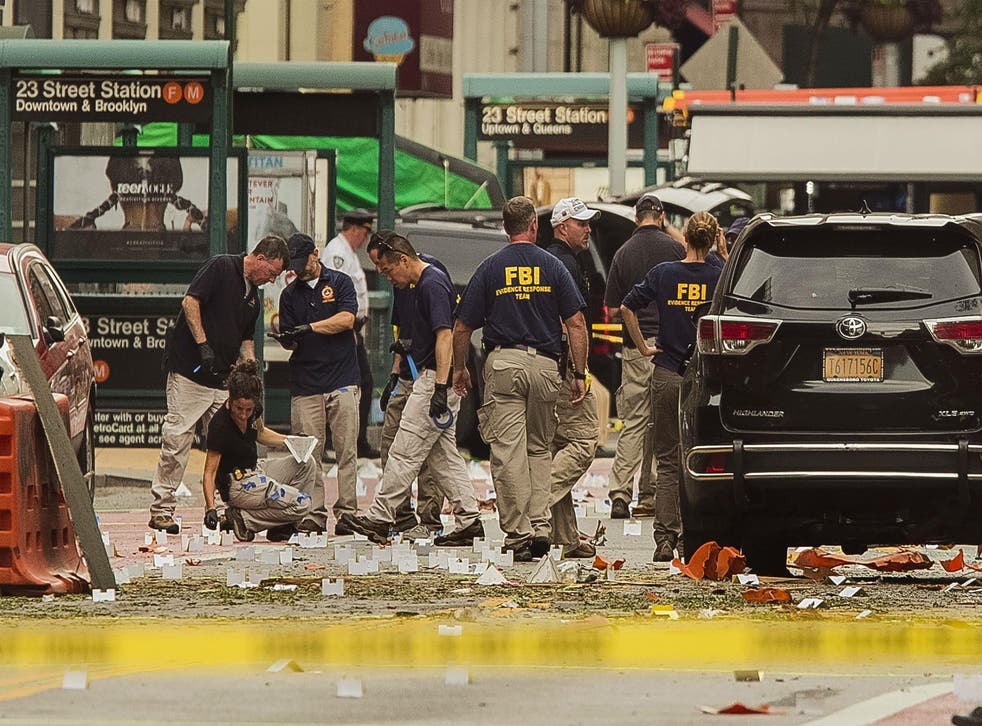 The FBI has published an image of two men who took a suitcase from a street in New York City on Saturday night, after removing a bomb that never exploded. The agency said it wanted to speak to the two unidentified men as witnesses, not suspects, in the case against 28-year-old Ahmad Khan Rahami, who is accused of planting one bomb in New Jersey and two in New York.
The FBI issued a CCTV image of the men on Wednesday, saying they had been seen removing the bomb from the bag and leaving it behind while making off with the luggage.
James Waters, the New York Police Department's counter-terrorism chief, told reporters there was "no reason to believe" the men are connected to Rahami's alleged plot. In fact, given that the explosive device was "very shock sensitive," he said, "they're very, very lucky."
The second New York bomb, packed with ball bearings and steel shrapnel, was left in a rubbish bin in Manhattan's Chelsea neighbourhood and exploded, injuring 31 people and causing millions of dollars of property damage, according to court documents.
Rahami remained hospitalised on Wednesday with gunshot wounds sustained in the firefight with police that led to his arrest on Monday in Linden, New Jersey. He was charged with nine federal terrorism offences on Tuesday, including using weapons of mass destruction, and faces life in prison if convicted.
US Attorney General Loretta Lynch said on Wednesday that the Justice Department intended to bring Rahami to New York to face prosecution for Saturday's bombing in the "near future."
In a journal found after his arrest on Monday, Rahami reportedly wrote of his hopes of staging a suicide attack. The journal, which was stained with blood and appeared to have been struck with a bullet during his gunfight with police, praised Osama bin Laden and criticised US military involvement in countries such as Syria and Afghanistan, where he was born before moving to Elizabeth, New Jersey with his family when he was seven.
The journal reportedly made no mention of the Islamic State, and the terror group has not claimed responsibility for Rahami's attacks.
The FBI admitted on Tuesday that it had investigated Rahami in 2014 after his father, Mohammad Rahami, warned authorities that his son was a terrorist. In the same year, Rahami was accused of stabbing his brother in the leg, though he was never prosecuted. He had also visited Afghanistan and Pakistan in recent years, but investigators found no "ties to terrorism".
Since his arrest, the mother of Rahami's young daughter has been granted temporary sole custody of the child by a judge in New Jersey. The couple's custody case was called before a family court six times in the past five years over Rahami's repeated failure to pay child support, the Associated Press reported.
Register for free to continue reading
Registration is a free and easy way to support our truly independent journalism
By registering, you will also enjoy limited access to Premium articles, exclusive newsletters, commenting, and virtual events with our leading journalists
Already have an account? sign in
Join our new commenting forum
Join thought-provoking conversations, follow other Independent readers and see their replies