New York state raises legal age of marriage from 14 to 18 in bid to prevent forced weddings for child brides
'Child marriage is coerced marriage. It condemns young women to a life they did not choose'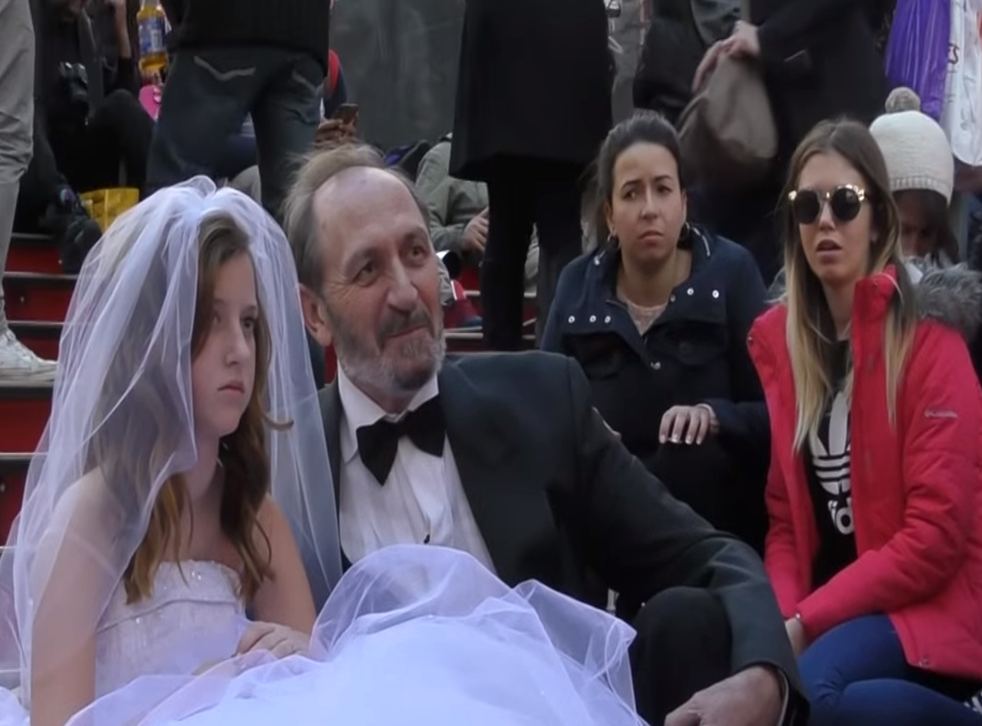 The state of New York has raised the legal age of marriage from 14 to 18, overturning a little-known law that saw hundreds of young girls become child brides each year, often through coercion.
New York was previously one of just three out of the 50 states to allow 14-year-olds to marry without parental permission, the other two being North Carolina and Alaska.
More than 3,850 minors married in New York between 2000 and 2010, with 84 per cent involving cases of child brides and adult men.
The new law bans marriage altogether for those aged 14 to 17 and requires 17-year-olds to obtain both parental and judicial approval before they are allowed to exchange vows. Judges will be given guidelines to help them decide whether a 17-year-old wishes to enter into a marriage freely.
Campaigners had fought for the change claiming child brides often have poor educational and job opportunities and frequently fall victim to domestic violence.
New York state assembly member Amy Paulin, who put forward the legislation, said that children are often trapped in unhappy and violent marriages because they find it difficult to access legal services and domestic violence shelters.
She said the old law was "antiquated" because "it reflects a time when everyone married younger," adding: "Times have changed. Child marriage is coerced marriage. It condemns young women to a life they did not choose."
'Child marriage' held in Surrey
New York's Democrat Governor, Andrew Cuomo, who signed the legislation, said: "This is a major step forward in our efforts to protect children and prevent forced marriages, and I am proud to sign this legislation that puts an end to child marriage in New York once and for all."
The previous state law dated back to 1929 and did not provide guidance on whether or not judges should grant consent. While the law allowed a girl to marry at just 14, it did not allow her to divorce until the age of 18, while the new law mandates that if a girl marries at 17, she must also be allowed to divorce at the same age.
"We cannot solve the child marriage problem globally if we don't first solve it here in the United States," Fraidy Reiss, founder and executive director of the organisation Unchained at Last, told CBS News.
Ms Reiss was raised Orthodox Jewish in Brooklyn, New York, and was forced into marriage when she was over the age of legal consent at 19.
She said that while most people might not think of the US when they thought of forced marriage, it remains a reality that is often ignored.
"This isn't something that is happening only in one insular community, this is a widespread problem in the United States.
Origins of forced marriage cases

Show all 1
"We really don't know (how widespread it is). There has been no in-depth study done on forced marriage in the United States.
"Our clients come from every major religion, they're Christian, Jewish, Muslim, Mormon, Hindu, Buddhist, Sikh … they have come from Unification Church backgrounds and even secular backgrounds.
"This is a widespread gender violence issue, and the common thread we see is that the victims are almost always girls and that the perpetrators are almost always the parents and the family members."
Unchained at Last aids women and girls to escape forced marriage in the US and is calling for a blanket ban on all marriage under the age of 18 across the country, where it remains legal with parental permission in all 50 states.
Half have no minimum age for marriage when exceptions such as pregnancy and parental and judicial permission are taken into consideration.
According to a 2010 report by National Centre for Health Statistics, 2.1 per cent of all girls in the 15-17 age group in the US were in a child marriage, with the practice remaining more common in the southern states.
Join our new commenting forum
Join thought-provoking conversations, follow other Independent readers and see their replies