New York man Jonathan Fleming freed after 25 years in prison for a Brooklyn murder that happened while he was in Disneyland, Florida
'After 25 years, come hug your mother,' Patricia Fleming said to her son
Rob Williams
Thursday 10 April 2014 19:34 Comments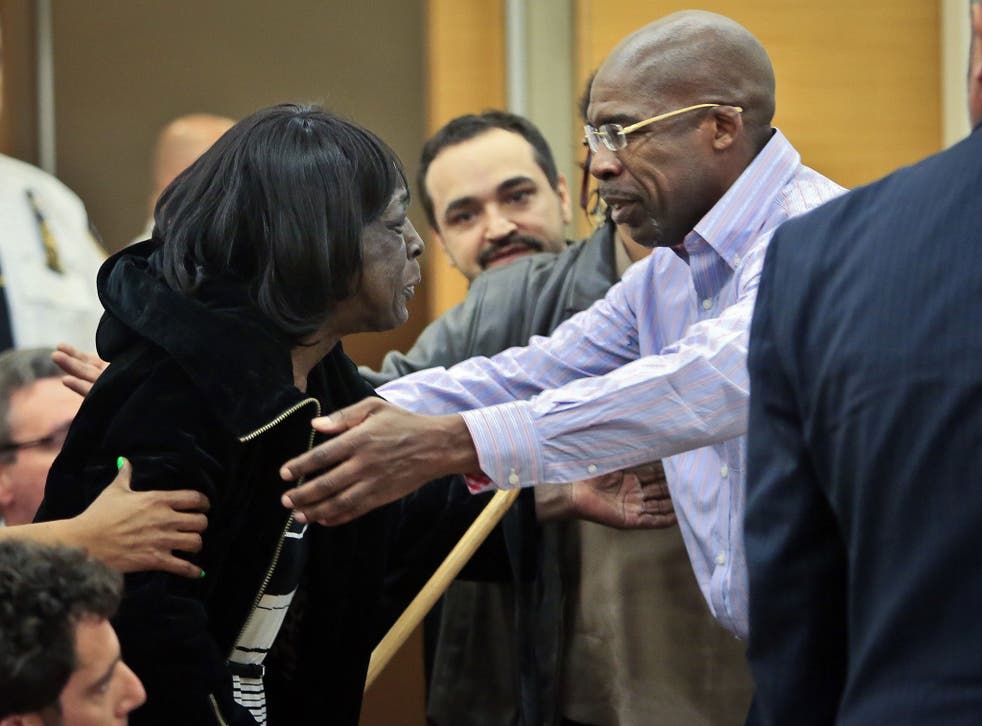 After a quarter of a century behind bars for a crime he did not commit, Jonathan Fleming looked towards his mother as family members cried out 'thank you, God!' as he was freed.
'After 25 years, come hug your mother,' Patricia Fleming said to her son. And he did.
The moving moment came after Jonathan Fleming, who had served 24 years and 8 months of his prison sentence for the murder of Darryl "Black" Rush, was cleared of the killing.
He had been convicted of the crime, which occurred in Brooklyn, despite being on holiday at Disney World in Florida, more than 1,100 miles away.
Defence attorneys and prosecutors had asked a Brooklyn judge to dismiss Fleming's conviction in the 1989 shooting.
A key eyewitness recanted, new witnesses have implicated someone else and a review by prosecutors turned up a hotel receipt putting Fleming in Florida hours before the killing, defence lawyers Anthony Mayol and Taylor Koss said. Remarkably the receipt had been in police possession since Fleming's arrest.
"He is elated and stunned, while tempered by the fact that he realizes that this is just the first step in getting his life back," Koss said before the hearing.
Fleming had maintained his innocence from the beginning, telling police he was in Orlando, Florida, when a friend, Darryl "Black" Rush, was shot to death in Brooklyn early on Aug. 15, 1989.
Authorities had refused to accept the explanation and had suggested the shooting was motivated by a dispute over money.
Mr Fleming had supported the story that he was in Florida by presenting plane tickets, videos and postcards from his trip.
Authorities still refused to accept his alibi saying he could have been in New York at the actual time of the shooting.
An eyewitness woman had testified that she had seen him shoot Rush.
She recanted her testimony soon after Fleming's 1990 conviction, saying she had lied so police would cut her loose for an unrelated arrest, but Fleming lost his appeals.
The defence asked the DA's office to review the case last year. The review produced a hotel receipt paid in Florida about fiver hours before the shooting.
Astonishingly the receipt was already in the possession of police - it had been in Fleming's pocket when he was originally arrested.
The exoneration, first reported by the New York Daily News, comes amid scrutiny of Brooklyn prosecutors' process for reviewing questionable convictions — scrutiny that comes partly from the new DA Kenneth Thompson himself.
He unseated longtime DA Charles "Joe" Hynes last year after a campaign that focused partly on wrongful convictions on Hynes' watch. Hynes had created a special conviction integrity unit to review false-conviction claims, but some saw the effort as slow-moving and defensive.
Thompson took office in January.
In February, his office agreed to dismiss the murder convictions of two men who had spent more than 20 years in prison for three killings, saying newly discovered evidence had raised substantial doubts about their guilt.
Register for free to continue reading
Registration is a free and easy way to support our truly independent journalism
By registering, you will also enjoy limited access to Premium articles, exclusive newsletters, commenting, and virtual events with our leading journalists
Already have an account? sign in
Join our new commenting forum
Join thought-provoking conversations, follow other Independent readers and see their replies