New York's darkest secret: The Hole is a Mafia graveyard that few people venture into
'The Hole' is an almost forgotten quarter, with a legacy of Mafia hits, buried secrets and faded hopes. Alexander Nazaryan explores the least known, worst off and most desolate district of New York City before it is swept away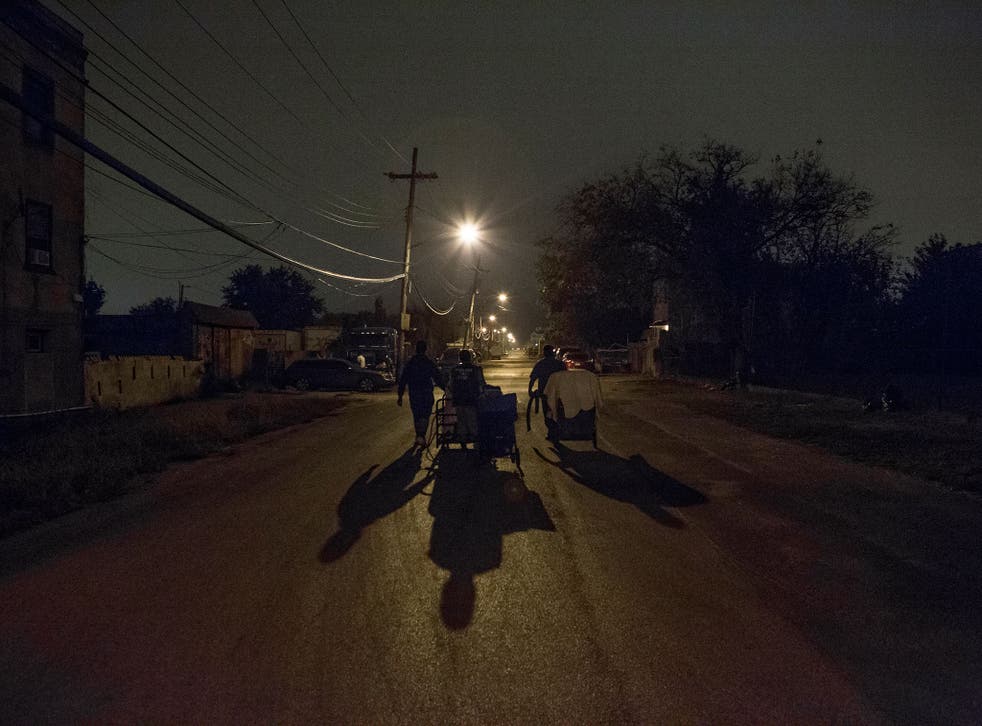 It may be true, as the Old Testament counsels, that all flesh is grass, but sorry is the flesh that ends up as grass in the Hole, a Mafia graveyard and Deliverance-worthy outpost that may be the most forlorn of New York City's 250 or so neighbourhoods.
Although most New Yorkers haven't been there, the Hole hides in plain sight. Many pass it on the way to John F Kennedy International Airport, on a bleak road above which jets wheeze in on their final descent toward the runways along Jamaica Bay. Behind a tatty curtain of trees and weeds, there is a strange depression in the land, as if a sinkhole had opened here on the desultory border between Brooklyn and Queens. It looks less like a New York neighbourhood than an Arkansas village, only with housing projects on the horizon instead of the Ozark Mountains. Welcome to the Hole.
Many city dwellers learned about the Hole in 2004, when what remained of the bodies of two mafiosi was found nourishing this sodden patch of earth skipped over by modernity. The unlucky mobsters – Dominick "Big Trin" Trinchera and Philip "Philly Lucky" Giaccone – had been dispatched by Gambino crime family boss John "the Teflon Don" Gotti. Federal agents, though, had credible leads about other Gambino adversaries sleeping the big sleep in the Hole. Attention turned naturally enough to the place itself, so isolated that it could serve as a wiseguy ossuary, even as the Hole's residents presumably went about their daily lives.
"The closest thing New York has to a border town," declared The New York Times, comparing the Hole to Laredo, Texas, with its "dusty streets, stray dogs, ramshackle corrugated tin structures and even a few cowboys". Real cowboys – members of the Federation of Black Cowboys, to be exact – since ironic hipster cowboys weren't traipsing around the city just yet. But the mediagenic buckaroos disguised the fact that most people had not come here to live out their Wild West fantasies, or fantasies of any kind. As one woman told the Times: "Most people are here because they were born here or they can't afford to live anywhere else. I'd love to move, but I can't afford to, so for now I'm stuck in the Hole."
Two decades earlier, the Hole would not have made news in barbaric New York where, in 1984, the vigilante Bernhard Goetz became a hero to some for shooting four black kids on a subway train; where, in 1985, the ascendant Gotti had his rival Paul Castellano rubbed out in the middle of Manhattan; where, in 1989, a local psycho served the homeless denizens of Tompkins Square Park a soup made out of his dismembered girlfriend. The city was rife with Holes, from the East Village to East Harlem. A wasteland full of human remains way out by the airport? Meh.
Well, this New York wasn't that New York. By 2004, most Holes in New York were being turned into condominiums. A month before the discovery of the two bodies, the Republican National Convention had concluded in the city; later that fall, City Hall would submit its final bid for the 2012 Summer Olympics. That there was, within city limits, something as unruly as the Hole was an affront to the notion of a 21st-century metropolis, welcoming to conservatives from Mississippi and tourists from Toulouse, France.
No other bodies were found during the 2004 dig, though the tall reeds that rise in claustrophobic phalanxes on the empty lots of the Hole could easily hide a Roman legion, as could the abandoned houses that look like they haven't been occupied since The Beatles touched down at JFK. But fascination with the Hole remains; in the years since, the neighbourhood has served as the frequent subject of artistic and journalistic curiosity, a wellspring of infinite weirdness, hardcore ruin-porn for the concrete-encased soul.
Every city has a shadow city. Paris has the catacombs. Hong Kong had the Kowloon Walled City. New York has the Hole. Places like these matter because they declare that the past is not fully known and the future may well turn out to be a shitshow. We could all be living in what, 100 years hence, may turn out to be the Hole. We are in on one cosmic joke but the butt of another. That terrifies some and thrills others.
The photographer Nathan Kensinger, whose work has appeared at the Brooklyn Museum and the Museum of the City of New York, says that of the about 200 photo essays he has done on New York City, his 2009 exploration of the Hole remains among the most popular.
"It's kind of crazy to me how much of an urban legend the Hole became after I wrote about it," Kensinger told me. Though he makes no claims to have "discovered" the Hole, he does believe that his photo-essay introduced it to intrepid young New Yorkers, many of them recent arrivals, eager to treat the city like an unexplored jungle.
Most recently came the work of Allen Agostino, a skilled young journalist from Toronto, whose work is reproduced here. While studying at the International Center for Photography in 2013, he started living in the Hole several days each week, documenting the struggles of a Puerto Rican family whose half-dozen members shared a trailer. Agostino's work was featured on the long-form journalism website Narratively last winter and this summer at the Invisible Dog gallery in Brooklyn.
Agostino's exhibition comes at a time when the Hole is threatened by development both commercial and residential. Land in the city is so valuable, so scarce, that even a weedy sump under the JFK flight path starts to look like a gold mine. Mayor Bill de Blasio is planning to remake the adjacent neighbourhood of East New York as a hub of affordable housing. That would bring millions of redevelopment dollars to the Hole's western edge. Some of that money will surely spill over, filling the Hole forever.
To capture the place now is to record for all time the last gasps of a disappearing tribe, to give through art the kind of dignity Dorothea Lange endowed to her Dust Bowl subjects, doomed in life but exalted in her photographs.
"It will be soon," Agostino told me over coffee. "The Hole will be gone, and those people will have to find another hole."
How the Hole got its name, nobody knows. It isn't an official designation, like Times Square or Central Park. Because its streets have names like Ruby, Amber and Emerald, the entire neighbourhood is sometimes called the "Jewel Streets", though there is nothing visibly resplendent about the place. Others may call it Lindenwood, Old Old Howard Beach, Spring Creek, City Line, Cypress Hills. Take your pick. Nobody is going to correct you because nobody really knows.
Most people agree that the Hole is bound by Conduit Boulevard, Ruby Street and Linden Boulevard, a triangle wedged between Brooklyn and Queens, about 10 blocks in size. It may take you a while to get there, but you will doubtless know that you have arrived, as the land drops beneath you into a crater about 12ft below street level (some put that at 30ft) and a good century behind the rest of New York.
All of a sudden, the landscape of inoffensive middle-class tract housing gives way to a cityscape that may as well be a David Lynch set. A walk down one of the Hole's several strips (which do have street signs, though often bent or joined at odd angles) might yield the following succession of images: a puddle roughly the size of Lake Tahoe, though lacking its famous clarity; an utterly empty lot where the reeds grow in what looks like a single green mass, impenetrable without a machete; a spiffy brick house yearning for reunion with its siblings in suburban New Jersey; a chicken running free; a pit bull, barking frothily through a chicken-wire fence; a house that appears to have been hit by a Predator drone strike, followed by a tornado, followed by especially desperate looters.
An old Hispanic man watches the world from a beach chair on his porch; children play basketball and ride bikes, as they do in countless wholesome suburbs across America; 18-wheelers rumble through the Hole. Men sit alertly in idle cars, looking out over uneven fields of piebald grass, reminding one of various bloody scenes from various Martin Scorsese films. This would be the "sidewalk ballet" that Jane Jacobs, the urban studies expert, had in mind, except there are no sidewalks.
The origins of the Hole are as murky as the water that seems to collect at every one of its intersections: Not a single city historian I contacted had a clue. Most likely, the Hole shares an agrarian past with its neighbour, East New York. As Mark Linder and Lawrence Zacharias note in Of Cabbages and Kings County, Brooklyn was "the country's second biggest vegetable producer" in the late 19th century. And according to the city's Parks Department, nearby land belonged until 1953 to the Brockman brothers, the "radish kings of Long Island".
In the 1890s, the eastern edges of the city saw "the mass conversion of farms into residential lots", write Linder and Zacharias. In the mid-20th century, Jews and Catholics fled neighbourhoods like East New York for Long Island. In their stead came blacks and Hispanics hoping for something better than the segregated South. They didn't find it and have languished in public housing ever since, forgotten by the city they thought might save them.
Somehow, the Hole represents both the visible glories and subtle ravages of modernity. The place resembles, as the real estate blog Curbed once put it, "a marshy Detroit". Except I'm pretty sure Detroit has much better infrastructure. Yes, there is running water and electricity. No, there isn't a sewage system, generally considered a must-have in the developed world (the Hole instead relies on septic tanks and cesspools). Not a single business appears to operate within the Hole, at least not visibly. There are a couple of gardens growing vegetables, which is disturbing when you consider that the land beneath is soaked through with human waste and probably still hides a few decomposing mafiosi. I don't want my tomatoes quite that organic.
Courtney Fathom Sell, who made a documentary about the Hole in 2010 with Billy Feldman, says he "became interested in the Hole while living down in New Orleans. We had begun to hear about a place back in NYC, which was being referred to as 'the Lower 9th Ward of New York'." His documentary treats the place with dignity, neither romanticising its struggles nor pathologising its residents.
When, exactly, the Mafia started using the Hole as its informal graveyard is yet another of the neighbourhood's mysteries. However, the two decomposed corpses found in 2004 weren't the first to be unearthed there. In 1981, children playing in a lot in the Hole stumbled on what turned out to be the body of Alphonse "Sonny Red" Indelicato, a member of the Bonanno organised crime family. The Hole was certainly convenient for John Gotti, who took over the Gambino family after the Castellano hit in 1985: his favoured hangout, the Bergin Hunt and Fish Club in Ozone Park, Queens, was a 10-minute drive from the Hole.
"There's a certain freedom down there," explains Agostino, the photographer who recently exhibited his Hole photographs in Brooklyn. It is both a freedom from and a freedom to. Today, the Hole appears to serve as the Alaska of New York, a place for castaways and loners to live without having to answer questions or meet questioning stares. And despite its reputation as a mafia dumping ground, the Hole is remarkably safe, according to the city's crime map for the past two years, which shows the neighbourhood as an oasis largely free of major crimes in a part of the city where gentrifiers still fear to tread.
The black cowboys, who once had pastures for their horses in the Hole, decamped more than a decade ago, but a kind of rugged frontier civility remains. This may be the only place in New York where a sheriff with a six-shooter would not seem out of place. As I was taking photographs, a chubby kid in a Catholic school T-shirt came over and told me to erase the picture I'd taken of his basketball hoop, sitting in a driveway like a starved giraffe. I explained what I was doing, but that didn't assuage him. The kid complained that other journalists had made the Hole look like "a piece of shit." I assured him that I wouldn't, but his disbelieving glare remained as I scurried away.
In pictures: Life inside one of the largest 'favela' complexes in Rio de Janeiro

Show all 20
I see the kid's point. Maybe visiting the Hole is not all that different from touring South Central, with a UCLA comp-lit major from Orange County telling it like it was between the Bloods and the Crips in bad old '92. Then again, you could argue that Jacob Riis's photographs of Lower East Side tenements a century ago constituted a ruin-porn compendium of their own. Without voyeurs, the rest of us cannot see.
"This is the true New York," wrote urban explorer Kevin Walsh of Forgotten New York, a photography project chronicling the city's overlooked areas. "This is NYC with pretense and artifice stripped away." Go to the Hole now, before Starbucks arrives. Just don't wear flip-flops.
© Newsweek, Inc. All rights reserved.
Register for free to continue reading
Registration is a free and easy way to support our truly independent journalism
By registering, you will also enjoy limited access to Premium articles, exclusive newsletters, commenting, and virtual events with our leading journalists
Already have an account? sign in
Register for free to continue reading
Registration is a free and easy way to support our truly independent journalism
By registering, you will also enjoy limited access to Premium articles, exclusive newsletters, commenting, and virtual events with our leading journalists
Already have an account? sign in
Join our new commenting forum
Join thought-provoking conversations, follow other Independent readers and see their replies