Nice attack: Hillary Clinton and Donald Trump agree that US is 'at war'
Both presidential candidates offered their different approaches to the war against Isis – who has not claimed responsibility for Nice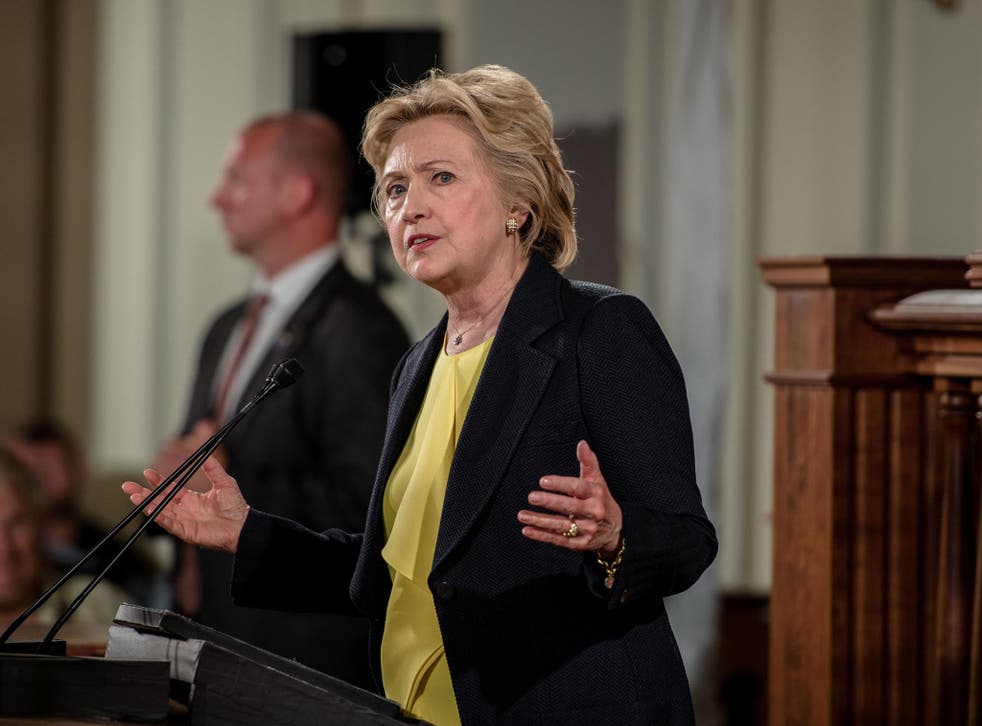 United States leaders were quick to condemn the attack in Nice, where a man ran a lorry more than a mile through a crowded promenade during a Bastille Day celebration. At least 84 people were killed.
And for their parts, presidential candidates Hillary Clinton and Donald Trump were broaching the matter with war on their minds.
"Well, it sounds like here we go again," Mr Trump said on Fox's On the Record. "It's going to be a whole different world. We're living in a whole different world. There is no respect for law and order. There is no respect for anything or anybody. And this has to be dealt with very harshly."
In a separate interview on The O'Reilly Factor, Mr Trump agreed with the host, who said this is a "world war scenario".
"It's out of control. We have a president that doesn't want to call it what it is," he said. "And you know you look at World Trade Center, you look at San Bernardino, you look at Paris – 130 people killed and so many injured in Paris from that attack, and you look at Orlando. It's out of control. …
"Unless we get strong and really strong and very, very smart leadership, it's only going to get worse."
Mr Trump previously said on Thursday night that he would prevent terrorist attacks in the US by making it "very hard for people to come into our country [from] terrorist areas" by requiring "extreme" documentation.
In pictures: Bastille Day Nice attack

Show all 30
Acknowledging that perpetrators of attacks could be US citizens, he said: "Second generation [children of immigrants] turns out to be very bad for whatever reason," the New York businessman said. "But second generation and again, who knows the new one in France? Maybe it's not, but you probably have a pretty good gut instinct."
Mr Trump's remarks mirror former Republican House speaker Newt Gingrich's call to test all US Muslims on their beliefs.
"We should frankly test every person here who is of Muslim background and if they believe in Sharia [law], they should be deported," Mr Gingrich told Fox's Sean Hannity. "Sharia is incompatible with Western civilisation. Modern Muslims, who have given up Sharia – glad to have them as citizens. Perfectly happy to have them next door."
Former Secretary of State Hillary Clinton was more measured in her response, but still acknowledged that the nation is at war with Isis.
"We've got to do more to understsand that this is a war against these terrorist groups, the radical jihadist groups," Ms Clinton told Bill O'Reilly. "As we take territory back from Isis forces, they will try to engage in other terrorist attacks."
Ms Clinton added in a second interview on CNN that "It's a different kind of war, and we need to be smart about how we wage and win it."
French in London react to Nice
Isis has not claimed responsibility for the deadly attack in Nice at the time of this writing. Investigators have identified the driver of the truck, but have not determined a motive.
"On behalf of the American people, I condemn in the strongest terms what appears to be a horrific terrorist attack," Mr Obama said in a statement in the immediate aftermath. He ordered US officials to work with France to "investigate this attack and bring those responsible to justice."
Secretary of State John Kerry was in Paris to commemorate Bastille Day on Thursday before he issued his statement.
"Today's horrendous attack in Nice is an attack on innocent people on a day that celebrates Liberty, Equality, and Fraternity," he said. "On behalf of all Americans, and especially the great many with close ties to France, I offer our deepest condolences to the friends and family of those who were killed and our hopes for a speedy recovery to those who were injured. …
"We will provide whatever support is needed."
This is the third time in 18 months that France has undergone such a tragedy.

In November 2015, Isis operatives opened fire and set of explosives throughout Paris killing 130. In January of that year, 10 staffers of the controverisal political satire magazine, Charlie Hebdo, and two police officers were killed when two gunmen opened fire at their Paris offices. A Yemeni Al Qaedo group claimed responsibility for the attack.
Register for free to continue reading
Registration is a free and easy way to support our truly independent journalism
By registering, you will also enjoy limited access to Premium articles, exclusive newsletters, commenting, and virtual events with our leading journalists
Already have an account? sign in