Niqab row: Canada's government challenges ruling Zunera Ishaq can wear veil while taking oath of citizenship
Stephen Harper's ruling Conservative party, prone to linking all things Islamic to 'security' fears, is going to the Supreme Court to stop the Pakistani-born teacher keeping her niqab on while receiving citizenship. Robert Fisk reports on a pre-election storm
Robert Fisk
Wednesday 30 September 2015 18:35 Comments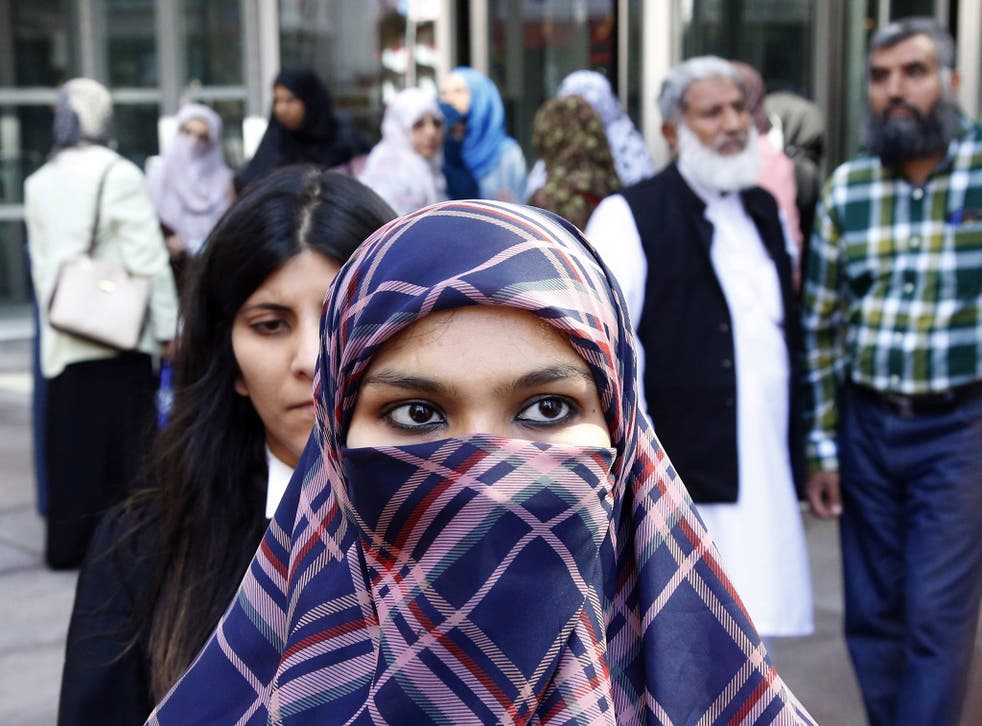 Stephen Harper's government took on the wrong woman when it decided that Zunera Ishaq must remove her niqab if she wanted to receive Canadian citizenship. Ms Ishaq's niqab – the face covering worn by many Muslim women – has become a symbol in pre-election Canada of the ruling Conservative party's obsession with Muslim practices.
The country's federal court has already ruled that the 29-year-old Pakistani-born teacher and mother of four can wear the niqab when she takes her oath of citizenship next month. To the astonishment of millions of Canadians, however, Mr Harper's government appealed against the ruling, which was then also turned down – not least because Ms Ishaq, whose husband, Mohamed, is already a citizen, would like to vote in the 19 October national elections.
She does – naturally –admit that she won't be voting for Mr Harper. But now the authorities have announced – and here the story takes on almost incredible proportions – that they are going to go all the way to the Canadian Supreme Court to prevent Ms Ishaq taking her oath while wearing her niqab.
Alas for Mr Harper, the very feisty and eloquent Ms Ishaq has revealed in an interview with The Independent that long before she ever met her husband or dreamed of emigrating to Canada, she fought her university teachers in her native Lahore for the right to wear a veil. From a liberal background, she describes how she was discriminated against in Pakistani college examinations because of her insistence on wearing the niqab in front of her male teachers.
"I come from a family that is from the liberal class in Lahore and I decided to wear the niqab from a very young age, when I was 15 years old and in Grade 11," she told me. "My father, who was a professor of psychology, said to me: 'My daughter, do you know what you are doing? If you are going to take the veil, you must know what you are doing.' I understood perfectly. This was not something my husband asked for, as journalists now think – I didn't know my husband at the time. My sisters made the same decision. No one compelled them to wear the veil. They just felt more comfortable."
The Canadian government's attitude was summed up by Jason Kenney, who was immigration minister when Mr Harper's cabinet brought in the original ban in 2011. As he told reporters earlier this month: "We think it's entirely reasonable to say at that one very public moment of a public declaration of one's loyalty to one's fellow citizens and country, [that] one should do so, openly, proudly and publicly without one's face hidden." But as journalists who have supported Ms Ishaq have pointed out, her identity is not in doubt, and it is not for a male minister to decide what is "entirely reasonable" when it comes to a Muslim woman's religious practices.
Writer Marsha Lederman suggested with some sarcasm in the Toronto Globe and Mail that if Ms Ishaq was offending anyone, "perhaps the offended party should take a hard look at his own face in the mirror. In fact, I would suggest there is no better place to wear a niqab than a citizenship ceremony – while pledging an oath to a country that protects one's rights such as freedom of religion. If this is how Ms Ishaq – or any Muslim woman – wishes to present herself, then she has the right here in Canada to do so. This is an essential part of the fabric of this country".
Ms Ishaq became a permanent resident of Canada in 2008, after leaving Pakistan, where she married her chemical engineer husband in 2006 and shortly after had her first child. Her fourth was born six weeks ago. She believes that Harper's ministers "weren't clear in their minds" when they first objected to the veil being worn at the citizenship ceremony. Leaked emails in the Canadian press that show civil servants in Mr Kenney's ministry in Ottawa warning him that the ban on the veil may have no legal basis – they were effectively told to shut up and continue to implement the policy – suggest that the redoubtable Ms Ishaq may be right.
"Lawyers have tried to explain this policy but it's very ambiguous," she said. "I think they are using this issue for some political success. I have nothing to do with it. There is so much misinformation about all this."
Newspapers have suggested that 44-year-old Mohamed forced his wife to wear the veil, which is clearly untrue, although she admits that he and her in-laws would prefer she stayed at home rather than pursue her career as a teacher in Canada. "He accepts my decision," she says. "We decided together that I would continue my career and go to college here."
But it would be naïve to dismiss this very Canadian affair as a Conservative storm in an Islamic teacup. Set against the Harper government's dour and initially mean response to the largely Muslim refugee crisis in Europe, the campaign against Ms Ishaq – for that is what it is – smells like another attempt to mould the word "security" around the religion of Islam; the government's initial hints that a partially veiled woman might not be fully identifiable – and thus a security risk – has now been dropped. But it seems inexplicable that Mr Harper – better known as an ardent supporter of the Israeli government than a defender of civil rights – should have responded to the appeals from Canadians to help Syrian refugees trekking into Europe by frittering away his time on a nonsensical case which could prevent a young mother from receiving the citizenship for which she has already qualified.
Ms Ishaq still vividly recalls her arguments with her college teachers in Pakistan when she was studying English literature. "One of them asked me: 'how can you explain yourself when you wear this veil over your face?' I told him I have to wear it and that it was none of his business," she remembers. "I was confused and surprised – but I told him to mind his own business...[and] I passed my exams. I was 18."
Even Shakespeare, it seems, came to the rescue. Ms Ishaq found herself fascinated by Hamlet, in which Ophelia is treated with scorn and cruelty. "I found that women in English literature were also treated very harshly," she says. "It's not only in Islam that people talk about women like this. I am going to fight on for the right to wear the veil. I am 90 per cent certain I will win and if I don't, I will also appeal."
A Canadian Comedy of Errors? Much Ado About Nothing? You can imagine the headlines.
Register for free to continue reading
Registration is a free and easy way to support our truly independent journalism
By registering, you will also enjoy limited access to Premium articles, exclusive newsletters, commenting, and virtual events with our leading journalists
Already have an account? sign in
Join our new commenting forum
Join thought-provoking conversations, follow other Independent readers and see their replies