Suspicious clown sightings spread to second state, putting residents on edge
North Carolina residents have reported three suspicious clown sightings in three days, only a week after similar sightings in North Carolina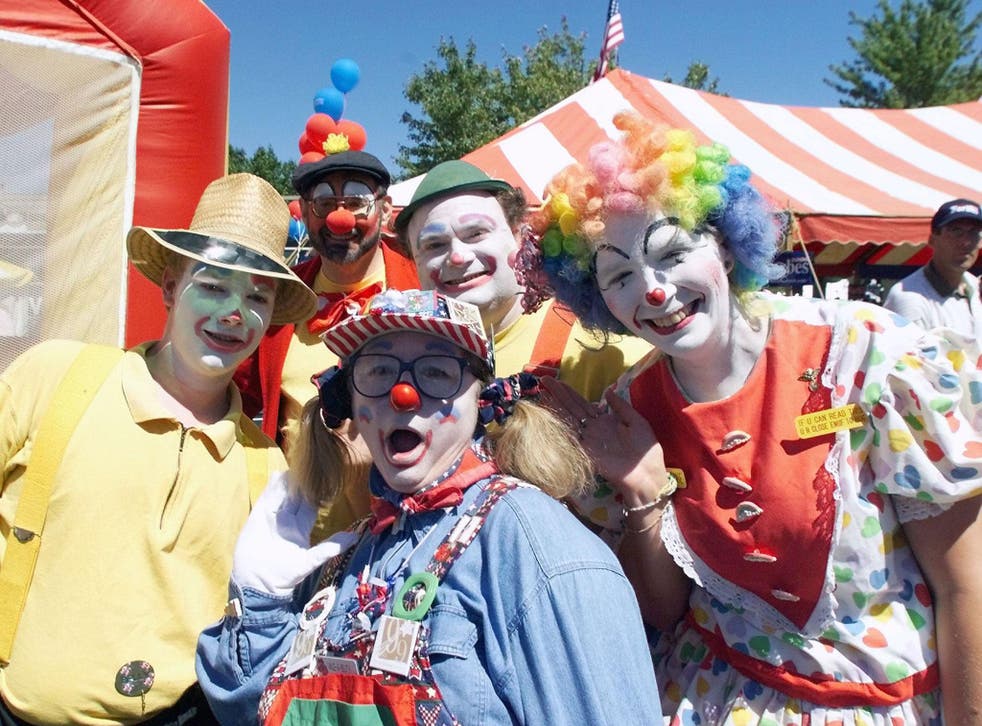 North Carolina residents have reported at least three instances of suspicious, creepy-looking clowns lurking in their neighbourhoods – making it the second state in as many weeks to experience such sightings.
On Tuesday, a Greensboro resident reported seeing a machete-wielding man chase a man with clown attire into nearby woods.
"The witness reported that a person wearing a scary clown mask, red curly wig, yellow dotted shirt, blue clown pants, and clown shoes exited the woods," Greensboro Police said in a statement. "Upon seeing the clown, [an adult male] ran after it, wielding a machete."
Police added that the clown "disappeared from view".
The reports come after reports of a clown in the Winston-Salem, South Carolina, area attempted to lure children into the woods. The North Carolina sighting is the third spotting of a lurking clown in three days, and it is keeping their residents on their toes.
In pictures: Famous clowns

Show all 9
"I looked again and there was a clown, white face, red hair, polka dot yellow shirt and, like, inflatable Aladdin pants, blue," Christopher Bass, the man who allegedly pursued the clown, told Time Warner Cable News. "I had my firearm, bookbag, and machete in my hand. Instinct, I got kids."
Mr Bass' wife reportedly phoned the police as her husband pursued the clown.
It remains unclear whether Tuesday's incident is related to the other two in North Carolina or those in South Carolina.
"I honestly do not know. With social media, things are connected but they may not be directly connected," Greensboro Police Capt Michael Terry said.
Still, police urged that while it is not illegal to dress as a clown, citing "heightented tensions", they urged against "copycat" behaviour from people who may wear the costumes for a laugh.
Mr Bass said he just wants it to stop, for the safety of his children and for that of the clowns.
"I want him bad. I want him bad before he hurts kids," he said of the clown suspect. "He's dangerous and he's going to get killed like that. Somebody is going to take justice into their own hands, and it's going to be trouble."
Register for free to continue reading
Registration is a free and easy way to support our truly independent journalism
By registering, you will also enjoy limited access to Premium articles, exclusive newsletters, commenting, and virtual events with our leading journalists
Already have an account? sign in