North Carolina governor refuses to back down over anti-LGBT law despite federal demands
The US Department of Justice has set a deadline for the state to repeal its discriminatory bill, but the governor does not want to back down
Rachael Revesz Comments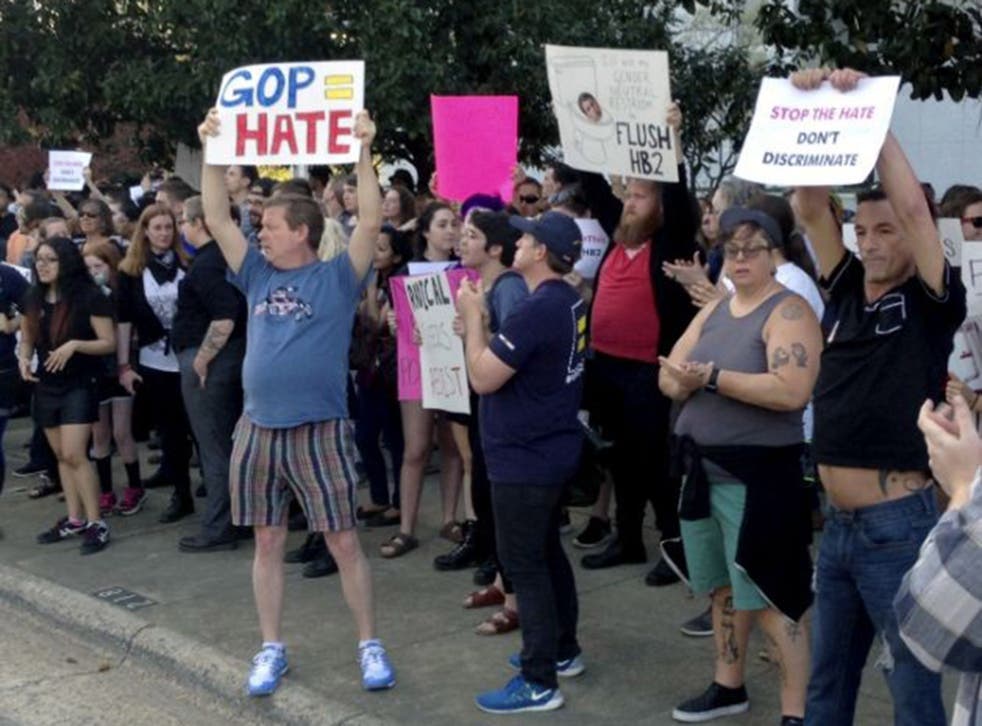 The Republican governor of North Carolina has shown little willingness to back down to federal demands and repeal his sweeping discriminatory law against LGBT people in the state.
Pat McCrory was given until 9 May to repeal the House Bill 2, which legalises discrimination in education and employment against people who are lesbian, gay, bisexual and transgender, as well as forcing transgender people to use the bathroom that matches the gender on their birth certificate.
Speaking to Fox News, governor McCrory was asked whether he will repeal the law.
"I'm looking at all my options and one thing the nation has to realise is this is no longer a North Carolina issue," he said.
"It's the federal government being a bully," he added.
The US Department of Justice warned last week that the state law passed in March violates civil rights protections as well as Title IX laws which forbid discrimination in education based on gender.
The University of North Carolina has 17 campuses and risks $1.4 billion in federal funding if it does not comply with the federal law. UNC President Margaret Spellings said they must follow the state law but HB2 is "sending a chill" through the university system.
The governor agreed that it would make sense to be warned of consequences if they enforced separate bathrooms for white and black people as race can be clearly defined, but he said the Justice Department is "trying to define gender identity, and there is no clear identification or definition of gender identity."
"Boys who may think they are a girl can go into a girl's locker room, shower room or restroom facility," he said.
North Carolina house speaker, Republican Tim Moore, told the Raleigh News & Observer that the state will take no action by the federal deadline.
"In all candour, with all due respect, we think that the Obama administration is playing politics and it shouldn't," he said.
Mr McCrory told Fox News presenter Megyn Kelly last month that HB2 came about to "respect the privacy" of young people.
If the state law is enforced, it would prevent local governments in the state from protecting its LGBT citizens.
Various celebrities and artists have boycotted the state after the law was signed, like Bryan Adams and Bruce Springsteen. Deutsche Bank and PayPal also announced they would freeze expansion plans in the state.
Register for free to continue reading
Registration is a free and easy way to support our truly independent journalism
By registering, you will also enjoy limited access to Premium articles, exclusive newsletters, commenting, and virtual events with our leading journalists
Already have an account? sign in
Join our new commenting forum
Join thought-provoking conversations, follow other Independent readers and see their replies