North Carolina transgender bathroom law prompts boycotts as anger grows
The law was never going to slip quietly into the legislative night, to be quickly forgotten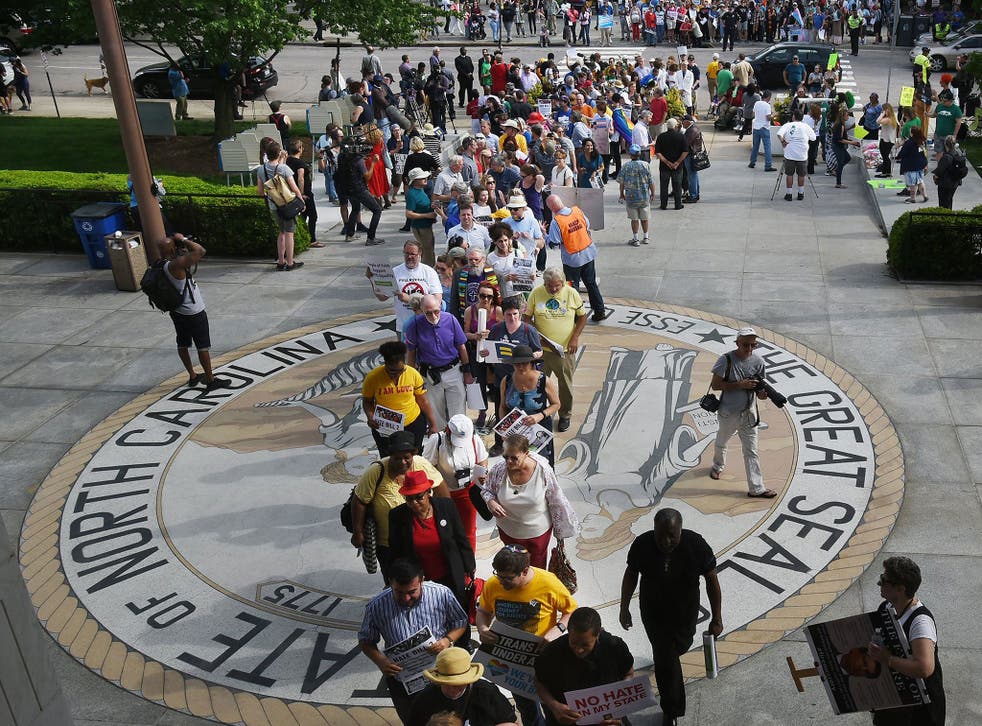 The mood at this year's spring furniture trade show – the largest in the world – in High Point, North Carolina, should have been as buoyant as the mattress of a French four-poster: consumer confidence is up, house sales too. Yet hovering over the avenues of booths that filled the 12-million square feet of exhibition space was something closer to gloom. Or, for some, anger.
The cause of the malaise at the fair, which ended last Tuesday, was a new law pushed through the Republican-majority state legislature in March called HB2. Also known as the 'Bathroom Law', it seeks to undo some of the anti-discrimination protections that already existed in the state for its minority citizens, notably lesbians, gays and transexuals in the LGBT community.
Signed into law by Governor Pat McCrory, also a Republican, within hours of its passage, the law was never going to slip quietly into the legislative night, to be quickly forgotten. Yet the sheer scope of the furore it has unleashed – it even came up during President Barack Obama's recent Downing Street press conference with David Cameron – could barely have been predicted.
Above all, there has been the economic backlash. North Carolina isn't North Korea, but it finds itself the target of ad hoc economic sanctions, the cost of which are escalating. Some are coming from government – a handful of other US states have prohibited workers traveling to North Carolina on state business – while others are being applied by the private sector.
High-profile music acts – Pearl Jam, Ringo Starr and Bruce Springsteen – have cancelled concerts in North Carolina. Cirque du Soleil also pulled an appearance in the state. Corporations such as Deutsche Bank and PayPal have put expansion plans on hold. The NCAA, the governing body for the lucrative collegiate basketball competition, last Thursday threatened to take tournaments bound for North Carolina elsewhere. Business conventions are being cancelled.
"The HB2 law that was recently passed is a despicable piece of legislation that encourages discrimination against an entire group of American citizens," Pearl Jam said on its Facebook page. As for the furniture fair, attendance was down by as much as 30 per cent, according to some estimates, as buyers and designers decided to withhold dollars from the state.
At its heart, HB2 nullified ordinances passed by some of the state's more liberal-minded municipalities – Charlotte, in particular – that expanded protections for LGBT citizens. It also overturned a Charlotte ordinance passed in February permitting trans people to use the bathroom of their new gender identity. In public buildings, at least, any trans person in North Carolina may now only use the bathroom corresponding to the gender on their birth certificate.
World news in pictures

Show all 50
North Carolina, in other words, has become the standard-bearer for conservatives across America who despair of the changing cultural tides that in just a few short years have seen same-sex marriage become the law of the land and a raft of new legal protections for LGBT citizens come into force. They are fighting back, often with the argument that laws requiring that they serve, even respect, their LGBT neighbours violate their religious beliefs and they should therefore be allowed to ignore them.
When it comes to who gets to go into which public lavatories, the notion deployed by defenders of HB2 is that the children of the state would be at risk because men who are transitioning – or have transitioned – to women would be allowed in women's facilities. "North Carolina will never put a price tag on the value of our children," Republican Lieutenant Governor Dan Forest said last week. "If a corporation wanting to do business in North Carolina does not see the worth of our children in the same light, then I wish them well as they do business somewhere else."
Not everyone was willing to downplay the gathering boycotts in this way, however, including folk at the furniture fair. "As leaders and organizers of the High Point Market, we feel an obligation to inform the public and our government leaders in Raleigh of the significant economic damage that HB2 is having on the High Point Market and on the North Carolina economy," read a statement issued even before the spring fair's opening last month. "Based on the reaction in just the last few days, hundreds, and perhaps thousands, of our customers will not attend the market this April," it stated.
"How embarrassing for us that people don't want to come to our state. It's such a dark blemish on our state and our people," Mitchell Gold, co-founder of Mitchell Gold + Bob Williams, a leader in home furniture retail in the US, told the local news website, Triad City Beat. "We're going to make up for it by visiting the customers and sending photos. We'll work it through. But it definitely had an impact." Among large buyers who did not show up at the fair this time he revealed: Williams Sonoma, the owner of two other retail chains, Pottery Barn and West Elm.
Pressure is mounting on Governor McCrory to rescind HB2, or at least excise parts of it that have caused the most uproar, including the trans bathroom provisions. Last week, more than 50 opponents of the law were arrested after descending on the grounds of state legislature to protest it. Some city mayors are warning the boycott could spread. "We have rumours of other companies looking at not coming here, putting jobs on hold in the future, and that's the biggest concern," Harold Weinbrecht, the mayor of Cary, just outside Raleigh, told PBS TV.
And the normally Republican-friendly Greater Raleigh Chamber of Commerce has joined in demanding a reconsideration of the law. "This legislation is bad for business and bad for North Carolina," it said in a statement. A draft bill precisely to repeal HB2 was tabled last week by Grier Martin, a Democrat member of the legislature from Raleigh, who contends the damage to the state's reputation could be long lasting. Even if the law were done away with, "it would not undo, with the swipe of a pen, the incredible damage" already done to the state's economy, he said. "But it would stop the bleeding and put North Carolina back on the path of progress."
For now, Governor McCrory has given no indication that he or his colleagues in Raleigh will ever ditch their new law. But he faces re-election this year and political circumstances can change quickly. The boycotting of his state is not of the order of United Nations sanctions. But combine the power of the state's dismayed moderates and liberals with an increasingly alarmed business community and suddenly you will have a force that will be hard to resist. And then the HB2 law – whether you consider it a mere aberration from the national trend towards greater tolerance or the last twitching of a body opposition that is already dead – will be consigned to history.
Join our new commenting forum
Join thought-provoking conversations, follow other Independent readers and see their replies