Officials block supplies reaching oil pipeline protesters in North Dakota
Demonstrators voice concerns over plans to route a $3.8 billion pipeline beneath a lake
Wednesday 30 November 2016 10:15
Comments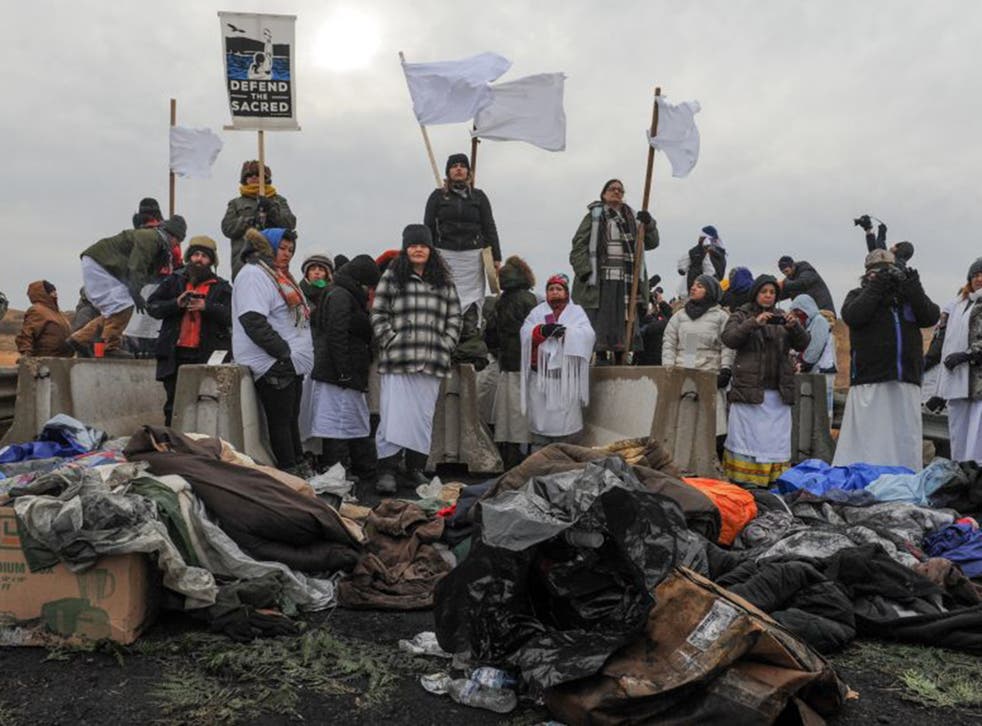 Officials have blocked supplies reaching oil pipeline protesters in North Dakota.
Demonstrators have been voicing their concerns over plans to route a $3.8 billion Dakota Access Pipeline beneath a lake near the Standing Rock Sioux reservation and claim the proposals pose a threat to water resources and Native American sites.
State officials have threatened to use fines and a physical blockade to keep protesters from receiving portable bathrooms, food and building materials.
Maxine Herr, a spokeswoman for the Morton County Sheriff's Department, said the primary concern was public safety.
"The governor is more interested in public safety than setting up a road block and turning people away," Ms Herr said.
Officers said they will stop vehicles they believe are headed to the camp and inform drivers they could be fined up to $1,000.
Protesters occupy Standing Rock reservation, North Dakota

Show all 15
The activists, who have been protesting for months, said state officials were "bullying" demonstrators and questioned the legality of the fines.
"It's bogus and I don't know about the legality of it," said Kandi Mossett, an organiser for Indigenous Environmental Network.
"We're not afraid. We're moving in and out of the camp at will. So people shouldn't be afraid of coming and supporting the water protectors. They've been bullying us since day one."
The demonstrators also claimed law enforcement have used excessive force and suggested local police have used water cannons and tear gas on the protesters.
Register for free to continue reading
Registration is a free and easy way to support our truly independent journalism
By registering, you will also enjoy limited access to Premium articles, exclusive newsletters, commenting, and virtual events with our leading journalists
Already have an account? sign in
Register for free to continue reading
Registration is a free and easy way to support our truly independent journalism
By registering, you will also enjoy limited access to Premium articles, exclusive newsletters, commenting, and virtual events with our leading journalists
Already have an account? sign in
Join our new commenting forum
Join thought-provoking conversations, follow other Independent readers and see their replies