North Korean nuclear weapons crisis at 'tenuous stage,' Rex Tillerson says
US Secretary of State urges caution at Vancouver international security summit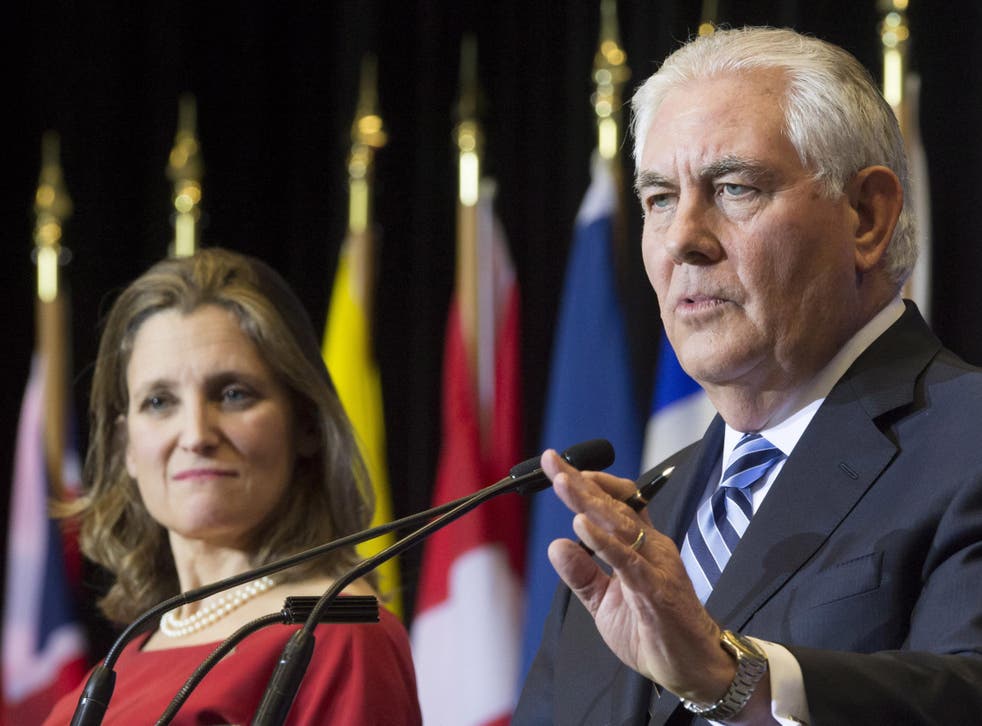 US Secretary of State Rex Tillerson has warned that the crisis over North Korea's nuclear weapons is at a "tenuous stage" and said the time for Pyongyang to show a willingness to talk about denuclearisation is now.
"The North Koreans know our channels are open, and they know where to find us," Tillerson told reporters in a news conference at the conclusion of a summit of 20 countries seeking ways to strengthen UN sanctions.
When asked directly whether Americans might soon be at war with North Korea, Tillerson did not offer easy reassurances.
"I think we all need to be very sober and clear-eyed about the current situation," he replied, citing North Korea's advances in developing nuclear weapons and the missiles capable of delivering them. "We have to recognise that the threat is growing. And if North Korea does not choose the path of engagement, of discussion, negotiations, then they themselves will trigger an option."
The Vancouver summit was called to explore ways to tighten sanctions against North Korea and discuss maritime interdiction of ships carrying banned goods and materials to and from the country.
Defence Secretary Jim Mattis joined Tillerson at the Vancouver summit. The dichotomy of the diplomat and the general underscores the difficulty faced by many foreign governments trying to discern whether hawks outweigh the pro-diplomacy voices in the Trump administration - and whether the world may be on the precipice of nuclear war.
"It shows an integration of diplomatic efforts with the military option on the table," said a senior State Department official, speaking on the condition of anonymity because of the sensitivity of the talks. "But our preferred solution is a diplomatic solution. Secretary Mattis raised that repeatedly. I think this was a chance to raise people's confidence that we have thought through this."
Tillerson also frequently repeated the sentiment that diplomacy is the best option, compared to endless sanctions, or worse.
"What I hope they are able to realise is, the situation only gets worse," he said of North Korea. "It gets worse with every step they take. It gets worse with time."
Tillerson also expressed hope that the message is starting to sink in that the world will insist on North Korea abandoning its nuclear weapons.
"The stand we are taking is, we will never accept them as a nuclear power," he said. "So, it's time to talk. But they have to take the step that says they want to talk."
But Tillerson sidestepped a question about whether President Trump had any direct contacts with North Korean leader Kim Jong-un, as Trump seemed to suggest last week in an interview with the Wall Street Journal before the White House said he had been misunderstood.
"If we want that to be made known and made public, we will announce it," Tillerson said.
At the onset of the summit, Tillerson underscored what was at stake when he unveiled a visual aid, a map showing air traffic across Asia on one day. Hundreds of yellow icons on the map represented planes, which the Federal Aviation Administration calculated to hold more than 150,000 seats within range of North Korean missiles.
"Based on its past recklessness," Tillerson said, "we cannot expect North Korea to have any regard for what might get in the way of one of its missiles, or parts of a missile breaking apart."
But Japanese Foreign Minister Taro Kono cautioned against being misled by North Korea's talks with the South, which he depicted as part of a campaign to achieve sanctions relief.
"We should not be naive about their intent," he said. "Nor should we be blinded by North Korea's charm offensive. In short, it is not the time to ease pressure or to reward North Korea."
Tillerson has insisted that a diplomatic solution is a way out of the impasse, although he said the United States would not go along with a proposal to curtail military exercises with South Korea if North Korea stops developing nuclear weapons.
"We reject a 'freeze for freeze' approach in which legitimate defensive military exercises are placed on the same level of equivalency as the DPRK's unlawful actions," he said, using the initials for North Korea's official name, the Democratic People's Republic of Korea. "The pressure campaign will continue until North Korea takes decisive steps to denuclearise."
British Foreign Secretary Boris Johnson deflected a reporter's question about the impact of Trump's tweets directed at Kim, such as a recent one proclaiming his "nuclear button" bigger than the North Korean leader's and another advising Tillerson that he was wasting his time trying to get North Korea to negotiate.
"There's a diplomatic way to do that," Johnson said. "Rex Tillerson gets it."
Tillerson and Canadian Foreign Minister Chrystia Freeland co-hosted the summit, which gathered representatives from 20 countries that sent troops or humanitarian aid under a UN effort to repel the North during the Korean War from 1950 to 1953. Two world players were excluded: China and Russia, which supported the North in the war and sit on the UN Security Council. Both border North Korea and are crucial to any push to enforce UN sanctions and cut off its trade.
Russian Foreign Minister Sergei Lavrov told reporters Monday that the meeting was "destructive," and he mocked the list of invited nations, some of which are small countries peripherally involved in the standoff with Pyongyang.
North Korea announces intercontinental missile launch

Show all 13
"When we found out about the meeting, we asked: Why do you need all those countries together?" Lavrov said. "Greece, Belgium, Colombia, Luxembourg - what do they have to do with the Korean Peninsula?"
China has dismissed the summit as "meaningless" and said the solution lies in dialogue with the Kim regime.
Assistant Secretary of State Susan Thornton, head of the East Asia bureau, will travel to Beijing after the meeting to brief Chinese officials on the talks, and Tillerson will speak with his counterparts in Russia and China.
The Washington Post
Register for free to continue reading
Registration is a free and easy way to support our truly independent journalism
By registering, you will also enjoy limited access to Premium articles, exclusive newsletters, commenting, and virtual events with our leading journalists
Already have an account? sign in
Register for free to continue reading
Registration is a free and easy way to support our truly independent journalism
By registering, you will also enjoy limited access to Premium articles, exclusive newsletters, commenting, and virtual events with our leading journalists
Already have an account? sign in
Join our new commenting forum
Join thought-provoking conversations, follow other Independent readers and see their replies