NSA whistle-blower Edward Snowden: The long extradition battle begins
He is in a safe house after US lodges espionage charges against him
David Randall
,
David Usborne
,
Oliver Duggan
Sunday 23 June 2013 10:18 Comments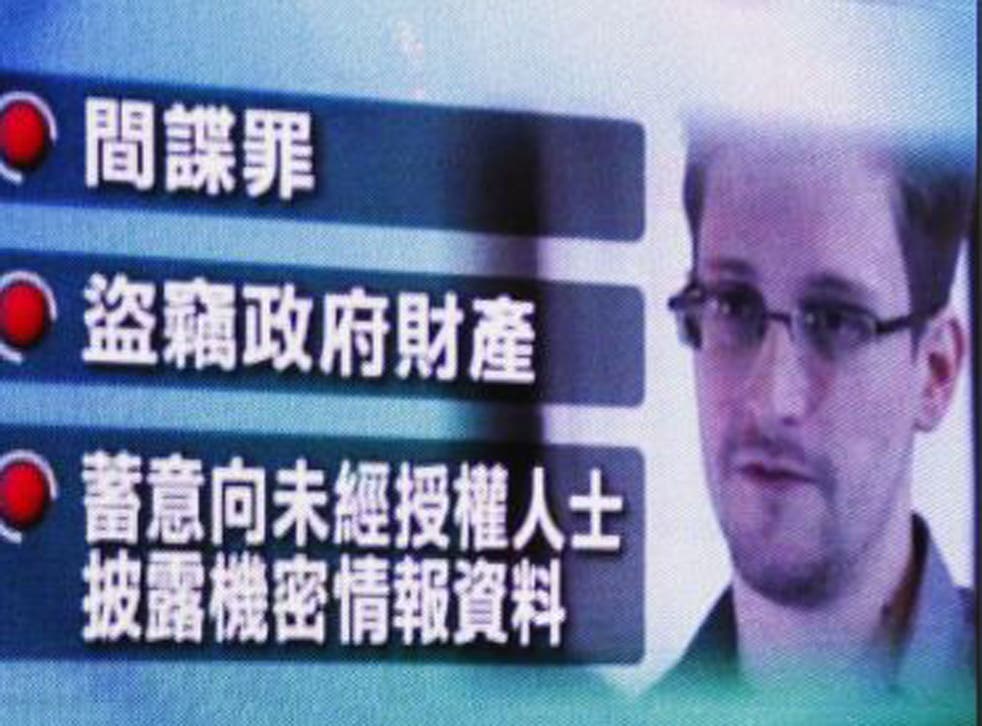 Edward Snowden, the American who revealed the existence of secret surveillance programmes operated by the US and Britain, left his Hong Kong safe house this morning as he braced himself to become the subject of a lengthy and now global fight for his extradition. On Friday night, US authorities filed espionage and theft charges against him.
Last night, outgoing White House National Security Adviser Tom Donilon confirmed that the US had begun to seek Mr Snowden's extradition from Hong Kong. Another source said the US had asked Hong Kong to detain Mr Snowden on a provisional arrest warrant. US prosecutors had 60 days to file an indictment and could then take steps to secure Mr Snowden's extradition from Hong Kong to stand trial in the US.
There is, according to US law enforcement officials, "an active extradition relationship between Hong Kong and the United States". But Mr Snowden could contest extradition on grounds of political persecution. Mark Sutherland, a Hong Kong lawyer, said the filing of a refugee, torture or inhuman punishment claim acts as an automatic bar on any extradition proceedings until those claims can be assessed. "Some asylum-seekers came to Hong Kong 10 years ago and still haven't had their protection claims assessed," Mr Sutherland said.
However, Hong Kong officials confirmed today that "Mr Snowden has left Hong Kong to a third country in a legal and normal way." In a statement issued after local media reported he departed on a 10:55am to Moscow, a government spokesman said:
"The United States previously requested Hong Kong to issue a provisional arrest warrant for Mr Snowden. Because the US request failed to fully comply with the requirements under Hong Kong law, the US Department of Justice was asked to provide further information. The failure to provide sufficient information in this case meant there was no legal basis to restrict Mr Snowden's departure."
Hong Kong is part of China but has wide-ranging autonomy, including an independent judiciary, and rights and freedoms not seen on mainland China. However, under the city's mini constitution, Beijing is allowed to intervene in matters involving defence and diplomatic affairs and some Chinese legislators said any extradition decision should be up to the Chinese government.
Earlier this month, Mr Snowden admitted leaking secrets about classified US surveillance programmes. Supporters say he is a whistle-blower, while critics call him a criminal and perhaps even a traitor. Documents leaked by Mr Snowden revealed that the National Security Agency (NSA) has access to vast amounts of worldwide internet data such as emails, chat rooms and videos from large companies such as Facebook and Google, under a government project known as Prism.
Hong Kong's South China Morning Post reported yesterday that Mr Snowden had divulged information to it showing how computers in Hong Kong and China had been targeted. The paper said documents and statements by Mr Snowden show the NSA programme had hacked major Chinese telecoms companies to gain access to text messages, attacked China's top Tsinghua University, and hacked the Hong Kong headquarters of Pacnet, which has an extensive fibre-optic submarine network.
President Barack Obama and his intelligence chiefs have vigorously defended the programmes, saying they are regulated by law and that Congress was notified. They say the programmes have been used to thwart militant plots and do not undertake blanket sweeps of personal online activity or emails. Internet firms, which have been keen to allay customers' fears, gave figures last week for the data requests from the US government. Facebook, for instance, said that during the six months to 31 December 2012, the group received between 9,000 and 10,000 user data requests from all government entities in the US. These were made in relation to 18,000 and 19,000 user accounts.
Until today, Mr Snowden's precise whereabouts were unknown. He had not been seen since he checked out of a Hong Kong hotel on 10 June. The city's Chinese-language Apple Daily quoted police sources as saying that anti-terrorism officers had contacted Mr Snowden, arranged a safe house for him, and provided protection. But the South China Morning Post said police were not providing protection. Police Commissioner, Andy Tsang, declined to comment other than to say that Hong Kong would deal with the case in accordance with the law.
Yet there has been much speculation in recent days that the ground was being prepared for a possible application for asylum in Iceland. WikiLeaks figures have been involved in approaches to the Reykjavik government. An Icelandic businessman linked to WikiLeaks said on Thursday that he had readied a private plane in China to fly Mr Snowden there if Iceland's government would grant asylum. Officials in Reykjavik have so far refused to say whether it would grant asylum to Mr Snowden.
The WikiLeaks founder Julian Assange, holed up in the Ecuadorean embassy in London, where he is similarly resisting extradition attempts, has said he has been involved in trying to broker a deal with the Icelandic government. Speaking yesterday, he said: "It is getting to the point where the mark of international distinction and service to humanity is no longer the Nobel Peace Prize but an espionage indictment from the US Department of Justice … The effort to find asylum for Edward Snowden must be intensified. What brave country will stand up for him?"
The public side of this saga began when, less than a month after starting work in Hawaii as a systems administrator for Booz Allen Hamilton, a government security contractor, Mr Snowden took sick leave. He told the firm that he suffered from epilepsy and needed time off. When he failed to return or make contact, the company contacted US intelligence officials, whose agents tried to trace him. Only after the internet surveillance stories broke did he surface.
For someone who worked for the CIA overseas, and who was given high-level security clearance, his career is not exactly a model of stability. He dropped out of high school, tried Army Reserve training but quit after four months, and then became a security guard. It was then, reportedly in 2006, aged 23, that he joined the CIA, where his computer skills gave him rapid advancement. He was assigned to Switzerland, and then, from 2009, worked in the US and Japan as an NSA contractor.
Between 2001 and last year, he posted around 750 messages to an internet forum under a pseudonym, some attacking citizen surveillance and corporate greed. One, in 2010, read: "Society seems to have developed an unquestioning obedience towards spooky types." Last year, he donated money to the presidential election campaign of Rand Paul, the libertarian republican. He joined Booz Allen Hamilton this spring.
According to US sources, Mr Snowden told his employers he took computer classes at John Hopkins University in Baltimore, but the university says it can find no record of his attendance. He also said he expected to earn a master's degree in computer security from Britain's Liverpool University. The university said in a statement that he registered, "is not active in his studies and has not completed the programme". It refused to say if he had ever submitted any work. Late last week, it was reported that possible discrepancies between claims on his CV and reality were discovered by hiring screeners at Booz Allen Hamilton.
Register for free to continue reading
Registration is a free and easy way to support our truly independent journalism
By registering, you will also enjoy limited access to Premium articles, exclusive newsletters, commenting, and virtual events with our leading journalists
Already have an account? sign in
Join our new commenting forum
Join thought-provoking conversations, follow other Independent readers and see their replies