Obama cuts US nuclear arsenal – but keeps sights trained on Iran
President agrees to reduce stockpile of atomic warheads – and rules out using them on states that play by rules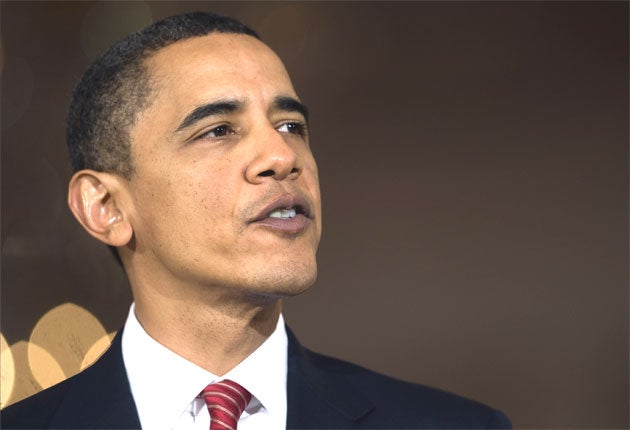 The United States will resist developing any new nuclear weapons and will add new limits to the circumstances under which it would deploy its existing atomic weapons against an enemy, the Obama administration announced yesterday.
As President Obama prepared to sign a new nuclear arms treaty with Russia in Prague tomorrow, a long-awaited nuclear posture review outlined key changes in how the US will manage its atomic arsenal in future. While the 74-page document reflects the promises made by Mr Obama in Prague last year to seek a nuclear-free world, it also contained some caveats that were certain to disappoint arms control advocates.
Aside from signing the new treaty with Russian President Dmitry Medvedev tomorrow which calls on both countries to cut numbers of nuclear warheads by about a third, he will next week host a summit of 40 world leaders in Washington DC on combating the threat of nuclear terrorism.
The nuclear review appeared to be aimed almost as much at bolstering progress on the twin issues of nuclear proliferation and the dangers of nuclear terrorism, both of which have been repeatedly highlighted by Mr Obama as key priorities, as at the finding a new place for nuclear weapons in America's defences equation.
"The massive nuclear arsenal we inherited from the Cold War era of bipolar military confrontation is poorly suited to address the challenges posed by suicidal terrorists and unfriendly regimes seeking nuclear weapons," the report said. "Therefore, it is essential that we better align our nuclear policies and posture to our most urgent priorities – preventing nuclear terrorism and nuclear proliferation."
The review said that the US will forswear the use of nuclear weapons against non-nuclear countries, a clear break from the policy of the Bush administration. However, it added that exceptions would be made in respect of countries not in full compliance with the non-proliferation treaty, a caveat clearly aimed at Iran and North Korea. "All options are on the table when it comes to countries in that category," Defence Secretary Robert Gates said.
The review sets out a strengthening of America's conventional capabilities coupled with a paring back of the country's reliance on the nuclear option. "We are going to want to make sure that we can continue to move towards less emphasis on nuclear weapons," Mr Obama told the New York Times before the review's release.
However, the document stopped short of declaring that the sole reason for America's nuclear weapons was to deter a nuclear attack against it, as arms control lobbyists had hoped. Nor will it do much to stimulate the winding down of US tactical nuclear weapons currently on the soil of five European countries.
"It probably doesn't go far enough to appease the most ardent nuclear disarmament advocates, but that's OK," said Sharon Squassoni, director of the proliferation programme at the Centre for Strategic and International Studies in Washington.
It was "not transformational", agreed Anne Penketh, Programme Director for BASIC, the British American Security Information Council. Calling the review a "mixed bag", she added: "Obviously it is to be welcomed that the US will not develop new nuclear warheads despite pressure from the weapons labs, and that President Obama has won the argument over his core policy of limiting the use of nuclear weapons."
Also featured in the review is a promise to pursue still further arms-reduction treaties with Russia as well as with China. In relation to the latter, it sounded a note of cautious alarm. "The lack of transparency surrounding its nuclear programs – their pace and scope, as well as the strategy and doctrine that guides them – raises questions about China's future strategic intentions."
Join our commenting forum
Join thought-provoking conversations, follow other Independent readers and see their replies