Obama seeks to avoid Katrina comparison with Sandy response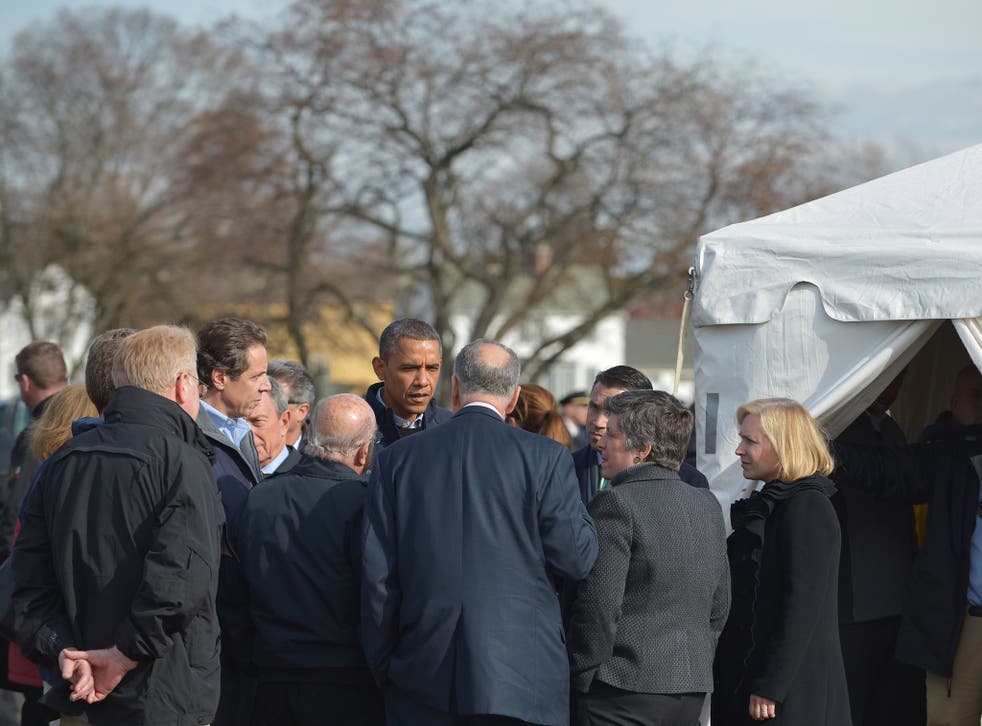 President Barack Obama on Thursday promised residents of New York and New Jersey hit by superstorm Sandy that they will get a coordinated federal, state and local effort to rebuild their devastated neighborhoods.
After touring damaged areas of the New York City boroughs of Queens and Staten Island, Obama announced he's appointing Housing Secretary Shaun Donovan to lead reconstruction once the immediate relief needs are met.
"We are going to be here until the rebuilding is complete," Obama said after meeting with residents and relief workers on Staten Island, repeating a vow he made to residents of New Jersey in the days after the storm made landfall.
The storm hit Oct. 29, just before the presidential election and the federal response, spearheaded by the Federal Emergency Management Agency, was shadowed by past disasters, particularly that which followed Hurricane Katrina in 2005.
A sign in the bayside township of Broad Channel, Queens, last week read, "FEMA PLEASE HELP US."
The sign is similar to the pleas Katrina survivors spray- painted on plywood seven years ago during what lawmakers criticized as a slow and botched response by FEMA. Eager to avoid such comparisons, the administration has dispatched thousands of FEMA workers to canvass still-dark apartments and tell survivors about the help available to them while the agency coordinates a federal aid effort.
"No excuse is going to satisfy the person who doesn't have power or a place to stay," said Mike Byrne, who's leading FEMA's effort in New York. "We just have to get beyond the obstacles and get to the solution whatever it takes."
New York Gov. Andrew Cuomo, who joined Obama aboard Marine One for a helicopter tour over damaged areas, said earlier this week that FEMA's financial assistance "does not come close to making up" for the economic damage.
He's seeking about $30 billion in federal assistance to help the state recover. White House press secretary Jay Carney told reporters traveling with the president that the administration hadn't yet seen the specific request.
Along with Cuomo, Obama was joined on the tour by New York City Mayor Michael Bloomberg, Homeland Security Secretary Janet Napolitano and Donovan. The mayor is founder and majority owner of Bloomberg News parent Bloomberg LP.
Obama stopped FEMA disaster recovery center set up in the parking of New Dorp High School on Staten Island. Volunteers from around the country were helping distribute boxes of toiletries, food, blankets and cleaning supplies to about 100 local residents.
"We got the whole country represented here," Obama said. "We're proud of you guys."
The president also toured a street where many of the homes were damaged or destroyed.
"We've got some work to do and I want you to know I'm here to do it," Obama said to a crowd outside a boarded-up church.
As Obama spoke on Staten Island, cameras were trained on microphones in New Orleans where Attorney General Eric Holder was readying to formally announce that BP Plc had agreed to pay the largest criminal fine in the country's history for the 2010 Deepwater Horizon oil spill. It was a split-screen reminder of the lessons Obama has learned in responding to disasters and harnessing the full power of the federal government to react.
While FEMA's response to the storm generally has won praise, there have been snags. Although the agency has helped organize gasoline and diesel deliveries, fuel shortages persist.
The agency is beginning to grapple with some of the biggest problems left in the storm's wake, such as permanent housing for displaced people and debris removal.
The criticism of FEMA lacks the vitriol aimed at the agency as New Orleans residents in Katrina's aftermath endured looting, rapes, days on sun-beaten rooftops and dead bodies festering in the streets. Since then, the agency has overcome congressional calls for its dissolution and reinvented itself.
"FEMA's a very different organization than it was," Sen. Joseph Lieberman, a Connecticut independent who heads the Senate Homeland Security and Governmental Affairs Committee, said in an email. For Sandy, "it was proactive, and it didn't used to be."
New Jersey Gov. Chris Christie, a prominent Republican ally of Obama's election opponent, Mitt Romney, has lauded FEMA's attention to the state's needs and the president's response.
The destruction of Sandy, a 900-mile-wide storm, was concentrated along the New Jersey coast and the five boroughs of New York. The death toll is more than 100.
Estimated insured losses are about $20 billion, according to Charles Watson, director of research for Kinetic Analysis Corp., a risk-assessment company based in Silver Spring, Md.
While the scale of Sandy's destructiveness is far less than Katrina, which killed 1,833 people and was spread over 90,000 square miles, the storm has tested FEMA's capabilities, emergency managers said.
The experience of FEMA's leadership, including Administrator Craig Fugate, the one-time head of Florida's emergency-response agency, has contributed to that success, said Ellis M. Stanley Sr., former general manager for the Los Angeles Emergency Preparedness Department.
"The primary difference" with FEMA after Katrina "is leadership," he said in an e-mail. "Not only are storm victims getting assistance quicker, the survivors are better engaged."
* Bliss reported from Washington. Contributors: Freeman Klopott in Albany, N.Y., Margaret Newkirk in Atlanta , William Selway and Julianna Goldman in Washington and Edmund Lee in New York.
Register for free to continue reading
Registration is a free and easy way to support our truly independent journalism
By registering, you will also enjoy limited access to Premium articles, exclusive newsletters, commenting, and virtual events with our leading journalists
Already have an account? sign in
Register for free to continue reading
Registration is a free and easy way to support our truly independent journalism
By registering, you will also enjoy limited access to Premium articles, exclusive newsletters, commenting, and virtual events with our leading journalists
Already have an account? sign in
Join our new commenting forum
Join thought-provoking conversations, follow other Independent readers and see their replies