Obama urged to keep pressure on Burma, not simply reward it
US President's Asia tour underscores foreign policy shift eastwards to counter China's influence
Andrew Buncombe
Sunday 18 November 2012 22:30 Comments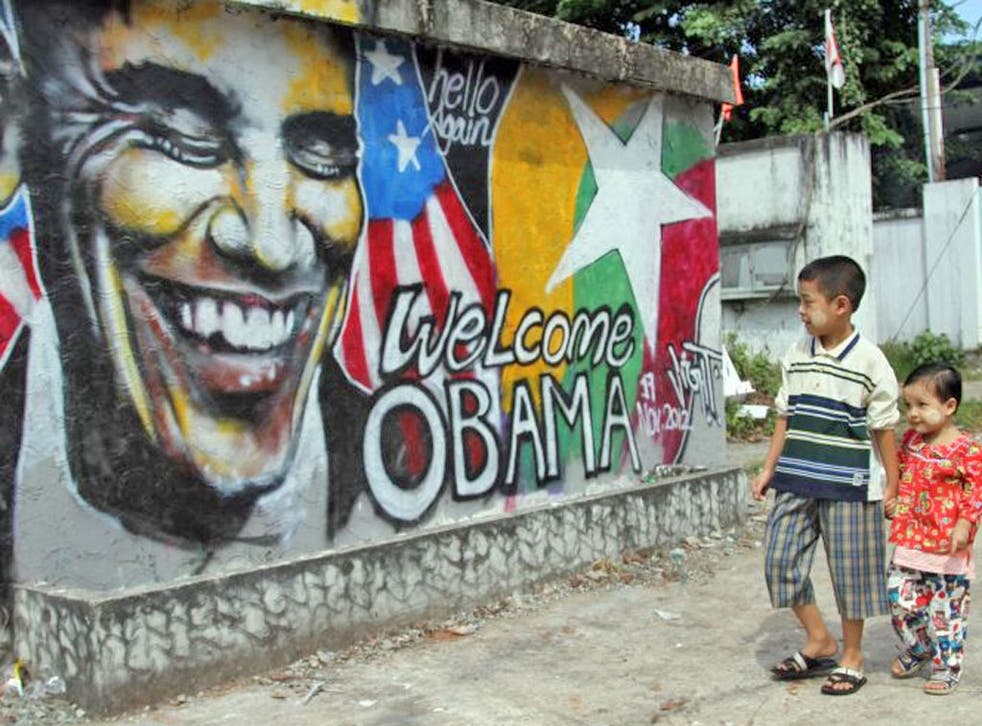 Authorities in Burma will be rewarded today for their fast-paced reforms with a historic visit by the US President. But rights activists have warned that unless Barack Obama presses the government to complete the journey to genuine democracy, his visit will be an "undeserved seal of approval" for the military's continued domination.
On what is being portrayed as a deeply significant trip to Asia to cement ties and underscore a shift of US focus eastwards to counter growing influence from China, Mr Obama is set to become the first sitting US president to travel to Burma. During his trip – his first overseas visit since re-election – he is scheduled to deliver a speech at the University of Yangon, an institution that has been home to many democracy struggles.
The US believes the government, headed by President Thein Sein, has embarked on a transition towards that democracy. But campaigners say the transformation is far from complete and there are many issues that Mr Obama must raise during his six hours in the country, when he will meet Thein Sein and the opposition leader, Aung San Suu Kyi.
Among them is the ongoing ethnic violence; the day before Mr Obama arrived, Human Rights Watch issued new satellite images that apparently showed the extent of violence in western Rakhine state. They also accused security forces of supporting some of the violence against Rohingya Muslims that has forced tens of thousands from their homes and left dozens dead.
The White House says Mr Obama's visit to Burma ought not to be seen as a celebration of victory but as an encouragement towards further reforms. The President said as much himself last night at a news conference in neighbouring Thailand. "We understand it's a work in progress," he said. "I'm not somebody who thinks that the United States should stand on the sidelines and not want to get its hands dirty when there's an opportunity for us to encourage the better impulses inside a country."
But campaigners are concerned that the West has little remaining leverage. Most Western sanctions against the country were suspended earlier this year following a by-election that saw Ms Suu Kyi and dozens of her colleagues from the National League for Democracy take their places in the parliament. The changes in Burma have unquestionably come rapidly. The airport is bustling with tourists, hotels are full and street hawkers stand at intersections selling copies of a recently passed piece of legislation about foreign investment. People are free to talk about Ms Suu Kyi in a way that would have been unthinkable barely two years ago. But there are many challenges ahead. Hundreds of political prisoners remain behind bars and the constitution reserves 25 per cent of seats in parliament for military officers. Brad Adams of HRW said Mr Obama should call for the release of political prisoners and for legal and constitutional reform.
"Obama's success in securing tangible commitments on human rights, not his mere presence in the country, is crucial for promoting genuine and lasting reform," Mr Adams said.
The rather dilapidated University of Yangon has been given a new lick of paint for Mr Obama, who will be arriving after his one-day visit to Thailand yesterday and who will fly on to Cambodia tonight to attend the summit of the Association of South-East Asian Nations (Asean).
Two female students walking past the university said they were excited about Mr Obama's visit but their comments hinted at the cost of Burma's decades of isolation. "We know him very well and we admire and respect him," said one. "But for us as women here, it will not be possible to become a great person like him."
Register for free to continue reading
Registration is a free and easy way to support our truly independent journalism
By registering, you will also enjoy limited access to Premium articles, exclusive newsletters, commenting, and virtual events with our leading journalists
Already have an account? sign in
Join our new commenting forum
Join thought-provoking conversations, follow other Independent readers and see their replies