Obamacare: Americans 'race to sign up for affordable healthcare plan' as Donald Trump attempts to axe it
Despite cuts to outreach and advertising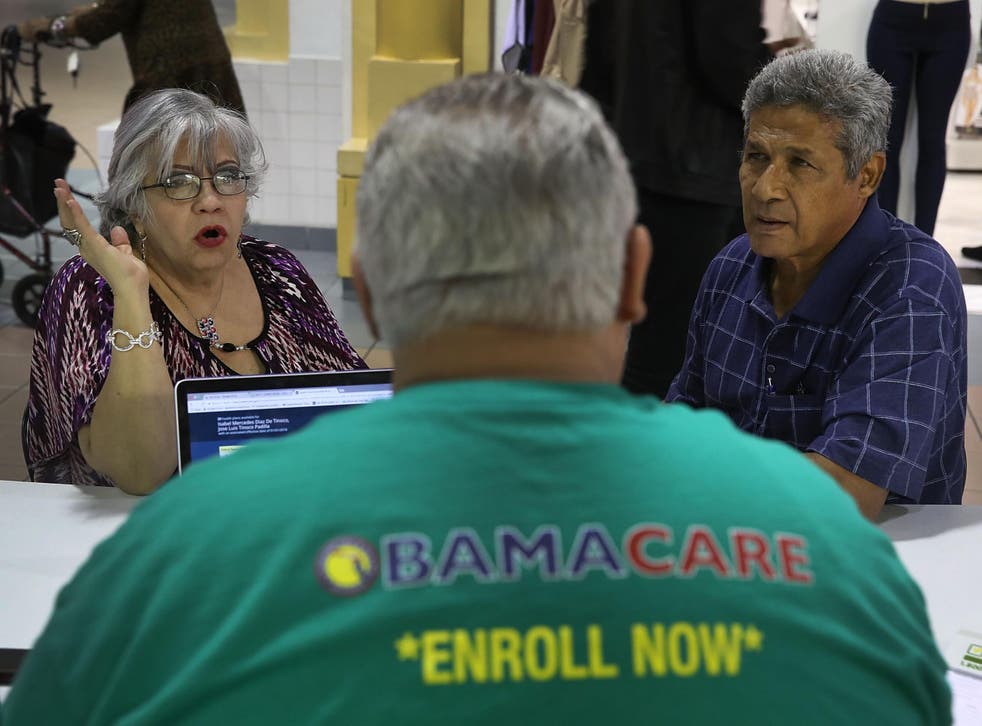 A record number of people have reportedly signed up for Obamacare in the first few days of enrolment this year.
The rise defies expectations, after economic forecasters predicted enrolment would drop by as much as 1.6 million in the face of uncertainty about the future of the Health and Social Care Act.
Donald Trump's administration slashed the scheme's outreach budget by 90 per cent and cut grants to outside groups that help people enrol.
This year, the enrolment period has been halved and will end on 15 December.
But more than 200,000 signed up on the first day of enrolment — double last year's number — sources told The Hill.
Meanwhile, more than one million people visited the Government's health care plan website that day, up from around 750,000 last year, they said.
A portion of those signing up will be renewing their healthcare plans, rather than newly enrolling.
"The first few days of Open Enrolment for the Federal Health Insurance Exchange went smoothly," a spokesperson for the Centres for Medicare and Medicaid Services, which manages Obamacare, told The Hill.
"The website performed optimally and consumers easily accessed enrolment tools to compare plans and prices."
US health insurers have attempted to fill the gap left by the Government's cuts to the outreach budget.
Independence Blue Cross, a health insurer in Pennsylvania, has commissioned a tractor trailer truck to bring insurance consultants out to shopping centres and other neighbourhood stalls around Philadelphia.
The President has so far failed to win support for repealing Obamacare, one of his key campaign pledges, and Republicans have moved on to focus on tax reform.
Yet House Speaker Paul Ryan said the party is discussing whether its tax plan should include a repeal of the Obama health law's requirement that people have insurance coverage or face a penalty.
World news in pictures

Show all 50
Mr Ryan told Fox News Sunday "a lot of members are suggesting" the House include the repeal.
The move has been promoted by Mr Trump, who last week tweeted: "Wouldn't it be great to repeal the very unfair and unpopular Individual Mandate in Obamacare and use those savings for further tax cuts for the middle class."
Yet some GOP politicians have expressed concerns, fearing the measures could imperil a much-needed legislative victory.
Republican congressman Kevin Brady, who chairs the key House Ways and Means Committee, has said including a repeal of the health law's individual mandate would be politically risky, given that the senate has failed to pass health legislation in Mr Trump's first year.
Join our new commenting forum
Join thought-provoking conversations, follow other Independent readers and see their replies