Obamacare support reaches record high as Republicans push for repeal
Affordable Care Act has majority approval for first time since its introduction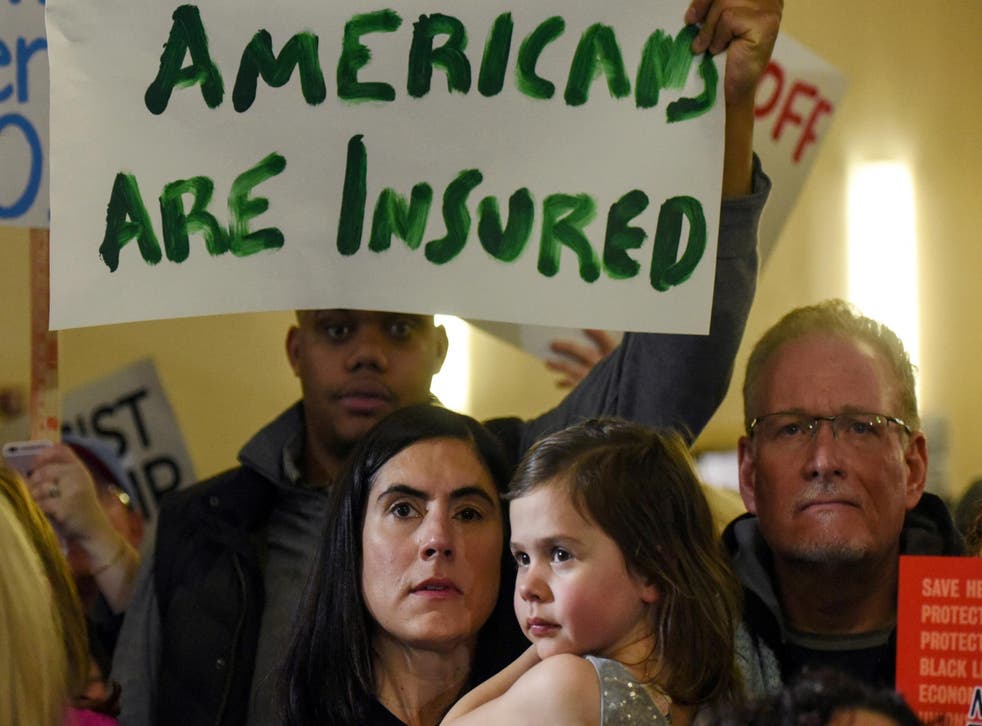 Support for Obamacare has reached its highest level since it was introduced in 2010, weeks after Donald Trump signed an executive order to kickstart the dismantling of the healthcare law.
For the first time since its introduction, the Affordable Care Act, championed by Mr Trump's predecessor Barack Obama, has majority approval at 54 per cent, according to the latest Pew Research Center survey.
Known as Obamacare, it insures some 30 million Americans, although part of the current administration's policy is to "repeal and replace" it.
Since its inception, the Affordable Care Act has divided opinion, with roughly as many Americans approving as disapproving of the law as recently as December.
The latest survey found those who disapproved of the law were more heavily in favour of making amendments to the existing policy rather than repealing it entirely.
Critics of the Republican plans have warned repealing Obamacare could lead to a huge redistribution of funds from poor to rich Americans and could see millions of low-income people lose their health insurance entirely.
Healthcare has long been a subject of great political division. Democrats overwhelmingly support Obamacare with 85 per cent expressing approval, however, Republicans broadly disapprove, with just 10 per cent approving of the law.
Those Republicans who disapprove were largely divided on whether GOP congressional leaders should modify the law or replace it entirely, with 42 per cent in favour of reform and 44 per cent favouring repeal.
It came as Republican congress members were faced with growing anger at a local level from constituents concerned they will lose their access to medical care.
Footage emerged of a woman interrogating Republican senator Tom Cotton at a town hall event over his party's support for repealing the Affordable Care Act after telling him she currently pays just $29 (£23) a month on care for her dying husband.
She said: "My husband with dementia, Alzheimer's, plus multiple other things, and you want to stand there, with him at home, expect us to be calm, cool, collected. What kind of insurance do you have?"
Join our new commenting forum
Join thought-provoking conversations, follow other Independent readers and see their replies