Office of Government Ethics still wants to punish Kellyanne Conway for Nordstrom comments
Counselor to the President was given a free pass for endorsing Ivanka Trump's brand
Rachael Revesz
New York
Thursday 09 March 2017 21:58 Comments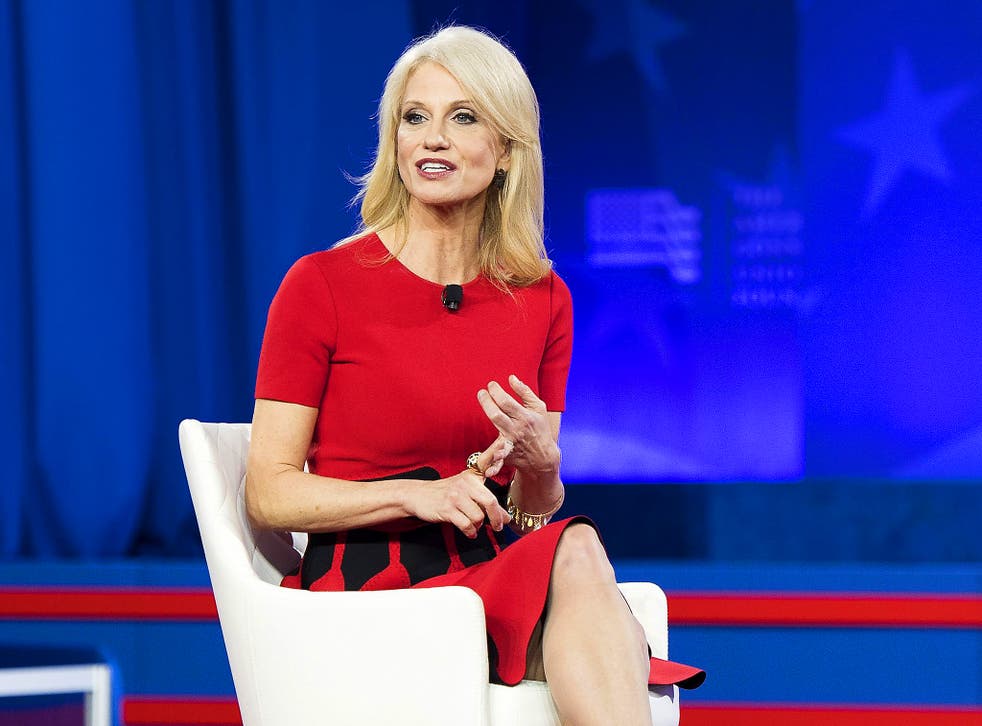 The Office of Government Ethics has expressed consternation that Counselor to the President Kellyanne Conway was let off the hook for advising Fox News viewers to "go buy Ivanka [Trump's] stuff."
OGE director Walter Shaub wrote in a letter to the White House that he was concerned regarding Ms Conway's "misuse of position".
Ms Conway made the remarks during a Fox News interview in early February and was quickly rebuked by Democrats. The previous day, Donald Trump had attacked retailer Nordstrom on twitter for choosing to drop his daughter's brand.
The OGE recommended disciplinary action due to national rules which forbid executive branch employees from endorsing products. The OGE has limited power - it can only recommend disciplinary action when it comes to the executive branch.
White House Press Secretary Sean Spicer said Ms Conway "has been counseled".
Stefan Passantino, Deputy Counselor to the President, decided not to take disciplinary action, saying in a letter on 28 February that Ms Conway had been speaking "in a light, off-hand manner while attempting to stand up for a person she believed had been unfairly treated."
In response, Mr Shaub criticised the White House's "extraordinary" assertion that OGE regulations do not apply to the President's staff.
Kellyanne Conway tells Americans to 'go buy Ivanka's stuff'
"Not taking disciplinary action against a senior official under such circumstances risks undermining the ethics program," Mr Shaub wrote in a letter dated 9 March.
"It is critical to the public's faith in the integrity of government that White House employees be held to the same standard of ethical accountability as other executive branch employees," he added.
Jason Chaffetz, Chairman of the House Oversight Committee, wrote to the OGE recommending an investigation on 9 February. Mr Chaffetz was recently shouted down at a town hall in Utah, where the audience chanted: "Do your job."
He has not investigated Mr Trump's alleged conflicts of interest or ties to Russia, but he tweeted that what Ms Conway did was "wrong, wrong, wrong".
Nordstrom was just one of several retailers that decided to stop selling the Ivanka Trump brand. Nordstrom said the decision was based on poor sales figures, not politics. Mr Trump replied online that the store was treating his eldest daughter "unfairly".
Ms Conway pitched in the following day on Fox & Friends.
"It's a wonderful line," she said.
"I own some of it. I fully — I'm going to just, I'm going to give a free commercial here: Go buy it today, everybody. You can find it online."
Ms Conway has made several gaffes in recent weeks. These included being photographed with her feet up on the sofa in the Oval Office, referring to the "Bowling Green massacre" in Kentucky which never happened - she later apologised - and justifying Sean Spicer's incorrect statements by calling them "alternative facts".
Register for free to continue reading
Registration is a free and easy way to support our truly independent journalism
By registering, you will also enjoy limited access to Premium articles, exclusive newsletters, commenting, and virtual events with our leading journalists
Already have an account? sign in
Join our new commenting forum
Join thought-provoking conversations, follow other Independent readers and see their replies