Officer 'shouted Allahu Akbar' before gun rampage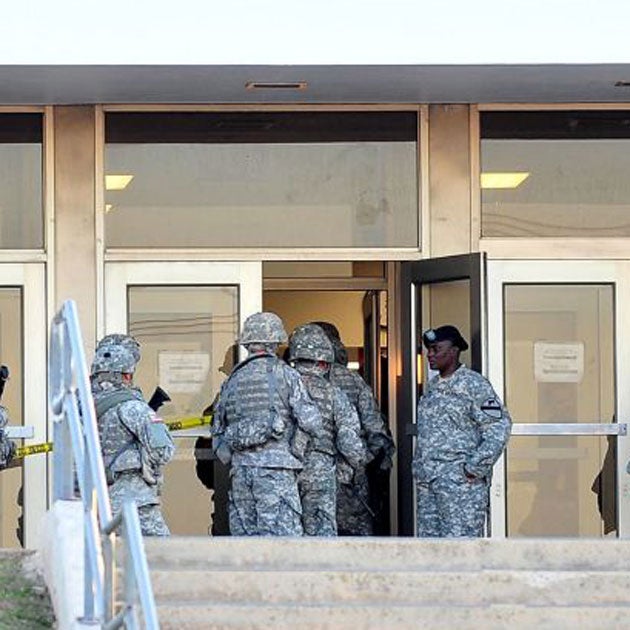 A US officer who killed 13 soldiers in a gun rampage at a Texas army base shouted a triumphant Islamic proclamation before opening fire, it was claimed today.
Army spokesman Lieutenant General Bob Cone said witnesses heard Major Nidal Malik Hasan cry "Allahu Akbar" - Arabic for "God is great" - before opening fire at the Fort Hood complex.
The military psychiatrist was today being investigated for alleged links to extremist websites as the shooter himself remained on a life-support machine.
Hasan, a devout American-born Muslim, was shot several times in the aftermath of the rampage by a civilian police officer who was today being hailed as a hero.
Mr Cone said Sgt Kimberly Munley and her partner responded to reported gunfire within three minutes.
She then disabled the suspect despite being shot herself in the process.
"It was an amazing and an aggressive performance by this police officer," the military spokesman said.
Shortly before her arrival, Hasan - armed with two non-military issue pistols, including a semi-automatic - entered a section used to prepare soldiers for deployment overseas and started firing.
Within minutes, 12 soldiers and a civilian at the base were dead or dying in the worst mass shooting yet at a military base in the US.
At least 30 others were injured in an attack described by President Barack Obama as a "horrific outburst of violence".
Soldiers rushed to treat their wounded colleagues by ripping their uniforms into makeshift bandages.
Around half of those injured required surgery after being evacuated to hospital.
The shootings began yesterday at around 1.30pm local time (7.30pm GMT) at Fort Hood's readiness centre.
The compound - the US's largest military base - was today observing a day of mourning, officials said.
Meanwhile investigators were trying to establish the motive behind the attack.
Mr Obama today ordered federal buildings to fly the US flag at half-mast until Veterans' Day (November 11) as a "modest tribute" to the dead at Fort Hood.
In brief remarks delivered in the White House Rose Garden, the president said he had met FBI chiefs to be updated on the investigation into what caused one serviceman to turn his gun on others.
He added: "We don't know all the answers yet, and I would caution against jumping to conclusions until we have all the facts.
"What we do know is that there are families, friends and an entire nation grieving right now for the valiant men and and women who came under attack yesterday in one of the worst mass shootings to take place on an American military base."
Mr Cone said the suspect was not known to be a threat or risk.
Retired Colonel Terry Lee, who worked with Hasan, claimed the major was anti-war and argued with comrades who supported operations in Iraq and Afghanistan.
Hasan, 39, from Virginia, was also due to be sent to Afghanistan, something family members said would have been his "worst nightmare".
Defence sources said at least six months ago Hasan came to the attention of law enforcement officials because of internet postings about suicide bombings and other threats.
They included posts which compared suicide bombers with soldiers who threw themselves on a grenade to save the lives of their comrades.
Investigators were not certain whether Hasan had written the posts and a formal investigation had not been opened before the shooting, said the sources.
Hasan was shot four times and was being treated in hospital under armed guard.
Mr Cone said he was on a ventilator and unconscious, but added: "I would say his death is not imminent."
Personal details of Hasan were today beginning to emerge.
Hasan, whose family said he was born in suburban Washington, is single with no children.
In 1997 he graduated with a degree in biochemistry from Virginia Tech, scene of a mass shooting in 2007.
His cousin, Nader Hasan, described him as "a good American".
He said the family was "shocked", adding: "We just found out on the news that he was being deployed, he never even told us.
"We've known for the last four or five years that was probably his worst nightmare. He deals with stories, he would tell us how he would hear things, horrific things."
Mr Hasan added that his cousin had also complained of being harassed by others in the military.
Hasan transferred to Fort Hood in July from Walter Reed Medical Centre, where he received a poor performance evaluation, according to an official.
Faizul Khan, a former imam at a mosque Hasan attended in Maryland, said Hasan was a lifelong Muslim and attended prayers regularly, often in his army uniform.
While Fort Hood was on lock down yesterday, Mr Obama met aides in the White House's Situation Room amid initial fears that more than one shooter was involved.
After being informed of the situation, the president said his thoughts and prayers were with the wounded and the families of the fallen.
He added: "It is difficult enough when we lose these brave Americans in battles overseas. It is horrifying that they should come under fire at an army base on American soil."
Prime Minister Gordon Brown today sent a message of support and condolence to Mr Obama over the Fort Hood shootings, said Downing Street.
In the message, Mr Brown said: "My thoughts are with the families and friends of those killed or injured and with you as you find the strength and words to help America respond."
Join our commenting forum
Join thought-provoking conversations, follow other Independent readers and see their replies