Ohio judge rules death row inmate is 'not entitled to a pain free execution'
Convicted murderer and rapist, Dennis McGuire, will be put to death using a new cocktail of drugs that could leave him writhing in agony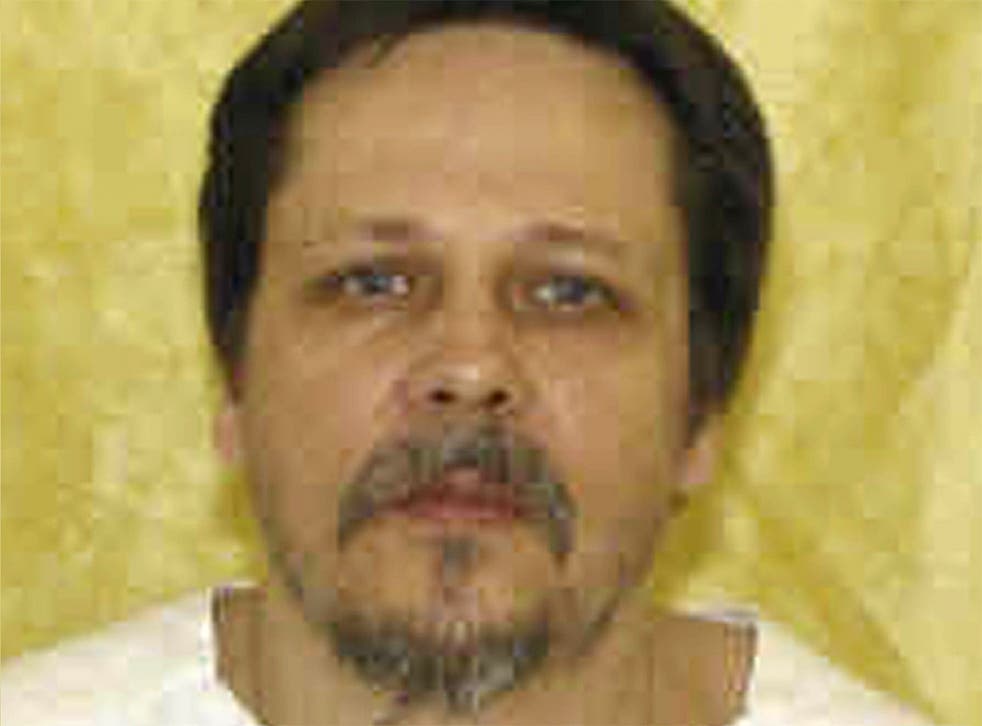 Ohio's state execution team was tonight finalising plans to dispatch a convicted murderer and rapist on death row on Thursday using a never-before-tried combination of two drugs which defence lawyers say threatens to leave him writhing in agony from "air hunger" before he loses consciousness and expires.
The way was cleared for the execution of Dennis McGuire, 53, when a federal judge in Columbus ruled on Monday that concerns about how the new cocktail would work were not enough to issue a stay even as he acknowledged that it amounted nonetheless to a death chamber "experiment" by the state.
Ohio and other death penalty states have been struggling to keep executions going because supplies of pentobarbital traditionally used in a three-drug mix have all passed their sell-by dates thanks to its Danish manufacturer prohibiting its sale to US prison services. The European Union has also threatened to restrict sales of Propofol, a leading anaesthetic used in hospitals, were US death chambers to use it instead.
In Wyoming, state Senator Bruce Burns, a Republican, said he was tabling proposals to replace death by lethal injection with the firing squad in his state because of the drug shortage crisis. Using marksmen to empty death row would be preferable, he said, than the alternative - building a gas chamber.
Controversy is also raging in Oklahoma following what appears to have been the botched execution last week of Michael Lee Wilson based on his last words uttered after the injection process had begun: "I feel my whole body burning." Exactly what went wrong is unclear because the state is not saying.
The two-drug formula that Ohio has turned to - the sedative midazolam followed by the painkiller hydromorphone - was to have been used for the first time late last year on another inmate, Ronald Phillips. His execution was postponed at the last minute because of uncertainty over whether his request that his organs be donated after death could legally be granted.
Thus McGuire, convicted of the 1989 rape and fatal stabbing of Joy Stewart in western Ohio, is now set to be the guinea pig, barring any last-minute stay by the US Supreme Court or state governor.
In court filings earlier, defence lawyers had contended that "McGuire will experience the agony and terror of air hunger as he struggles to breathe for five minutes after defendants intravenously inject him with the execution drugs". They also suggested that because McGuire suffers from severe sleep apnea the risk of his struggling to fill his lungs for air before he passes out will be increased.
In his ruling on Monday, the US district judge Gregory Frost said he saw no convincing evidence of a "substantial risk" that McGuire would suffer the "severe pain" trying to fill his lungs on the death stretcher that would put his execution at odds with the constitutional prohibition of "cruel and unusual punishment".
Almost in the same breath, however, he added that there is "absolutely no question that Ohio's current protocol presents an experiment in lethal injection processes... To pretend otherwise, or that either of the experts or this Court truly knows what the outcome of the experiment will be, would be disingenuous."
In its filings to the judge, the state's Attorney General's office did not deny the combination might cause discomfort but added: "You're not entitled to a pain-free execution".
Both the Governor, John Kasich, and the Ohio Parole Board have already rejected pleas for clemency for McGuire. Separately, his lawyers appealed to the Supreme Court to issue a stay on the grounds that the jury at his trial were insufficiently informed of the severe difficulties of his child hood.
In making his firing squad proposal, Wyoming's Senator said it was partly about money. "Frankly it's one of the cheapest [options] for the state."
In numbers
32 US states in which capital punishment is legal.
3,108 Inmates awaiting execution.
22 Juveniles aged 16 and 17 were executed between 1976-2005.
273 Clemencies have been granted in the US since 1976.
Join our new commenting forum
Join thought-provoking conversations, follow other Independent readers and see their replies