Ohio prisoners and guards taken to hospital after exposure to mystery substance
Highway patrol reports up to 29 victims of substance exposure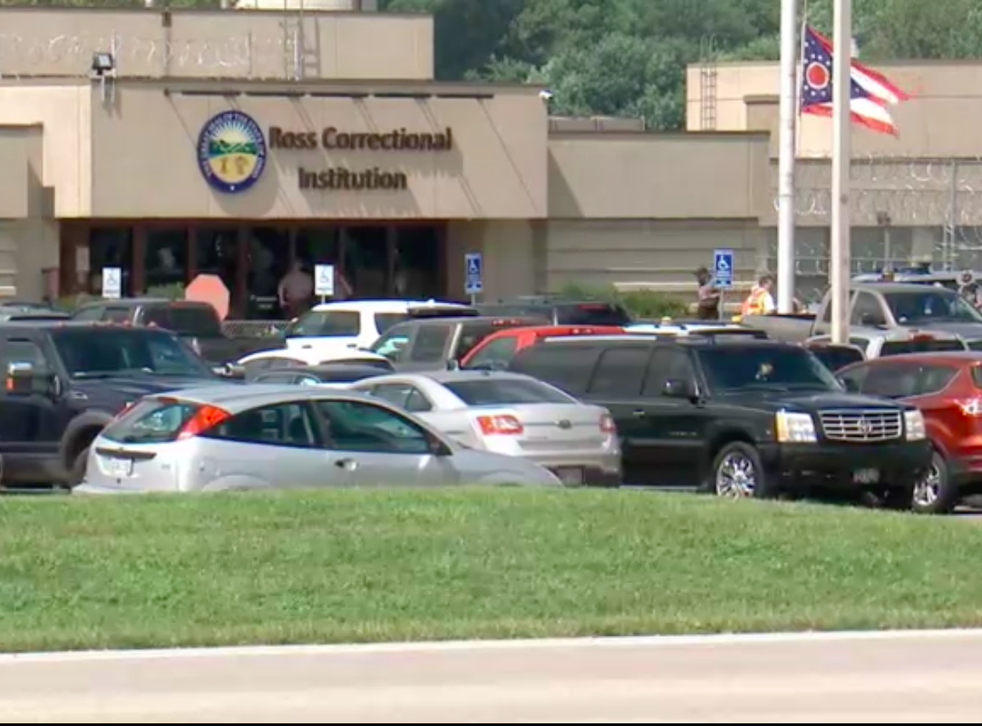 As many as 29 staff members and inmates at an Ohio correctional facility have been taken to the hospital after they were exposed to an unknown substance, according to the state highway patrol.
Officers responded to Ross Correctional Institution on Wednesday morning after receiving reports of an inmate with possible signs of a drug overdose. The inmate was given Narcan – a drug frequently used in opioid overdoses – and transported to the hospital.
By the end of the day, 28 more people had been transported to the same hospital for evaluation, after being exposed to an unidentified substance.
Kirk Tucker, the chief clinical director of the hospital, told local news outlets his "best clinical guess" was that the incident was caused by exposure to an opiate – possibly fentanyl. Fentanyl is a synthetic opioid that can be up to 100 times stronger than morphine.
Chris Mabe, president of the Ohio Civil Service Employees Association, told the Chillicothe Gazette there had been reports of people "getting deathly sick" and even passing out as a result of the exposure. He indicated that officers and medics responding to the scene could have been exposed to the substance as well.
"The way fentanyl is transmitted sometimes through touch, sometimes through airborne," he said. "So that's what we're trying to find out now – how much substance we're dealing with and how it was transmitted inside the institution."
World news in pictures

Show all 50
But hospital CEO Jeff Graham said most of the patients complained primarily of nausea. The majority had been treated and released, he said at a news conference. Only one had been admitted for treatment.
Officials observed strict decontamination protocols at the hospital, even redirecting ambulance traffic to avoid exposing other people. All patients not related to the incident were reportedly transferred to another area of the hospital.
The patients transported to the hospital included 23 correction officers, four nurses, and one inmate, according to the highway patrol. Another 31 inmates who were not affected by the substance were removed from the cellblock and moved to other areas of the facility. The contaminated cell block at the prison was cleared, and a hazardous material team was deployed to help with cleanup.
The highway patrol said there was no ongoing threat to the public, and no additional exposures had been reported.
Still, two schools located less than a mile from the facility were placed on precautionary lock down Wednesday morning. Officials at another nearby school district told NBC4 they were operating normally, but monitoring the situation. Several students have parents who work at the facility, they added.
Ross Correctional Institution is a medium-security men's prison in Chillicothe, Ohio. It houses approximately 2,000 inmates and employs nearly 500 staff members, according to local reports.
Register for free to continue reading
Registration is a free and easy way to support our truly independent journalism
By registering, you will also enjoy limited access to Premium articles, exclusive newsletters, commenting, and virtual events with our leading journalists
Already have an account? sign in
Register for free to continue reading
Registration is a free and easy way to support our truly independent journalism
By registering, you will also enjoy limited access to Premium articles, exclusive newsletters, commenting, and virtual events with our leading journalists
Already have an account? sign in
Join our new commenting forum
Join thought-provoking conversations, follow other Independent readers and see their replies