Court to rule on whether golf course can be booted off America's Stonehenge
Octagon Earthworks created to track lunar cycle by Native Americans 2,000 years ago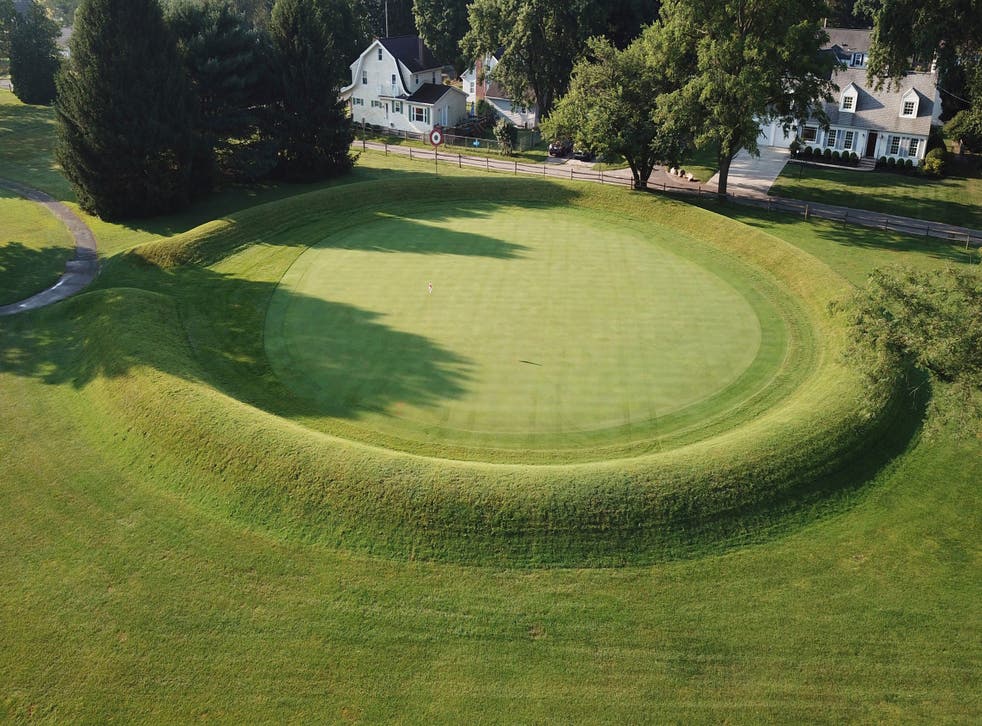 A court is set to decide whether a golf course can be kicked off an ancient ceremonial and burial earthworks that has been compared to Stonehenge.
The Ohio state historical society wants the Moundbuilders Country Club, which has been at the site for more than 100 years, to leave the 2,000-year-old Octagon Earthworks.
The Ohio History Connection, which owns the land, has proposed the site for nomination to the prestigious UNESCO World Heritage list.
And the non-profit group says that it must control access to the site for their nomination to proceed.
Native Americans built the site, whose eight long earthen walls correspond to lunar movements and aligns with points at which the moon rises and sets over the course of the 18.6-year lunar cycle.
If the site received designation as a World Heritage Site, it would be the first such site in the state and only the 25th in the United States.
The historical society wants to buy back the lease, convert it back into a park and open a visitor centre, but remains at odds with the club, which first leased the 134-acre site in the 1930s.
The area in Newark, Ohio, was first turned into a golf course in 1911 and the country club's lease does not expire until 2078.
The state of Ohio has offered the country club $1.7 million under eminent domain, which is an increase from their initial offer of $800,000.
But the country club, which has 300 members, says it wants $12 million to find and build a replacement golf course.
The case went before the Ohio Supreme Court on Tuesday for oral arguments, but it could take weeks for the final result to be announced.
The club has challenged the attempt to take back the property, claiming that the Ohio History Connection did not make a good faith offer to purchase the property as required by state law. 
The club also says that it has looked after the mounds and allowed public access to the site.
It has also argued that the historical society has neglected the Great Circle ancient earthwork in Ohio, despite running it as a park for nearly 80 years.
But the club has been criticised by its opponents for its stance.
"We wouldn't want a country club on the Acropolis," said John Low, a citizen of the Pokagon Band of Potawatomi Indians and the director of the Newark Earthworks Center.
"We don't want a country club on the Octagon."
Join our new commenting forum
Join thought-provoking conversations, follow other Independent readers and see their replies