Oklahoma abortion law wants women to get the father's written permission
The bill was introduced in February as part of a wave of state-wide restrictions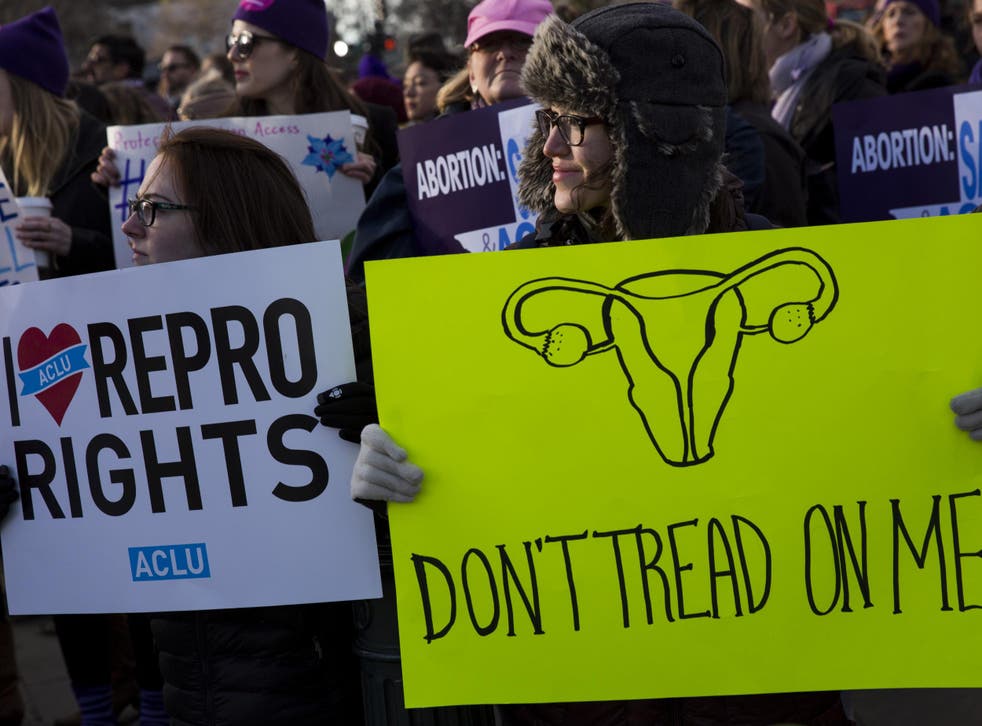 Women seeking an abortion will have to obtain written permission from the foetus' father, if an Oklahoma bill passes into law.
Republican representative Justin Humphrey introduced a bill that would require a pregnant woman to provide the identify of the father "in writing to her abortion provider before undergoing the procedure.
"No abortion shall be performed in this state without the written informed consent of the father of the foetus," the bill read.
If the identified man argues that he is not the father, he can legally demand a paternity test, which could delay the abortion procedure by at least three days.
The only exceptions in the bill apply to cases where the father is dead and the woman proves this by signing a legally-binding statement, or if the pregnancy is the result of rape or incest. Women whose lives are endangered by the pregnancy are also excluded from obtaining consent.
The Oklahoma bill has been introduced just one month after Arkansas Governor Asa Hutchinson signed a law that allows a woman's spouse or family member to sue an abortion provider. Under this new anti-abortion law, there is no exception for rape or incest.
"Abortion access more popular than Trump" banner flown over March for Life
The Supreme Court ruled that it was unconstitutional to demand spousal consent as far back as 1976, three years after the same court guaranteed that a woman had the constitutional right to have an abortion at certain stages of her pregnancy.
Despite the federal protections, hundreds of state-wide laws have gradually impacted and eroded women's right to choose.
In Kentucky, House Bill 2 will force doctors to describe an ultrasound to women seeking an abortion. Even if she objects, the doctor must describe the foetus shape to her, even if the doctor thinks it could do the patient more harm than good.
According to the American Civil Liberties Union, there have been 238 state-level restrictions imposed since 2010, and 50 last year alone.
There are now 15 states that ban abortions on "pain-capable" unborn children, as described by pro-life groups. This unscientific theory - that a foetus can feel pain even in the very early stages of pregnancy - led to the Ohio heartbeat bill, which bans an abortion as soon as a heartbeat can be heard and often before a woman even realises she is pregnant.
Ohio Governor John Kasich vetoed the bill but instead signed a new bill which bans abortion at 20 weeks.
Even at the national level, a wave of anti-abortion bills have been introduced.
A total of 14 House bills and 2 Senate bills were introduced last month for the current session of Congress, and must be passed by both chambers and signed by the President before becoming law.
They include the "End Trafficking of the Terminated Unborn Act", which incorrectly states there is an industry in trafficking foetal tissue, and the "Born Alive Abortion Survivors Protection Act", a violent rhetoric which has fed into President Trump's mind set.
Trump thinks Clinton's abortion policy means you can 'rip the baby out' after being nine months pregnant
At a debate versus Hillary Clinton in 2016, he insisted that babies are "ripped from the womb" at nine months.
Join our new commenting forum
Join thought-provoking conversations, follow other Independent readers and see their replies