Black man videos moment he claims store staff accused him of stealing his own jacket
The company says it is conducting a review of the incident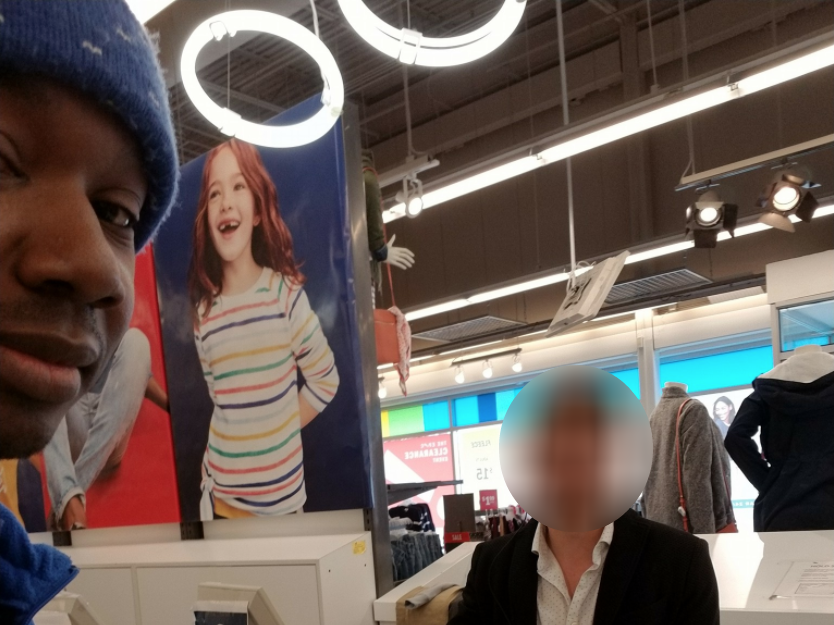 A 29-year-old black man says he has captured on video the moment he was racially profiled by clerks at an Old Navy in Iowa – and he plans to sue.
James Conley III said he was checking out at the West Des Moines store when a sales clerk asked if he wanted to purchase the coat he was wearing. Mr Conley said his first reaction was to laugh: He had received the Old-Navy-brand coat more than a month ago, as a Christmas gift.
The store manager insisted he had to scan the coat to make sure it wasn't stolen, Mr Conley said.
"Every time I go to this store I have on my same exact winter blue jacket and have never been asked to scan my clothing and the previous 'non-black' customers had on identical apparel as me from Old Navy but was never asked to scan their clothing," Mr Conley wrote on Facebook.
Even after completing the scan, Mr Conley said, the manager wanted him to pay for the jacket. The incident was eventually resolved when Mr Conley asked the district manager to review security footage and confirm that he had walked in wearing the jacket. The managers never apologised, he said.
World news in pictures
Show all 50
Mr Conley recorded some of the incident on video and uploaded it to Facebook, where the post received more than 140,000 shares in four days.
The Old Navy store in question shut down for a full day after the incident. It was not clear whether the shutdown was related to Mr Conley's allegation.
Old Navy addressed the incident in a Facebook post of its own, writing: "This week, one of our customers left our store feeling discriminated against. We have reached out to the customer to apologise for the experience."
"To be clear," the company added, "Old Navy is a brand that stands for inclusivity and is deeply committed to ensuring all shoppers and employees are treated with respect and dignity."
The company said it would conduct an investigation of the incident and review its policies with employees.
At a joint news conference with the NAACP on Thursday, Mr Conley said he would be filing a lawsuit against the company. Betty Andrews, president of the NAACP Iowa-Nebraska, said at the conference that what allegedly happened to Mr Conley was only "the tip of the iceberg".
"It is humiliating. It is hurtful. And it is outrageous," Ms Andrews said, adding that racial profiling "happens every day in America."
Mr Conley, meanwhile, said it was a "blessing" just to have his story heard nationwide.
"Whatever color your skin, you shouldn't have to deal with that while you're shopping," he said.
Join our commenting forum
Join thought-provoking conversations, follow other Independent readers and see their replies