Elderly woman gets arrested on purpose during her 93rd birthday
The elderly woman is still reeling from her 'gentle arrest' over a month after the experience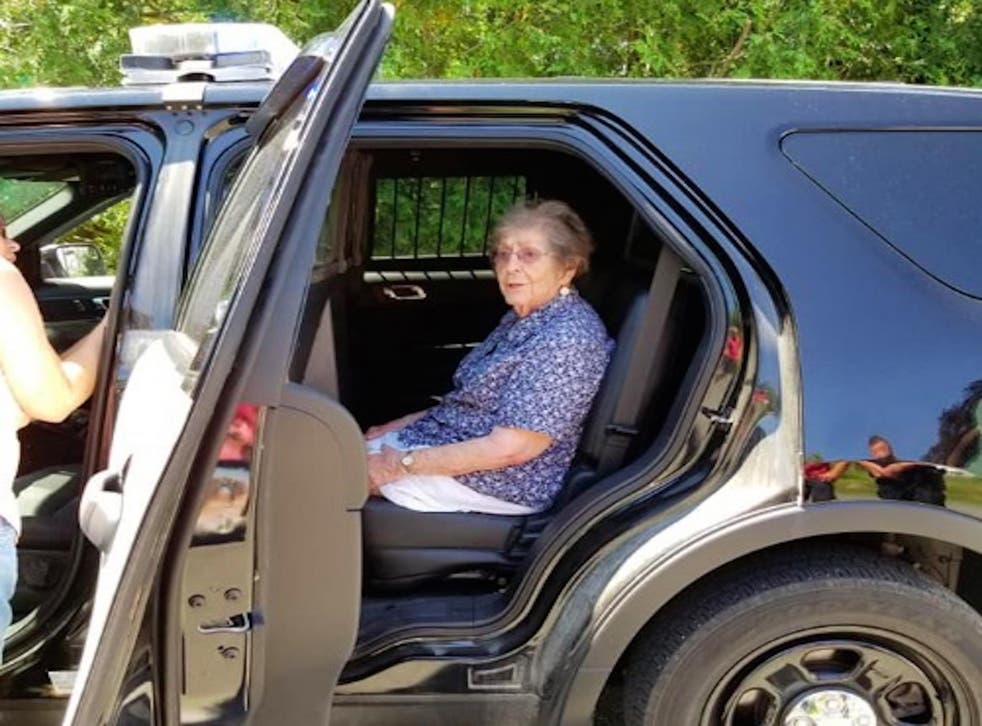 Sitting in the back seat of a police car may not be how most people want to spend their birthdays, but it was a dream come true for one elderly woman in Maine.
Anne Dumont called the Augusta Police Department to "gently arrest" her mother Simone, who turned 93-years-old last month. She had never been taken into custody before, but was an avid fan of the show Cops and "wondered what it was like to be arrested", according to her daughter.
Two days after her birthday, police showed up at her doorstep to place the arrest. Dumont describes her mother as "one happy woman" upon seeing the officers, giving them hugs and sitting in the front and back seat of their car. A post Ms Dumont shared on Facebook about the experience this week soon went viral.
The elderly woman was not taken to the precinct, but in an interview with The Independent, Ms Dumont says the police making time to visit her mother was everything she could have asked for and more.
"My mum doesn't like travelling so it's funny that she is 'travelling' across the country through this story," she says. "When I did this prearranged 'gentle arrest' I only had a few family members and a special friend over. We called it a gentle arrest but it was more for her to see the cop car up and personal. I know that she doesn't like to be in the limelight so I kept it small".
"She was so thrilled that she was able to do this and as I said in my story, she said to me that I made her life," Dumont adds. "That just warmed my heart that it made her that happy. Phew, and it was a relief for me".
Man flies plane into wife's house after being arrested for attacking her
At one point, the 93-year-old even pushed the siren button – "a momentous event," her daughter wrote on Facebook.
"A month and a half later, she still talks about her 'arrest' with pictures to prove it," Ms Dumont says.
World news in pictures

Show all 50
The police department gave the elderly woman a junior officer police sticker for her birthday and thanked her for welcoming them to her celebration.
In a response to her post, the Augusta Maine Police Department Facebook page wrote, "Thanks for sharing your story with us! We were very proud to have been invited. [Love] our town!"
Join our new commenting forum
Join thought-provoking conversations, follow other Independent readers and see their replies