Oregon shooting: At least 10 dead and seven injured in 45th US school shooting of 2015
The suspect, a man in his 20s, acted alone and was killed after exchanging fire with police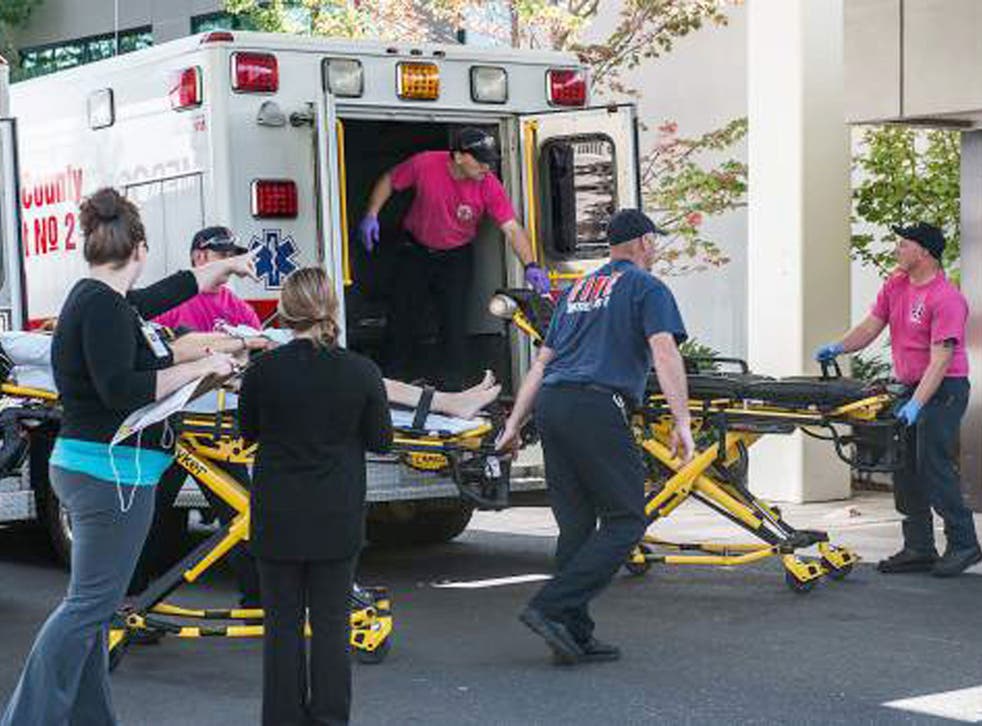 Yet another small town saw its name added to America's roll call of mass gun violence, as at least people were killed in a shooting at a community college in rural southern Oregon on Thursday. According to a release from the office of the state's attorney general, 10 people were left dead and seven others injured following the shooting at Umpqua Community College, around six miles from the town of Roseburg.
The suspect, an unnamed man in his 20s, acted alone and was killed after exchanging fire with police, Douglas County Sheriff John Hanlin said at a press conference. Investigators were scouring social media for clues to the background and motives of the alleged gunman, who was thought to have discussed his intentions online. "It has been a terrible day," Mr Hanlin said.
"I heard the shots and I thought it was fireworks," Lori Andrews, who lives opposite the college, told The Independent. "It went on for about a minute." The town is close-knit and quiet, a place where "everyone knew one another," she added.
Upon hearing the commotion, Ms Andrews rushed to the gates of the college, where she witnessed at least seven ambulances with their sirens flashing. One female student was escorted out, she said, wrapped in a blanket and covered in blood. Among the injured was a woman who had been shot in the chest, said Douglas County Commissioner Chris Boice.
Victims were transported to local hospitals, with some of the more seriously wounded sent by helicopter to hospitals in the larger cities of Eugene and Springfield. An official at PeaceHealth Riverbend Hospital in Springfield told The Oregonian the hospital was preparing for a "disaster level response."
The two-year higher education college, which consists of some 16 buildings on a 100-acre campus, was founded in 1964 and has approximately 3,300 full-time and 16,000 part-time students, many of whom are mature students. It is designated a "gun-free zone", meaning no guns are permitted on the grounds. The school's website describes its "peaceful, safe atmosphere".
The shooting is believed to have started in the college's Snyder Hall building; officials said the gunman then appeared to have moved on to the school's science building. "We arrived to find multiple patients in multiple classrooms," Douglas County Fire Marshal Ray Shoufler told CNN.
The entire area was placed on lockdown as police responded to the incident, which began at around 10.30am local time. As emergency calls flooded in, six separate law enforcement agencies – including the Douglas County Sheriff's Department and Oregon State Police – descended on the scene.
Students and staff were evacuated from the campus by the authorities, who performed bag checks and pat-downs before allowing them to leave. They were then transported by bus to a nearby fairground. Roseburg, the Douglas County seat, has a population of around 22,000, and is around three hours' drive south of Portland.
According to Everytown for Gun Safety, a non-profit gun control organisation formed in the wake of the 2012 Sandy Hook Elementary School shootings, this is the 45th shooting at a school so far this year. In July, President Barack Obama told the BBC that his failure to pass "common sense gun safety laws" had been the greatest frustration of his presidency so far.
The White House said that Mr Obama remained committed to passing tougher gun laws. As news of the incident in Oregon reached Washington, White House press secretary Josh Earnest told reporters: "The issue of sensible steps that can be taken to protect our communities from gun violence continues to be a top priority of this administration."
Join our new commenting forum
Join thought-provoking conversations, follow other Independent readers and see their replies