Orlando attack: Gunman's 'struggle with his true sexuality' could have made him snap
A week after the worst mass shooting in modern US history investigators are still searching for clues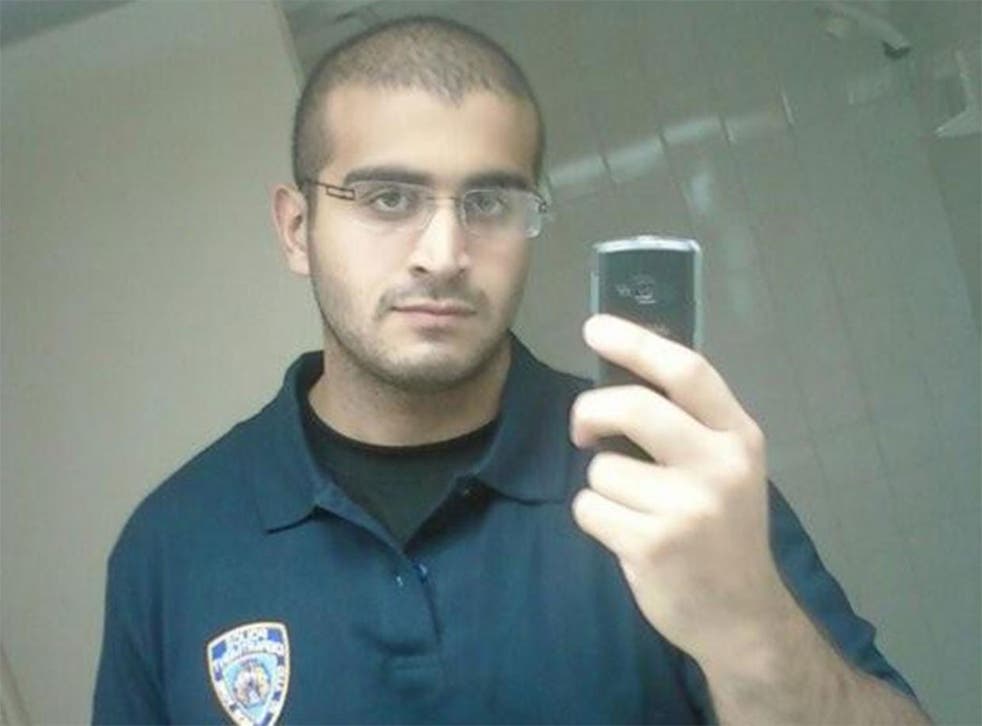 Omar Mateen never visited Hank's, one of the oldest gay bars in central Florida. At least, not as far as the regulars know.
But as Orlando marks a week since Mateen launched his devastating attack on the Florida city – with mourners at some of the first funerals forced to endure further pain by the presence of anti-gay activists – plenty of people at Hank's have an opinion as to what drove the gunman to act.
As investigators have focussed on the 29-year-old's past – his apparent online radicalisation, his reported visits to gay bars and the suggestion he himself may have been gay or bisexual – an image has emerged of an individual who was confused, angry and ill-at-ease.
"I think he was involved with someone, and then something happened," said a regular who gave his name as Orlando. "He was very good-looking. He would not have gone unnoticed. Then something happened and he lost it and went crazy."
The clientele at Hank's, a spit-and-sawdust establishment that offers only beer and where people take turns to play pool and play darts, admitted they had no specific information about either Mateen or the case. But their comments about the challenge of coming out as a gay man, particularly in a conservative environment and the impact of seeking to repress one's genuine feelings, may add to the pot of sometimes contradictory evidence and information being examined by FBI investigators. Just one week before he bought guns and set out on a killing spree, for instance, Mateen went to a clinic to donate his own blood.
"I think he was gay. There are a lot of gay men who fight it all their lives," said a man called Bob, visiting Orlando from Arkansas. "They get married and have kids. Then they reach a point and they just snap. I think he just snapped. I've seen if before. It's usually after they've had the kids and they have had all they can."
Bob, who is in his 60s, said he knew what it felt for a gay man to be unable to live openly. He said that even now, while his friends knew he was gay, he felt he couldn't tell his elderly mother or his sisters, who were stanch Pentecostal Christians. "It would destroy her," he said. "For them, homosexuality is the worst sin."
A week after 49 people were killed and more than 40 others wounded, many of them gravely, up to 20,000 people are due to take part in another vigil on Sunday night to honour the victims. Meanwhile, more details have emerged about Mateen, who was born in New York, whose parents were from Afghanistan and who was married to his second wife. They lived in a flat in an apartment building in Fort Pierce, two hours from Orlando.
Investigators are questioning his wife, Noor Salman, and his father, Seddique Mateen, amid reports that his wife was aware he was planning some sort of attack but failed to inform the authorities. She has reportedly told investigators she was not aware of specific details, although she reportedly once dropped him off at the Pulse night club so that he could scope it out.
Both Maten's wife and father have been added to the no-fly list that will prevent them boarding a commercial airline until investigators conclude what role they played, if any, in the shooting.
Maten's father has said he was son was a good child. He has condemned the attack, but in a possible insight to the environment in which the young man was raised, he told reporters it was God's role to punish people for the "sin" of homosexuality.
"I don't know what made him [do this], I have no idea, I had no idea that he felt resentful in his heart and had gone to the gay club and killed men and women there," he said, using a derogatory word for gay.
The Associated Press said that Mateen grew up in a home fraught with violence, with his mother accused of beating her husband during their many fights. He had three sisters and no brothers.
Police had arrested Mateen's mother, Shahla, on charges of domestic violence in 2002, police records show. Speaking to The Daily Beast, a former Walgreens coworker, Becky Diefendorf, described Shahla Mateen as "paranoid."
Officers said they arrested Mateen's mother after she and her husband had a heated argument that ended with her pulling his hair and pinching him so hard that it left a mark. According to the police report, her husband claimed she had beaten him before.
Mateen's father, reportedly never pressed charges. Mateen, was 16 at the time. After the massacre, the killer's ex-wife said he himself abused her.
Daniel Gilroy, a former colleague of Mateen's in the security business, told The New York Times, that he was "always shaken, always agitated, always mad."
America's top law enforcement official, US attorney general Loretta Lynch, said on Sunday that last week's shooting was both "an act of terror and an act of hate".
Speaking on CNN, she declined to say what charges may be brought. She is to travel to Orlando on Tuesday to meet with investigators. She will also on Monday make public, transcripts of phone conversations between the deceased shooter and police as the attack played out.
"We're going back and looking at everything we did in our investigation of the killer and our subsequent contact with him, but also, all the information we are receiving to trying and learn his motivations," she said.
Reports said that while Mateen had professed his support for Isis in the final moments of his life and had previously been investigated for possible links to Islamic extremism, any such radicalisation was a recent thing. It was as if something had pushed him to snap.
In Hank's bar, a customer called David who moved to Florida from New York 30 years ago, said it was in many ways a pity that Mateen was not alive to answer the questions of investigators. Instead, people are left with just speculation.
He said he believed it was possible that Mateen was pushed to breaking point, as a result of his inability to deal with his sexuality and to talk openly with his father. "Yes, it is possible," he sad. "Because in that situation you're driving yourself mad."
Join our new commenting forum
Join thought-provoking conversations, follow other Independent readers and see their replies