Orlando shooter's body kept in separate morgue so it was 'never near the beautiful souls again'
Officials said the decision was not a legal requirement but done out of respect to the families of those killed
Andrew Buncombe
New York
Friday 17 June 2016 21:32 Comments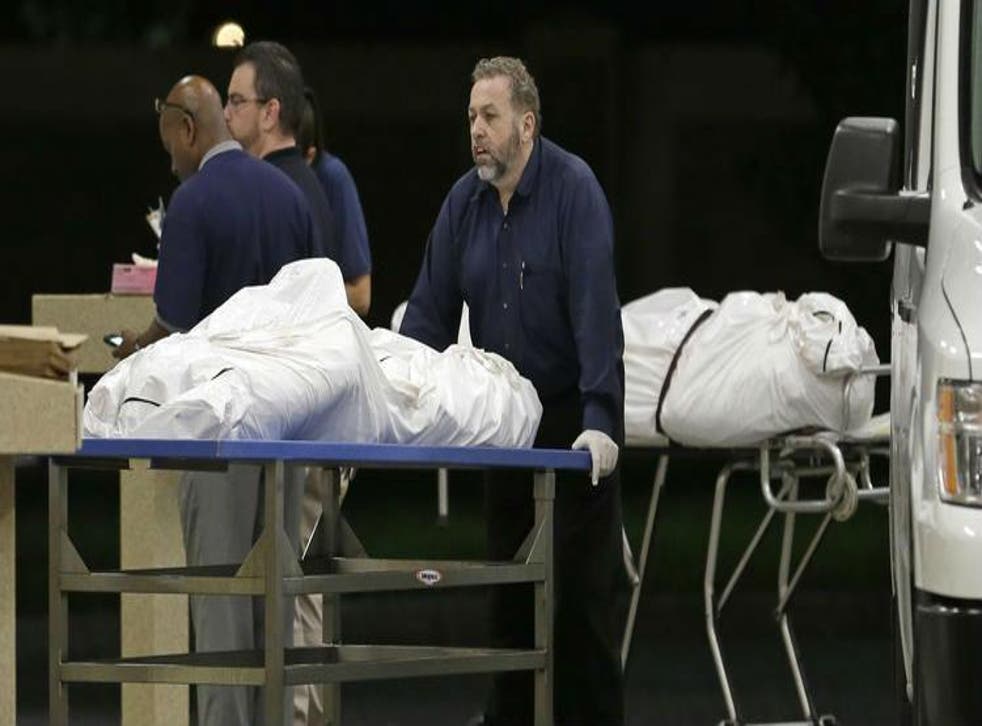 The body of the Pulse night club gunman was kept in a separate morgue to that of his victims out of respect to their families, officials in Orlando have revealed.
Omar Mateen shot and killed 49 people and wounded a further 40, before he was himself killed by police, who stormed the nightclub at around 5am on Sunday morning. Officials from the Orlando Medical Examiner's office were responsible for transporting all the bodies and conducting post-mortem tests on them, including that of Mateen.
Chief Medical Examiner Joshua Stephany said the decision to keep Mateen's body in a separate morgue was not a legal requirement. "It's just what I felt was right," he told the Los Angeles Times. "One day we'll reflect on it and I don't want the image of 49 victims and the shooter being autopsied side by side."
On Friday, Mr Stephany provided new details about the way his office worked, when it was forced to respond to the mass shooting.
"Together we effectively and efficiently completed the identifation, notification and autopsy process with a 72 hour period - a monumental task," he said.
He said Mateen was even transported from the scene in a separate vehicle and that his body was still being held in a different mortuary at the facility. "This is not a law or requirement, but was rather done out of respect for the victims and their families, so that the shooter may never be near the beautiful souls again," he added.
As more funerals of some of the 49 victims were held on Friday, it also emerged that the 29-year-old texted his wife, Noor Mateen, as the carnage was underway.
It is not known whether she knew what her husband was doing at the time he was sending her the messages. His wife, who is also the mother of the couple's three-year-old son, is under investigation by the FBI.
Reports have said that prosecutors have already called together a grand jury to which it is presenting evidence about the wife's possible involvement. It is unclear whether she will face charges.
She has apparently told investigators she tried to talk her husband out of launching any attack but has denied that she knew specific details of his plans.
In his statement, Mr Stephany thanked those who had sent messages of support to him and his staff.
"While our team trains for such incidents, nothing could truly prepare anyone for this devastating loss," he said. "We're honoured to have been entrusted to care for all of these individuals, yet saddened to now be among those communities affected by profound tragedies."
Register for free to continue reading
Registration is a free and easy way to support our truly independent journalism
By registering, you will also enjoy limited access to Premium articles, exclusive newsletters, commenting, and virtual events with our leading journalists
Already have an account? sign in
Join our new commenting forum
Join thought-provoking conversations, follow other Independent readers and see their replies