Orlando shooting: 'Angels' block Westboro Baptist Church protesters from victims' funerals
LGBT leaders had called for calm after Westboro Baptist Church members announced their intention to protest the funerals, urging that the community instead 'bathe the protesters in love'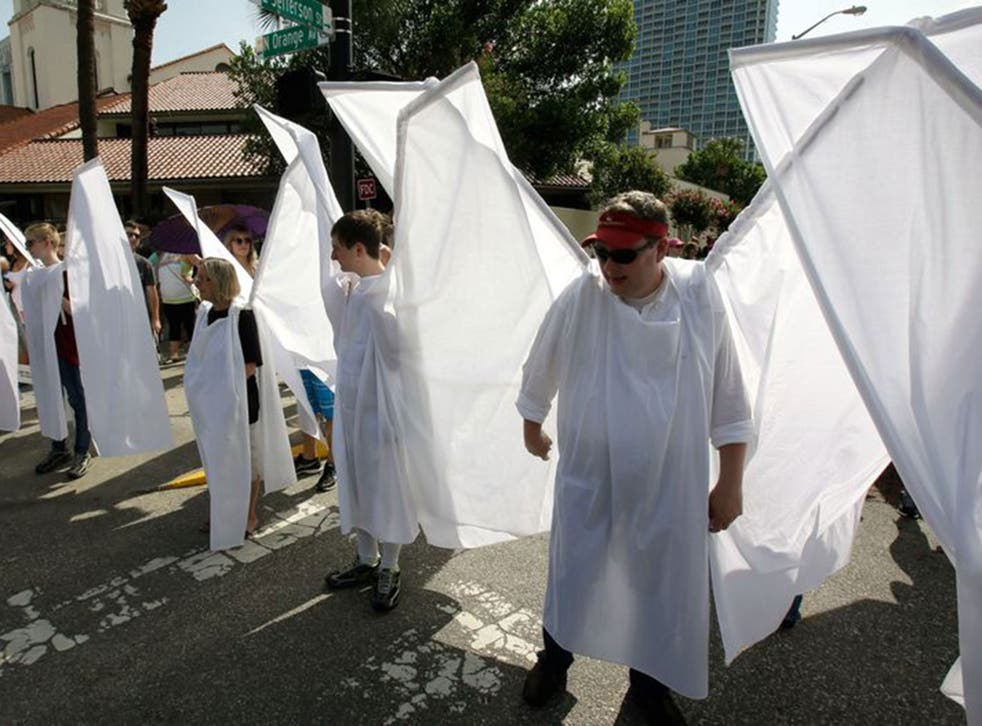 Hundreds of people have dressed as angels to protect mourners at funerals of victims of the Orlando shooting from homophobic protesters from the Westboro Baptist Church.
The Christian fundamentalist organisation are picketing the funerals with signs containing messages such as 'God Hates Fags' and are well known for protesting funeral ceremonies of LGBT people.
Around 200 counter protesters have formed a ring around the funerals, with many wearing large white wings in order to block the church members from seeing or interacting with the mourners.
49 people died when Omar Mateen entered Pulse nightclub in Orlando and began shooting people with a Sig Sauer MCX gun. More than 50 people were also seriously wounded in the attack. Mateen was killed in cross fire with police officers at the scene.
The nightclub is a well-known gay club in the Orlando area and most of the victims were members of the local LGBT community.
The Westboro Baptist church is a small but vocal religious group in the US which is known for their demonstrations at funerals of those who they perceive as falling foul of God's orders. The Southern Poverty Law Center lists the Kansas-based organisation as extremist hate group, and say that they are "arguably the most obnoxious and rabid hate group in America."
Earlier this week, the church issued a statement saying: "God sent the shooter." It read: "No coincidence that God is smacking Orlando with grievous sorrow, killing your children with shooters and alligators, when you are about to belly up to 'father's day'! DON'T DO IT! Your faithless dads are to blame for your horrible sorrow."
In pictures: The victims of the Orlando shooting

Show all 44
Executive director of a local LGBT community centre Terry DeCarlo had called for calm and asked people to "shower them with love" instead of becoming angry with the church protesters.
He said: "Let's shower them with our love. We have the ability to counter this hate and show the world once again why we are the City Beautiful and we cannot be broken by hate and those that would challenge our way of life."
Join our new commenting forum
Join thought-provoking conversations, follow other Independent readers and see their replies