Orlando shooting: Witnesses speak of horror after shooting and hostage stand-off at Florida gay nightclub
'He's rounded us up and he is going to kill us,' man trapped inside texts mother 
Caroline Mortimer
Sunday 12 June 2016 10:35 Comments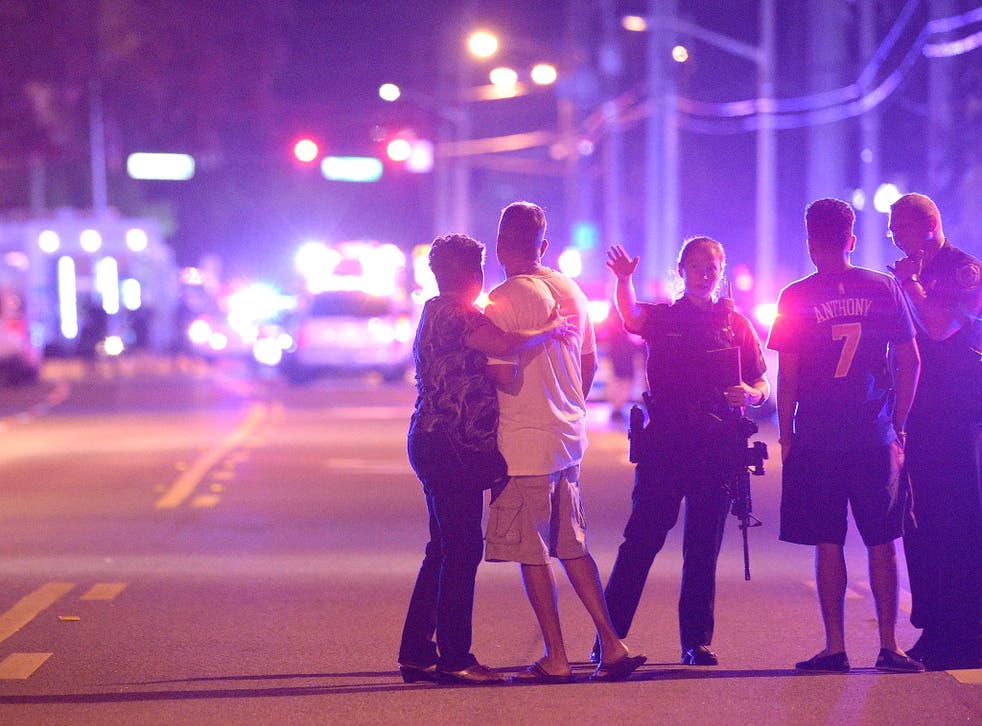 Witnesses have described the moment a gunman opened fire on the dancefloor of a Florida gay nightclub before taking several people hostage.
The shooter was killed following a four hour stand-off with Orlando police at the Pulse nightclub, having killed at least 20 people.
One mother told local TV station WFTV9 her son had texted her from inside the club saying: "He's rounded us up and he is going to kill us".
A Facebook post by the club posted at the time of the shooting said: "Everyone get out of Pulse and keep running".
The gunman opened fire with an assault rifle at the LGBT club in Orlando at around 2am local time (7am UK time).
An eyewitness, Rosie Feba, told the Orlando Sentinel her girlfriend had said someone was shooting but she had assumed it was part of the music at first.
She said: "She told me someone was shooting. Everyone was getting on the floor.
"I told her I didn't think it was real, I thought it was just part of the music, until I saw fire coming out of his gun."
Ms Feba and her girlfriend ran out of the club, helping a man who had been shot on the way out.
The couple were shaken but unhurt.
Another witness, Rob Rick, said it happened around, 2 a.m., just before closing time.
"Everybody was drinking their last sip," he said.
He estimated more than 100 people were still inside when he heard shots, got on the ground and crawled toward a DJ booth.
A bouncer knocked down a partition between the club area and an area in the back where only workers are allowed. People inside were able to then escape through the back of the club.
Christopher Hansen said he was in the VIP lounge when he started hearing gunshots.
"I was thinking, are you kidding me? So I just dropped down. I just said please, please, please, I want to make it out," he said. "And when I did, I saw people shot. I saw blood. You hope and pray you don't get shot."
In pictures: Orlando nightclub shooting

Show all 30
He said he continued to hear gunfire after escaping.
The police were telling people to back away from the club and injured people were being tended to across the street, he added.
Another witness, Ricardo J Negron Almodovar, told Sky News he heard "non-stop firing" for around a minute - but it felt much longer.
Police have said there were "mass casualties" following the attack with approximately 20 people dead inside the club and at least 42 people wounded.
The FBI have said the shooting is likely to be terror related.
Additional reporting by agencies
Register for free to continue reading
Registration is a free and easy way to support our truly independent journalism
By registering, you will also enjoy limited access to Premium articles, exclusive newsletters, commenting, and virtual events with our leading journalists
Already have an account? sign in
Join our new commenting forum
Join thought-provoking conversations, follow other Independent readers and see their replies