Orlando shooting: Campaigners demand ban of AR-15 rifle – 'the gold standard for mass murder of innocent civilians'
The families of those killed in the Newtown attack are suing the makers of the semi-automatic rifle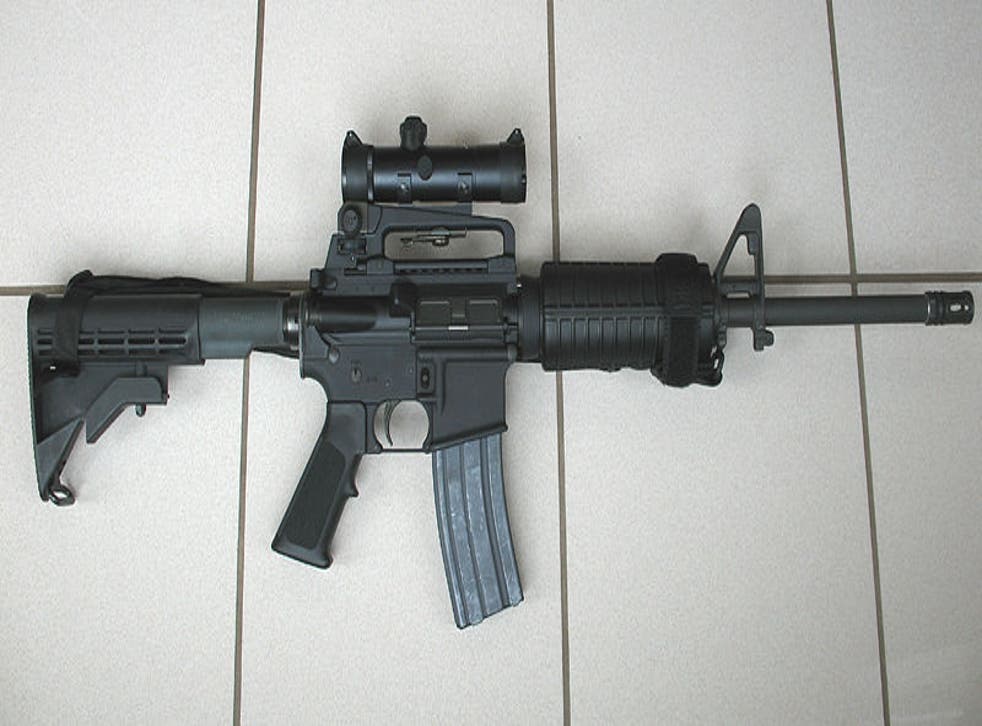 It has been described as a weapon designed to kill people with maximum ease and efficiency. It was used by the gunman who shot dead 26 children and adults in Sandy Hook Elementary in 2012, and it was used by Omar Mateen when he attacked an Orlando nightclub and left a nation once again stunned and reeling.
Gun control campaigners say there is no legitimate civilian use for the AR-15 semi-automatic weapon; its size and firepower mean it is a liability for home defence. And yet, say activists, it is repeatedly the weapon of choice for those who embark on deadly attacks on civilians.
Joshua Koskoff, a lawyer representing the families of those killed and injured in December 2012 at the Connecticut primary school, said in a statement on Sunday: "This morning's massacre of innocent civilians in Orlando is more horrific evidence of the unique lethality of the AR-15. It is no wonder that this weapon was chosen by today's shooter, as it has been by so many before him, and as it undoubtedly will be again."
He added: "It was designed for the United States military to do to enemies of war exactly what it did this morning: kill mass numbers of people with maximum efficiency and ease."
Earlier this year, some of the families in Sandy Hook secured a breakthrough when a judge gave them permission to sue Remington Arms Company, the maker of the AR-15. The company had argued it was protected against such lawsuits by the federal Protection of Lawful Commerce in Arms Act.
However, in a decision that could have huge ramifications in a country where up to 10,000 people a year lose their lives to gun violence, the judge said the federal laws did not override the "legal sufficiency" of the claims by the Sandy Hook families that the gun used by Adam Lanza should never have been made available for sale to civilians.
Mr Koskoff, who also secured permission to sue the distributor of the weapon and the local shop that sold it to Lanza's mother, added of the rifle: "It is the gold standard for killing the enemy in battle, just as it has become the gold standard for mass murder of innocent civilians. The gun industry pretends the civilian AR-15 is vastly different than the military version, because it does not have select fire.
"This is a charade: the industry knows that the weapon is most lethal in semi-automatic "one-shot, one-kill" mode, yet these companies continue to sell it to civilians, abandoning reason in exchange for profit."
Officials in Florida revealed that Mateen, a divorced security guard, had purchased both an AR-15 and a handgun legally in recent days. A third gun was found in his car. Although he had been investigated by police in the past for possible links to Islamic extremism, he had been cleared. As a result, there was no prohibition on him purchasing the weapons.
In pictures: The victims of the Orlando shooting

Show all 44
"The FBI thoroughly investigated the matter, including interviews of witnesses, physical evidence and records checks. In the course of the investigation, Mateen was interviewed twice. Ultimately, we were unable to verify the substance of his comments and the investigation was closed," said Ronald Hopper, an agent in charge of the FBI's Tampa division.
In 2014, Mateen again came to the attention of the FBI because of possible ties to Moner Mohammad Abu-Salha, an American suicide bomber in Syria, Mr Hopper said. The FBI conducted an investigation, including an interview with Mateen, but determined at the time that the contact was minimal and did not constitute a substantive relationship or threat.
"It has been reported that Mateen made calls to 911 this morning, in which he stated his allegiance to the leader of the Islamic State," said Mr Hopper. "We're looking into any and all connections, both domestic and international. We're going to be as transparent as possible, but we also want to be as accurate as possible."
On Sunday, The Independent asked Marco Rubio, the Florida Republican senator and former presidential candidate, whether he supported banning the weapon. He declined to give a specific answer, saying that France had tough restrictions on weapons and yet still suffered an attack in Paris last November that left more than 100 dead. "He would have found another way to do this," he said. "If you want to have a debate on gun control, that's fine, but this was terrorism."
The organisation, Sandy Hook Promise, a group established in the aftermath of the Newtown shootings to educate schools and teachers about the danger of guns, said that its "hearts break for the devastated families and friends" killed or wounded.
"We, and too many other families across the country, understand their pain and sorrow now, and in the days and years to come. Our thoughts remain with them, the loved ones killed, those injured, and the countless traumatised," the group said.
"We know these atrocities can often make a person feel helpless, or like hope is lost. It's not. We must stand together and work for an end to gun violence in America."
Register for free to continue reading
Registration is a free and easy way to support our truly independent journalism
By registering, you will also enjoy limited access to Premium articles, exclusive newsletters, commenting, and virtual events with our leading journalists
Already have an account? sign in
Register for free to continue reading
Registration is a free and easy way to support our truly independent journalism
By registering, you will also enjoy limited access to Premium articles, exclusive newsletters, commenting, and virtual events with our leading journalists
Already have an account? sign in
Join our new commenting forum
Join thought-provoking conversations, follow other Independent readers and see their replies