Orlando shooting: Gunman Omar Mateen was 'cool and calm' as he made 911 phone call during massacre
An FBI investigation is underway but there was no indication of accomplices inside the club
Lizzie Dearden
Monday 13 June 2016 13:44 Comments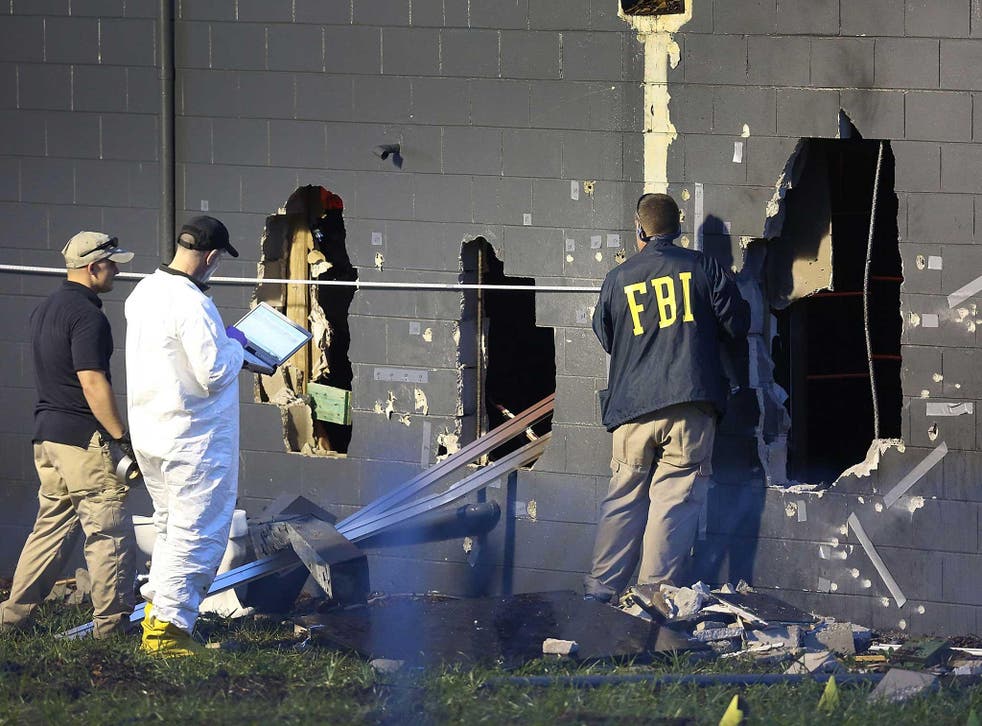 The gunman who murdered 49 people at a gay club in Orlando was "cool and calm" as he phoned 911 during the massacre, police have said.
John Mina, the Chief of Orlando Police, said Omar Mateen phoned the emergency services from a bathroom where he was holding several hostages.
"He was cool and calm when he was making the phone calls to us," he added.
"There was (a pledge) of allegiance to the Islamic State, there was no laughing as far as we are aware…he really wasn't asking an awful lot - we were doing most of the asking."
Mateen opened fire at Pulse at 2am as hundreds of people continued their night out in Pulse, but he was not killed until police made a final push three hours later.
Mr Mina said the delay was caused by hostage negotiations and reports of possible bombs and explosives in the building, but that but that police were forced to enter by indications of "an imminent loss of life" as a deadline set by the gunman was about to pass.
Officers evacuated survivors and the injured from the rest of the club as Mateen remained in the bathroom and dozens of clubbers stayed in an adjacent toilet.
As the deadline approached, Mr Mina ordered police to blow a hole in the bathroom wall to help hostages escape but the initial detonation did not penetrate it and they were forced to use an armoured vehicle to make a way through.
In pictures: Orlando nightclub shooting

Show all 30
"Dozens and dozens of people" through a small opening at around 5am before the gunman emerged and started firing, Mr Mina said.
Mateen was killed in the ensuing battle. Police have not announced the discovery of any explosives but investigators said an unspecified third weapon was found in the suspect's car.
The AR-15 rifled and handgun he used for the massacre had been legally purchased, despite the FBI's previous investigations into Mateen's possible terror links.
The Bureau of Alcohol, Tobacco, Firearms and Explosives said it had traced the firearms, amid calls for reformed gun laws to stop the purchase of what Hillary Clinton called "weapons of war".
The Sheriff of Orange County, Jerry Demings, says police have received "tremendous outpouring of support" that was helping officers.
Orlando shooting: City feels 'extremely unsafe' says neighbour of shooter
"This is a civilised society and we had to deal with something unthinkable", he added. "Now it's about putting our community, our nation back together."
There were some initial reports of other accomplices or suspects in the shooting but investigators said they do not believe anyone was working with Mateen at the club.
US Attorney Lee Bentley said: "We do not know yet whether anyone else will be charged in connection with this crime but have no reason to believe that anyone connected to this crime is placing the public in imminent danger at this time."
Efforts continue to inform the families of the 49 victims of their deaths, with 48 of those killed formally identified so far. More than 50 others were injured.
Buddy Dyer, the Mayor of Orlando, said that despite the horror of the atrocity, which is the worst mass shooting in US history, he was proud of the community's response.
He added: "We will not be defined by the act of a cowardly hater - we will be defined by how we respond, how we treat each other and this community has already stepped up to do that."
Register for free to continue reading
Registration is a free and easy way to support our truly independent journalism
By registering, you will also enjoy limited access to Premium articles, exclusive newsletters, commenting, and virtual events with our leading journalists
Already have an account? sign in
Join our new commenting forum
Join thought-provoking conversations, follow other Independent readers and see their replies