Orlando shooting: These are the victims of the deadliest mass shooting in US history
Forty-nine people were killed and 53 injured on Sunday morning.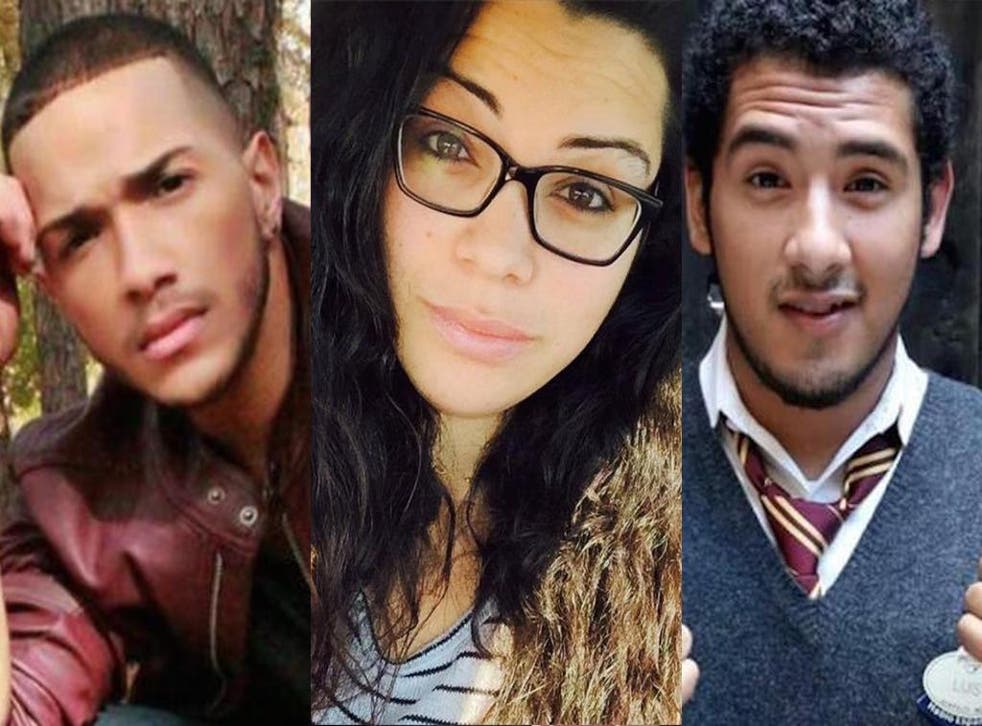 The City of Orlando has begun releasing the names of the victims killed at mass shooting at an LGBT nightclub on Sunday.
Forty-nine people were killed and 53 were wounded when 29-year-old Omar Mateen opened fire in the nightclub. Mateen was later killed while exchanging gunfire with police.
"On this very difficult day, we offer heartfelt condolences to today's victims and their families," officials said in a statement.
"Our City is working tirelessly to get as much information out to the families so they can begin the grieving process. Please keep the following individuals in your thoughts and prayers."
Edward Sotomayor Jr., 34-years-old
Stanley Almodovar III, 23-years-old
The 23-year-old, who lived in Orlando, worked as a pharmacy technician in the area. His mother Rosalie Ramos, 51, told the Orlando Sentinel that her son was a happy man with a big heart. His aunt Yoly told the paper he was "an amazing person with a good soul" with a promising future.
Luis Omar Ocasio-Capo, 20-years-old
The 20-year-old went to high school in La Vergne, Tennessee and lived in Cleveland, Ohio for a time. Claudia Mason, said she worked with Capo at a local Target. "He lit up any area he worked in, especially Starbucks," Mason wrote on Facebook. "So sad that his life was cut so short by such an evil person! Pray for Omar's family.
Juan Ramon Guerrero, 22-years-old

Eric Ivan Ortiz-Rivera, 36-years-old
Peter O. Gonzalez-Cruz, 22-years-old
Luis S. Vielma, 22-years-old
The 22-year-old worked on the Harry Potter ride at The Universal Orlando Resort. JK Rowling, creator of the Harry Potter series, mourned Vielma on Twitter: "I can't stop crying."
"He was always a friend you could call," Vielma's coworker Josh Boesch told the Orlando Sentinel. "He was always open and available."
Kimberly Morris, 37-years-old
The 37-year-old moved to Orlando nearly two months before the attack. She left Hawaii and became a bouncer at Pulse nightclub, the scene of the mass shooting. "KJ Morris you always lit up the room with your smile," former classmate Latricia Trida Brown wrote on Facebook. "You're the first person I met when I entered college. Glad I have moments to share with you. Rest easy my friend."
Eddie Jamoldroy Justice, 30-years-old
Anthony Luis Laureanodisla, 25-years-old
Amanda Alvear, 25-years-old
The 25-year-old was a nursing student at the University of South Florida. She was killed along with her friend Mercedes Flores on Sunday night. Alvear captured Snapchat footage of the shooting where at least 16 gunshots rang out
Amanda was at Pulse with her best friend, Mercedes Flores, who was also killed. Amanda's Snapchat captured the sound of shots ringing out, the first such footage to emerge from the massacre.
"I love you baby girl," her sister Ashley Velez said. "You were and always will be my baby sister. I'm so heartbroken."
Jean Carlos Mendez Perez, 35-years-old
Franky Jimmy Dejesus Velazquez, 50-years-old

Luis Daniel Wilson-Leon, 37-years-old
Mercedez Marisol Flores, 26-years-old
Martin Benitez Torres, 33-years-old
Xavier Emmanuel Serrano Rosado, 35-years-old
Oscar A Aracena-Montero, 26-years-old
Darryl Roman Burt II, 29-years-old
Gilberto Ramon Silva Menendez, 25-years-old
Javier Jorge-Reyes, 40-years-old
Tevin Eugene Crosby, 25-years-old
Miguel Angel Honorato, 30-years-old
Simon Adrian Carrillo Fernandez, 31-years-old
Enrique L. Rios, Jr., 25-years-old
The 25-year-old grew up and lived in Brooklyn. Neighbors of Rios family say he attended church often at the Greater Free Gift Baptist Church and was a social worker at the True Care Home Health Care company. Rios' mother said that she forgives her son's killer.
"There's always room for forgiveness, I'm not angry at the gunman, I'm not angry about the situation," she told News 12 Brooklyn. I'm forever going to miss my son but I've been taught to believe that my son knew the Lord Jesus Christ and so I still have the hope that I'm going to see him again one day."
Jason Benjamin Josaphat, 19-years-old
The 19-year-old, who lived in Orlando, was on of the youngest victims of the shooting. Josaphat had just graduated high school and began studying computer science at Valencia College. His family said he had just begun planning out his path in life.
"He was very excited about his journey," his uncle Christopher Long told The Orlando Sentinel. "He was loved very much by his family."
"He mentioned to me that he wanted to start taking pictures, he had a passion for photography," Long added. "He was just real special."
Cory James Connell, 21-years-old
The 21-year-old had been studying at Valencia College and working at the Publix in Orlando's College Park neighborhood. "The world lost an amazing soul, today," Ryan Connell wrote on Facebook. "God just got the best of angels."
Shelley Klein, a Lee Middle School science teacher, said she still remembers Lee eleven years after teaching him.
"I've taught almost 1,700 kids at Lee. He was so special," Klein wrote, The Orlando Sentinel reports. "All of his teachers at Lee adored him. We describe him as our all-time favorite."
Juan P. Rivera Velazquez, 37-years-old & Luis Daniel Conde, 39-years-old
Shane Evan Tomlinson, 33-years-old
The 33-year-old was the lead vocalist for his band Frequency, who performed at weddings, night clubs and events across the city. He graduated from Eastern Carolina University in 2003, where he was apart of the gospel choir and student modeling group.
"We are saddened to learn that one of our own was killed in this tragedy in Orlando," ECU Chancellor Steve Ballard said in a statement. "Our thoughts and prayers are with Shane's family and friends during this difficult time."
Juan Chevez-Martinez, 25-years-old
Jerald Arthur Wright, 31-years-old
The 31-year-old worked in merchandising as a seasonal employee at Walt Disney World. He attended the nightclub to celebrate his friend's 21st birthday.
"It's hard to understand, but the people with you work with at Disney, they are an amazing family," former coworker Scott Dickison told The Orlando Sentinel. "Jerry was a great guy to work with. He was quiet but really wonderful with all the guests. He always had a smile on his face."
Leroy Valentin Fernandez, 25-years-old
Jonathan Antonio Camuy Vega, 24-years-old
The 24-year-old journalist worked in audience management for Telemundo's La Voz Kids.
"He was a great assistant producer. Jonathan will be missed dearly," Cesar Conde, chairman of NBCUniversal Telemundo Enterprises, said in a statement.
Jean C. Nives Rodriguez, 27-years-old
Rodolfo Ayala-Ayala, 33-years-old
Brenda Lee Marquez McCool, 49-years-old
Yilmary Rodriguez Sulivan, 24-years-old
Deonka Deidra Drayton, 32-years-old
Alejandro Barrios Martinez, 21-years-old
Christopher Andrew Leinonen, 32-years-old
Angel L. Candelario-Padro, 28-years-old
Frank Hernandez, 27-years-old
Paul Terrell Henry, 41-years-old
Joel Rayon Paniagua, 32-years-old
Antonio Davon Brown, 29-years-old
Christopher Joseph Sanfeliz, 24-years-old
Register for free to continue reading
Registration is a free and easy way to support our truly independent journalism
By registering, you will also enjoy limited access to Premium articles, exclusive newsletters, commenting, and virtual events with our leading journalists
Already have an account? sign in