Professor fired after saying Otto Warmbier was a 'clueless white male' who 'got what he deserved'
The professor says she has received death threats for the comments she made online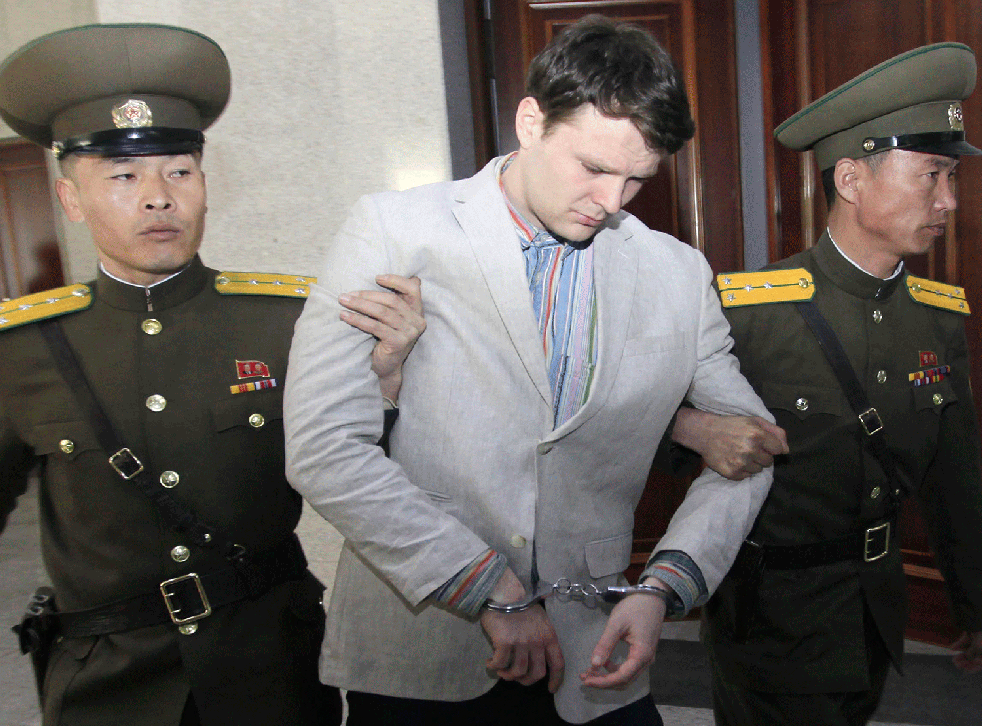 A US college professor who suggested Otto Warmbier "got exactly what he deserved" has lost her position at the University of Delaware.
Professor Katherine Dettwyler recently posted a Facebook status about Mr Warmbier, the 22-year-old college student who died after being held in captivity by the North Korean government.
Mr Warmbier visited North Korea with a tour group in January 2016, and was detained upon exit for allegedly stealing a government poster. When he was returned to his family earlier this month, he was in a state of "unresponsive wakefulness," unable to speak or respond to commands. He died last Monday of unknown causes.
In a since-deleted Facebook post, Ms Dettwyler reportedly compared Mr Warmbier to her own students who "cry about their grades because they didn't think they'd really have to read and study the material".
"His parents ultimately are to blame for his growing up thinking he could get away with whatever he wanted," she continued, according to the Philly Inquirer. "Maybe in the US, where young, white, rich, clueless white males routinely get away with raping women. Not so much in North Korea. And of course, it's Otto's parents who will pay the price for the rest of their lives."
The professor reportedly doubled down on her stance in comments on a National Review article, writing that some of her students "think nothing of raping drunk girls at frat parties and snorting cocaine, cheating on exams, and threatening professors with physical violence".
North Korea Prison Camps

Show all 7
The comments reflect a growing opinion in some circles that Mr Warmbier's race and social status played a role in his death.
"When will we stop and consider that Otto Warmbier ultimately made a deadly choice to travel to North Korea?" reporter Terrell Star tweeted, adding, "Did his privilege blind him from making a deadly choice?"
The sentiments echo those expressed in a Huffington Post article written after Mr Warmbier's sentencing last year, titled, "North Korea Proves Your White Male Privilege Is Not Universal".
Following outcry on social media and several right-wing websites, however, the University quickly distanced themselves from Ms Dettwyler's comments.
"The comments of Katherine Dettwyler do not reflect the values or position of the University of Delaware," the University said in a statement. "We condemn any and all messages that endorse hatred and convey insensitivity toward a tragic event such as the one that Otto Warmbier and his family suffered."
The University announced on Sunday that they would not be rehiring the professor in the future.
Ms Dettwyler is a part-time, adjunct professor, meaning her termination is not subject to the same due process requirements as tenured faculty. Tenured positions were created to protect "free inquiry, free expression, and open dissent" in universities, according to the American Association of University Professors.
Ms Dettwyler declined to comment to The Independent, citing "death threats directed at me and members of my extended family".
The professor has received mixed reviews on the anonymous teacher rating site "Rate My Professor". While some students described her as "smart" and knowledgeable on the subject, others took issue with her allegedly strong opinions.
"It's her opinion or no opinion," one former student wrote, "and she won't be afraid to express it even if it may offend half the class."
Join our new commenting forum
Join thought-provoking conversations, follow other Independent readers and see their replies