Amazonian fish with 'human-like' teeth caught in San Francisco-area duck pond
The pacu fish is a very close relative to the pirahna 
Feliks Garcia
New York
Tuesday 31 May 2016 22:19 Comments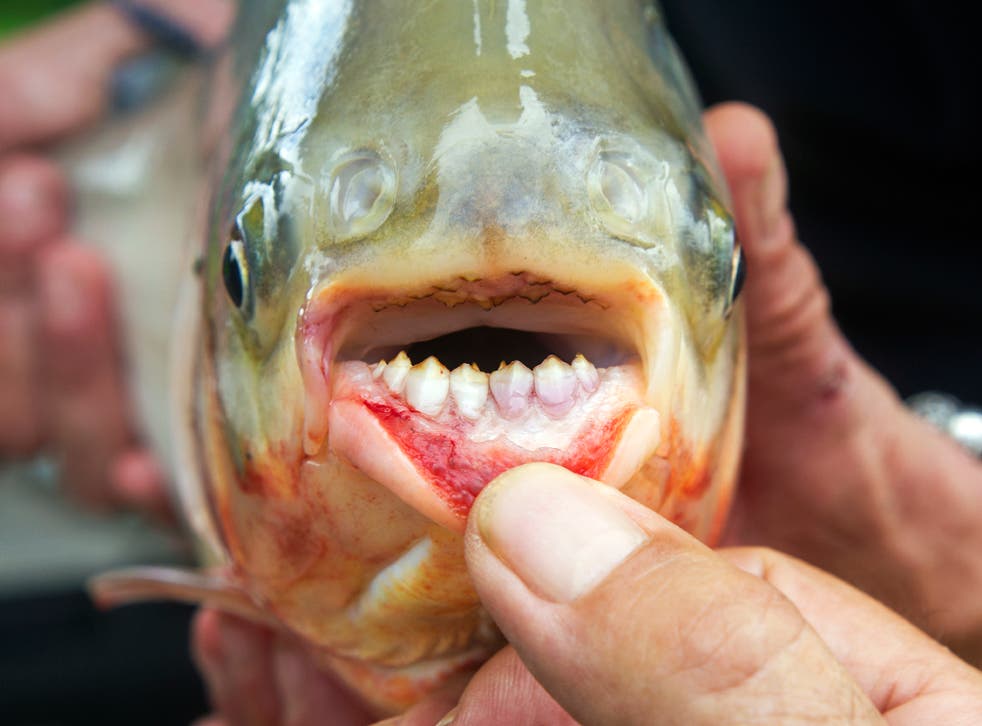 A San Francisco Bay Area fisherman's latest catch had a rather unusual look about it when pulled from a local pond - unlike most fish one would catch for supper, this one had what appeared to be human-like teeth.
When Juan Gallo caught the Amazonian pacu fish in a duck pond at Lucchesi Park in Petaluma, California, he said that it managed to chew through the fishing line when he pulled it out of the water.
"It landed on the dirt and you could tell it wasn't anything we had seen before," the Mr Gallo told The Press Democrat.
Pacu fish are not indigenous to the cold waters of Northern California, but can be found in marine retailers in the area - despite the prohibition of selling such wildlife in the state.
According to Matthew Gimlen, a freshwater fish expert at the Sacramento retailer Exotic Aquarium, said that these fish - which are closely related to the piranha - are often found in local ponds because they are released by people who have bought them and can no longer take care of the animals.
"They are dirty fish," Mr Gimlen told The Independent, explaining the pacu. "They can acclimate to the water this time of year, especially because it's warm outside. But they usually die off by winter."
Mr Gallo said he tried to turn his pacu over to the California Department of Fish & Wildlife (CDFW). If they don't want it, he said, then he will likely keep it and have the fish stuffed.
The CDFW's Invasive Species program strongly suggests fishermen do not release the fish if caught in lakes and ponds. They suggest freezing the fish and contacting authorities immediately.
Register for free to continue reading
Registration is a free and easy way to support our truly independent journalism
By registering, you will also enjoy limited access to Premium articles, exclusive newsletters, commenting, and virtual events with our leading journalists
Already have an account? sign in
Join our new commenting forum
Join thought-provoking conversations, follow other Independent readers and see their replies