Pakistani family gives Congress an unprecedented account of effect of CIA drone attacks on their community
Politicians gather to hear startling testimony from a  family on the death of a 67-year-old woman in Pakistan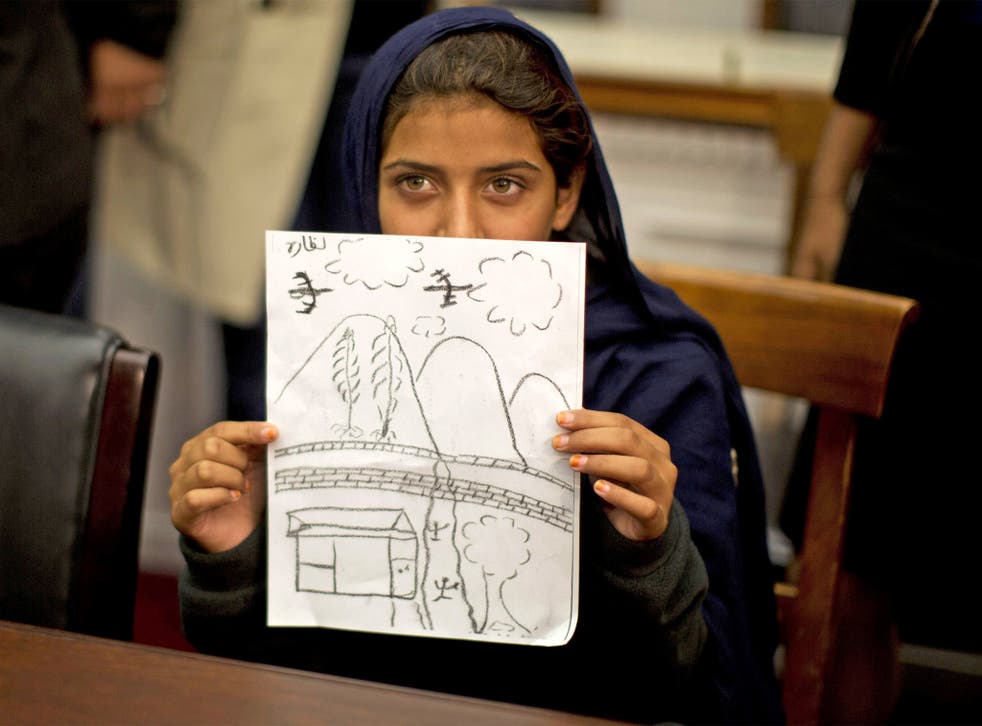 A father and two of his young children have come to Capitol Hill to give the US Congress an unprecedented first hand testimony of the death, injury and fear visited upon innocent civilians by secret CIA drone attacks in remote northern Pakistan.
Rafiq-ur-Rehman, a primary school teacher in North Waziristan, lost his 67-year old mother, the local midwife, when a drone struck a field near his village on the sunny morning of 24 October 2012. Two of his children – Zubair, now 13, and nine-year old Nabila – were wounded in the strike. On Tuesday, the three recounted their story.
"Nobody has ever told me why my mother was targeted that day," Mr Rehman told a briefing in a packed Congressional hearing room organised by Florida Democrat Alan Grayson and the civil rights group Reprieve, and moderated by Robert Greenwald, director of a feature documentary Unmanned: America's Drone Wars.
"Some media outlets reported that the attack was on a car, but there is no road alongside my mother's house," Mr Rehman said. "Others reported that the attack was on a house. But the missiles hit a nearby field, not a house. All of them reported that three, four, five militants were killed. But the only person killed was Mammana Bibi, a grandmother and midwife. Not a militant, but my mother."
The briefing was held just a week after another civil rights group, Amnesty International, issued a report saying that US drone attacks in Pakistan and Yemen could be classified as war crimes. The event was a further sign of how unease is growing at the human carnage wrought by drones, as well the damage done to the reputation of the US.
Authorities here have all along minimised civilian casualties, but unofficial reports suggest that many hundreds have been killed in Pakistan alone, including up to 200 children, since drones were first used in 2004, their targets al-Qa'ida and Taliban militants. The programme has since been heavily expanded by the Obama administration.
Now demand for public scrutiny is growing. "Invading from the skies is no different from invading on the grounds," said Mr Grayson, a fierce critic of the US wars in Iraq and Afghanistan. "We should never accept that children and loved ones are acceptable collateral damage." Was there any other human activity, he asked "where 10 to 30 per cent of the dead are innocent?"
During the 90-minute session, half a dozen other Democrats also spoke, including 48-year Congressional veteran John Conyers of Michigan, who demanded a full investigation, as well as compensation for the drones' innocent victims.
Mr Rehman testified that he too had received nothing. "No one ever asked us who was killed or injured that day. Not the United States or my own government. Nobody has come to investigate, nor has anyone been held accountable. Quite simply, nobody seems to care."
He was asking merely that Americans treat Pakistanis as equals – "to make sure your government gives us the same status of a human with basic rights as they do their own citizens. We do not kill our cattle the way US is killing humans in Waziristan with drones." The indiscriminate killing, he declared, must end, and justice delivered to those who have suffered.
"As a teacher, how do I teach something like this, how do I explain to my classes something I don't understand?" Before, Mr Rehman said, there had been no one in the community who wished harm on the Americans. Now he was being urged to be angry with Americans and to hate them.
The most poignant tesimony came from Zubair, 12 at the time, who witnessed his grandmother die on what should have been the joyous Islamic festival of Eid, marking the end of the Ramadan period of fasting.
"After we finished out chores, we could start to celebrate, my grandmother said. We could see the drone hovering overhead, but I wasn't worried. We weren't terrorists. Then the ground opened up. We ran, but the drone fired again. I was in agony, I was operated on the next morning. That's how I spent Eid."
"Now I prefer cloudy days when the drones don't fly. When the sky brightens and becomes blue, the drones return and so does the fear. Children don't play so often now, and have stopped going to school. Education isn't possible as long as the drones circle overhead."
Join our new commenting forum
Join thought-provoking conversations, follow other Independent readers and see their replies