Protesters injured after police clashes over Paraguay's Covid response
Protests boil over as hundreds of people descend on capital's historic centre to demand president's resignation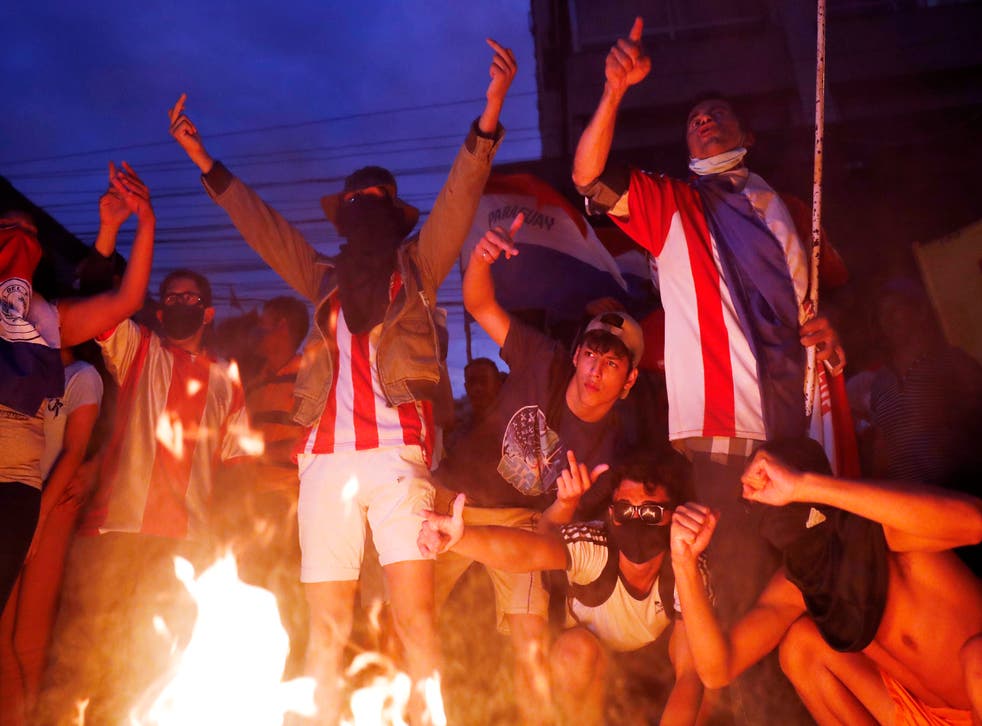 Around 20 people were injured when police fired rubber bullets and tear gas as protests over the Paraguayan government's handling of Covid turned violent.
Hundreds of rioters, mainly young people, took to the streets of the capital, Asuncion, on Friday amid growing outrage that coronavirus infections had hit record levels and hospitals verged on collapse throughout the South American nation.
Protesters lit flares, threw rocks at police, broke down security barriers and started fires in the streets as violent clashes turned the area around Asuncion's Congress building into a makeshift battlefield on Friday night.
Protesters called for the resignation of the country's president, Mario Abdo Benitez. As many as 20 people were injured, reported AFP, including a policeman.
The rally began earlier in the day and many of those in attendance were waving the flag of Paraguay in the capital's historic centre.
Interior Minister Arnaldo Giuzzio told the Telefuturo television channel: "It is a pity that young people have taken this too far. They are people who seek only to destroy. This violence does not make sense."
Paraguay is currently seeing a record numbers of daily cases, according to the Reuters news agency, with 115 infections per 100,000 people reported in the past seven days.
It has vaccinated less than 0.1 per cent of its population, the data shows.
Earlier in the day, the country's health minister, Julio Mazzoleni resigned, following increasing anger from lawmakers, including some from his own party, over the slow rollout of vaccines.
Informe #COVID19 l 5 de marzo:

📍Procesamos 3.814 muestras, 1.501 positivos, todos casos comunitarios.

📍Lamentamos informar 22 fallecidos. Total: 3.278.

📍1.187 internados, 294 en UTI.

📍1.015 recuperados, sumando así 138.383.

📍Total de confirmados: 165.811. pic.twitter.com/j3KdbIKyu0

— Ministerio de Salud (@msaludpy) March 6, 2021
Mr Mazzoleni initially rejected the Senate's non-binding declaration asking him to leave, but stepped down hours later following a meeting with President Abdo.
Dr Julio Borba, a vice minister, was appointed as Mr Mazzoleni's replacement, telling reporters he would start tracking down medicine and supplies immediately.
"We are in a critical situation," health ministry spokesman Hernan Martinez told AFP. "Let's avoid crowds. It is the only thing that can save us from the collapse of healthcare."
As of Friday, Paraguay had 165,811 Covid cases and 3,278 deaths.
Register for free to continue reading
Registration is a free and easy way to support our truly independent journalism
By registering, you will also enjoy limited access to Premium articles, exclusive newsletters, commenting, and virtual events with our leading journalists
Already have an account? sign in
Register for free to continue reading
Registration is a free and easy way to support our truly independent journalism
By registering, you will also enjoy limited access to Premium articles, exclusive newsletters, commenting, and virtual events with our leading journalists
Already have an account? sign in
Join our new commenting forum
Join thought-provoking conversations, follow other Independent readers and see their replies