Paramedic posts powerful image revealing the bloody reality of shootings in America
Warning: Graphic content. Frustrated paramedic posts image following spate of shootings in US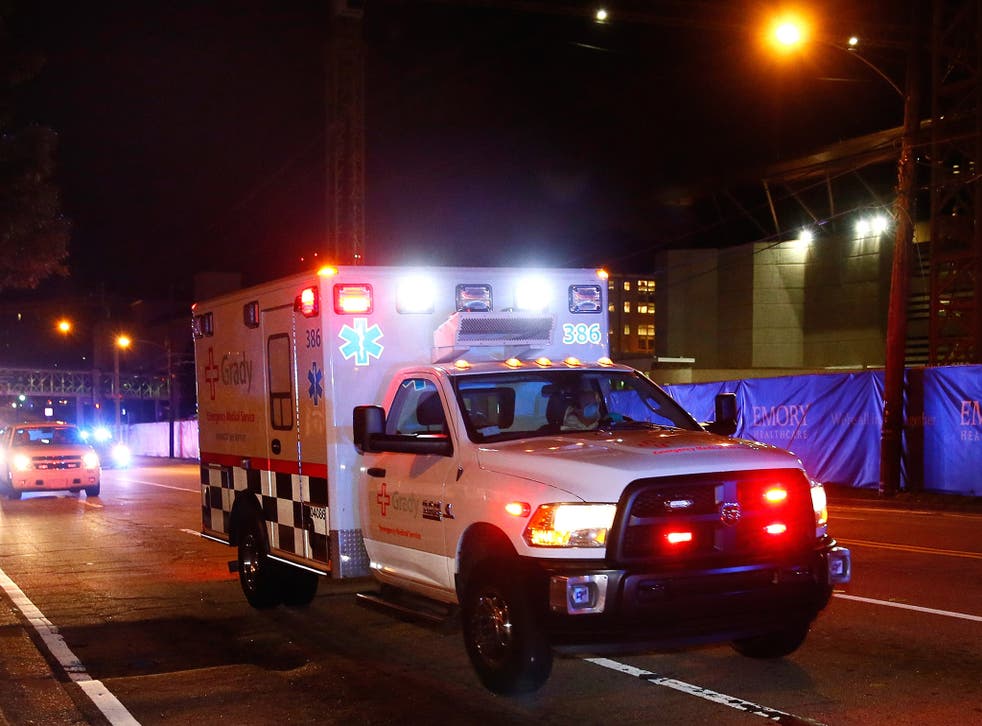 A paramedic has responded to the recent wave of shootings in the US by posting an image showing the grim reality of gun violence, saying "it stuns me that it's so easy for humans ... to say someone deserves death".
The post followed shootings in Dallas which left five police dead and seven injured, and separate incidents in Louisiana and Minnesota in which two black men were shot dead by police.
The paramedic, who referred to "the events of the past few days", posted on blog site Imgur an image of a blood-covered ambulance floor.
"I'm ashamed of some of you people," they wrote.
"It stuns me that it's so easy for humans to be so willing to say someone deserves death.
"We are tired of going to work. We are tired of being called to an apartment at four in the morning to someone who has been shot six times over piddly s***.
"What's even more tiring is when we sit there and do everything we can to try and give this person another go at life, but we watch life actually leave this person and he ceases to exist.
"We are tired of having to tell families that we did everything we possibly could have (and the entire time knowing that, telling them this, it doesn't change a thing) but their loved one has passed away.
"We are tired of hearing children crying because they're afraid of losing their parent.
"We are tired of going to funerals for people we know and have become friends with, who lost their life doing their job.
"We are tired of seeing everyday people lose their loved ones because of some kind of violence that is solely because one street doesn't like another.
"We are tired of seeing violence in the street because everyday we know someone else is going to lose their life over meaningless 'turf'.
"We are tired of seeing how drugs can destroy a family, a neighbourhood, and even an entire city.
"But no matter how tired we get, we still wake up. We get dressed and we walk out the front door.
"We get on our trucks and we sit next to a person who is probably equally as tired as the rest of us.
"We don't do it for the money because believe me, we don't make a lot. We wake up every day because, if it was our parents or children out there dying, we would want someone there to help us.
"We know that we are seeing you on the worst day of your life.
"We know that you are in the most pain you've ever been in.
"We know what it's like to lose people, because we do it more often than you do.
"We have held the hand of people as they take their last breath.
"We have been the last kind face countless people have ever seen. We have held crying mothers, fathers, and children."
Police officers killed by sniper at protests in Dallas

Show all 20
They continued: "We have sat late at night wondering what we did wrong, and how we could have been better. But we climb on a truck every day.
"We give up holidays with our families to be with yours. Because you need us.
"We might bitch and moan about having to be up in the wee hours of the morning. But the truth is, we wouldn't do anything else."
Register for free to continue reading
Registration is a free and easy way to support our truly independent journalism
By registering, you will also enjoy limited access to Premium articles, exclusive newsletters, commenting, and virtual events with our leading journalists
Already have an account? sign in
Register for free to continue reading
Registration is a free and easy way to support our truly independent journalism
By registering, you will also enjoy limited access to Premium articles, exclusive newsletters, commenting, and virtual events with our leading journalists
Already have an account? sign in
Join our new commenting forum
Join thought-provoking conversations, follow other Independent readers and see their replies