Rachel Dolezal: American civil rights group president's parents say she is not black and was born white
Rachel Dolezal also worked as a part-time professor at Eastern Washington University as a quarterley professor in Africana Studies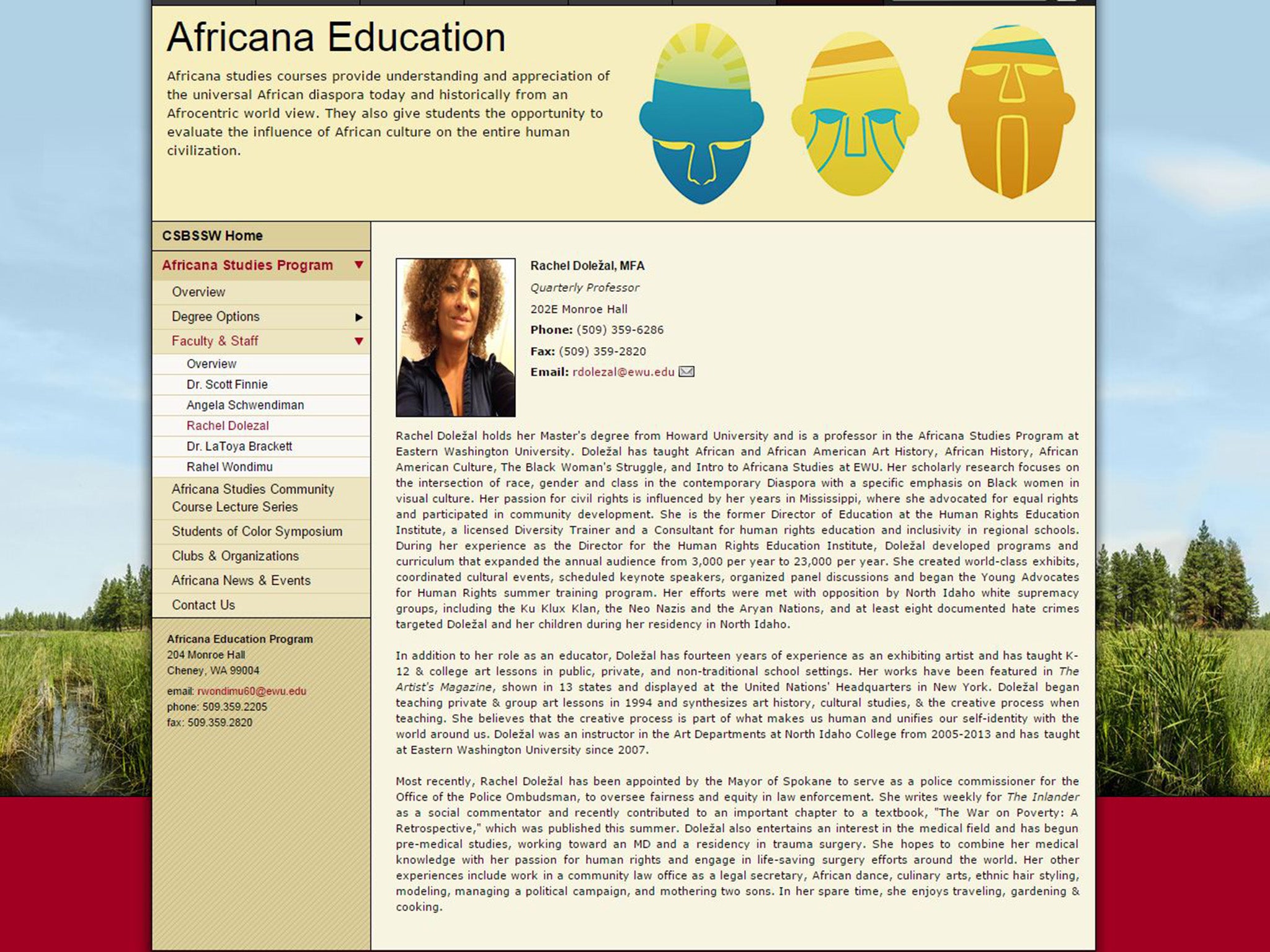 A local National Association for the Advancement of Coloured People (NAACP) leader has been outed by her parents for being white.
Rachel Dolezal, Spokane's NAACP Chapter President and a part-time Africana Studies professor at a Eastern Washington University, had been misleading people for years, according to her parents.
Ms Dolezal's parents claimed that she had been passing herself off as an ethnic minority and was in fact born Caucasian. Her brother Izalah, who is black, was adopted, the parents added.
"She's our birth daughter and we're both of European descent. We're puzzled and it's very sad," Larry Dolezal, her father, told Buzzfeed.
According to her mother, Ruthanne, Ms Dolezal began to "disguise herself" in 2006 or 2007.
"It's very sad that Rachel has not just been herself," Mrs Dolezal dolr the Spokesman-Review.
"Her effectiveness in the causes of the African-American community would have been so much more viable, and she would have been more effective if she has just been honest with everybody."
Although her parents are both white, Ms Dolezal had black adopted siblings and grew up in an African American social circle. She later married a black man. Her parents said that after the marriage ended in divorce in 2004, she began to change her appearance.
Ms Dolezal apparently went to considerable lengths to build a new identity. When she announced her father was coming to town for a visit, for instance, she posted on social media a photograph that showed her standing next to an older black man.
Civil rights in the US
Show all 6
She also made herself available to the media as an expert on black issues.
The news has sparked widespread discussion about the motivation for Ms Dolezal's actions and whether she has harmed the causes she sought to promote and defend.
On Thursday the 37-year-old walked out of an interview when asked about the issue.Contacted by the Spokesman-Review newspaper, Ms Dolezal said of her race: "That question is not as easy as it seems. There's a lot of complexities … and I don't know that everyone would understand that."
Later, referring to studies that trace the origins of human life to Africa, she added. "We're all from the African continent."
A statement from Spokane City Hall said Ms Dolezal had listed her ethnicity as a mix of white, black and American Indian, as well as a number of others, in an application to the Office of Police Ombudsman Commission. "We are gathering facts to determine if any city policies related to volunteer boards and commissions have been violated," Mayors David Condon, and the council president, Ben Stuckart, said in a joint statement.
Join our commenting forum
Join thought-provoking conversations, follow other Independent readers and see their replies