Donald Trump's former campaign manager accused of playing part in Ukrainian mass killings
Hacked texts stolen from Paul Manafort's daughters reveal their suspicion of their father's involvement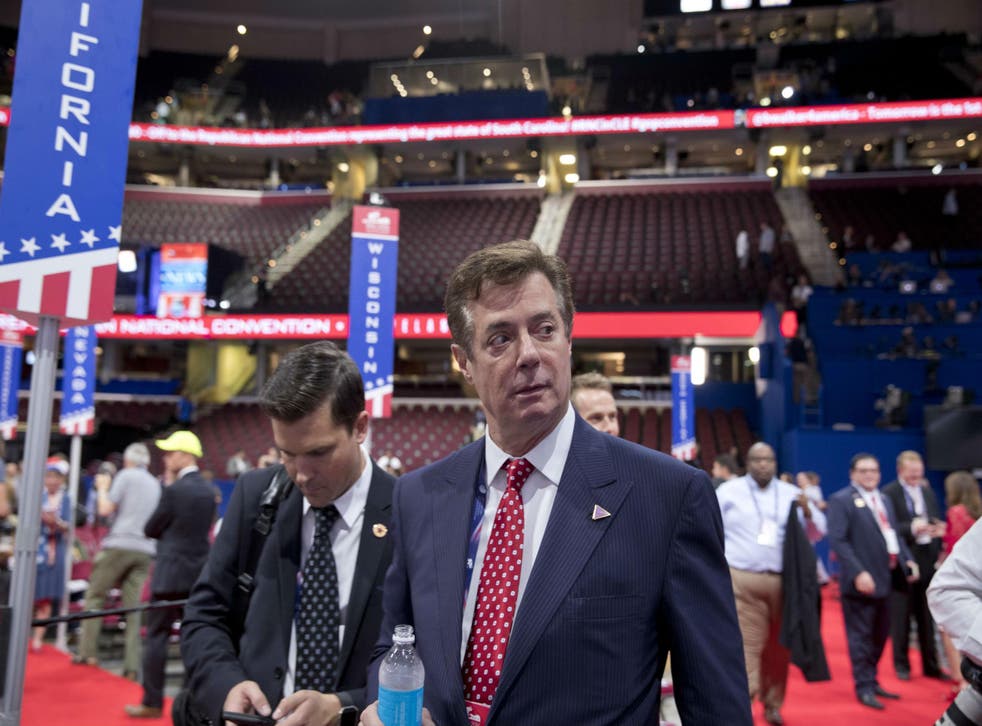 President Trump's former campaign manager has been accused of having a hand in mass killings in Ukraine - by his own daughter.
Paul Manafort resigned from Mr Trump's presidential campaign in August 2016 after it was discovered he may have illegally received $12 million from Ukraine's President Viktor Yanukovych.
Mr Manafort had allegedly been working for Mr Yanukovych since 2004.
The political operative is now under investigation by the FBI, CIA, and National Security Agency amid reports that Russian intelligence may have interfered with the US presidential election.
Last month, Mr Manafort's daughters Andrea, 31, and Jessica, 34, were hacked and several text messages were stolen from them, spanning between October 2012 through September 2016. The texts have been posted to a "darknet" hacker website, according to Politico.
In one text, Andrea Manafort said to her sister, "don't fool yourself, that money we have is blood money."
Ms Manafort may have been referring to her father's alleged role in the February 2014 Kiev police shootings which resulted in the death of approximately 100 people deemed as pro-West protesters.
The incident preceded Mr Yanukovych's escape to Russia by mere days. He has close ties to Russian President Vladimir Putin.
The New York Daily News reports that Andrea said in another text to her sister, "do you know whose strategy that was to cause that, to send those people out and get them slaughtered[?]"
Eugenia Zakrevksa, a lawyer with Brussles-based NGO the International Partnership for Human Rights, represents the victims. She told CNN she hopes Mr Manfort will "clarify the allegations."
A special investigations prosecutor in Ukraine also told CNN the text messages would be examined to verify their veracity.
A text message uncovered in the hack, sent from Mr Manafort to his daughter Andrea, said that he was aware of her sister's email being hacked in late August 2016.
One text, with an attached email, was sent to one of his daughters from a third party. It appeared to ask for Mr Manafort to respond to a mail.ru email account used by Ukrainian MP Serhiy Leshchenko because the latter had damning evidence of Russian ties against Mr Trump and Mr Manafort.
Mr Leschenko has alleged that Mr Manafort had received millions in payments from the Party of Regions, a pro-Russia political party in Ukraine.
Mr Manafort told Politico that he is "preserving all my options on the hacks and blackmail and will be following my lawyer's recommendations."
Another text between the sisters said that Mr Trump and Mr Manafort had "the most dangerous friendship in America."
Join our new commenting forum
Join thought-provoking conversations, follow other Independent readers and see their replies