Pay it forward: Couple leave $100 tip to waiter 'for pretty terrible service'
Makenzie and Steven Schultz say their service at an Iowa restaurant 'sucked'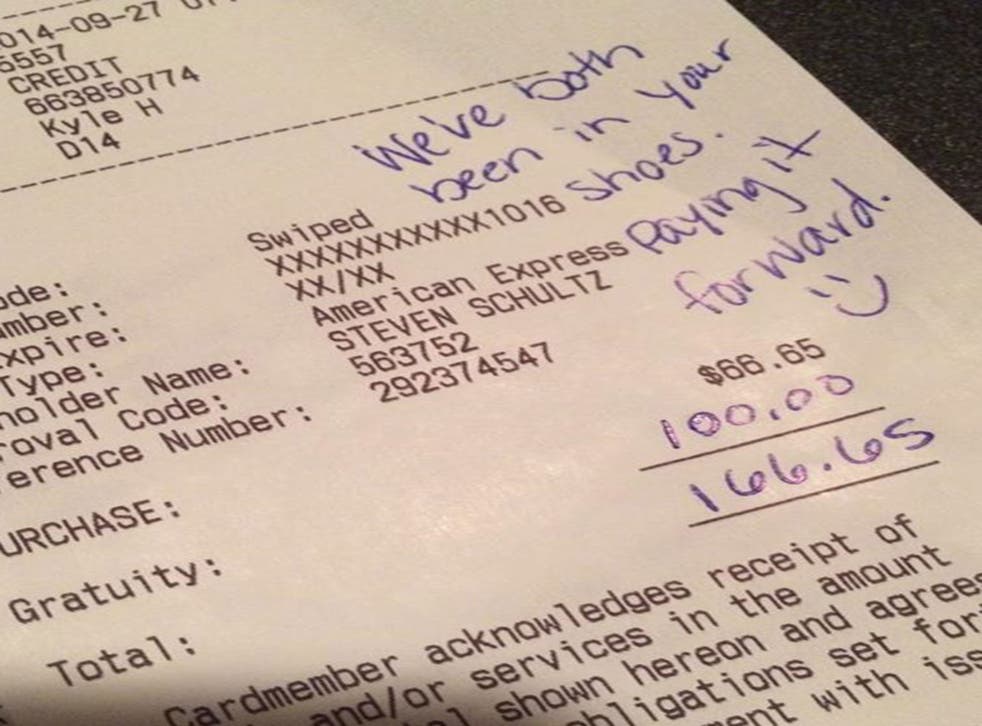 A couple who say they received "pretty terrible" service at a restaurant said they left a $100 (£61) tip to the waiter as their way of paying it forward.
Makenzie Schultz said the service she and her husband Steven received at a restaurant in Cedar Rapids, Iowa, quite simply "sucked". The pair met when they were both waiting tables eight years ago.
The couple, who were out celebrating their sixth wedding anniversary, say they waited 20 minutes for water, 40 minutes for an appetiser and over an hour for their entrée. The waiting throughout the evening was so slow others dining there were also audibly criticising the restaurant.
However, Ms Schultz said it was obvious the place was heavily understaffed and at one point the waiter "was running around like crazy" as he tried to juggle 12 tables and the bar.
Writing on Facebook, Ms Schultz explained both she and her husband waited tables when they were younger, a job they both did "just for the tips". Because of this, they recognised their waiter would probably not have received much in the way of tips that evening.
She wrote: "As I sat there and watched him run back and forth and apologise for the wait, I said to Steven: 'Wow, this used to be us. Waiting tables.' I don't miss it at all and I never loved that job. I did it for the tips.
"Steven and I agreed it would feel good to make this guy's night when he would probably be getting minimal to no tips due to slow service.
"I'm just sharing this as a friendly reminder to think of the entire situation, before you judge. And always always always remember where you came from."
Her post quickly went viral and has been shared over a million times on Facebook.
BuzzFeed has named the restaurant in question as the Kazoku Sushi restaurant and said the manager confirmed his employee was the recipient of the tip.
The manager was quoted as saying the waiter is a good employee and a hard worker and had been caught on a busy day.
Join our new commenting forum
Join thought-provoking conversations, follow other Independent readers and see their replies