'Penis' sky drawings in Arizona were 'accidental', Air Force says
Intentional or not, this week's skywriting is just the latest entry into the canon of American military planes tracing out penises in the sky
Clark Mindock
New York Comments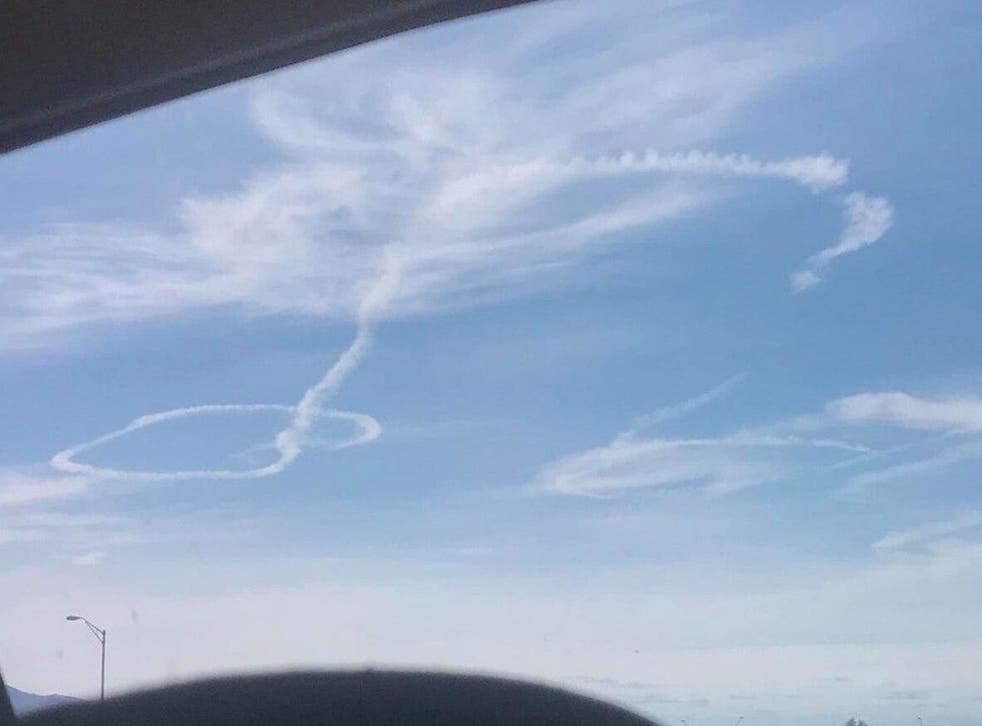 Americans have once again gazed up at the sky only to see a contrail drawing resembling male genitalia — but this time the Air Force says it was an accident.
Air Force officials say that an apparent drawing of a penis in the sky in Arizona was actually just the unfortunate result of two F-35 fighter jets performing normal flight manoeuvres.
"We've seen the photos that have been circulating online from Tuesday afternoon," a spokesperson for Luke Air Force Base said in an email.
"56th Fighter Wing senior leadership reviewed the training tapes from the flight and confirmed that F-35s conducting standard fighter training manoeuvres Tuesday afternoon in the Gladden and Bagdad military operating airspace resulted in the creation of the contrails," the statement continued. "There was no nefarious or inappropriate behaviour during the training flight."
Intentional or not, the skywriting is just the latest entry into the canon of American military planes tracing out penises in the sky.
World news in pictures

Show all 50
In October, for example, a Navy aircraft was noticed tracing out a penis shape above the ancient salt deposits of the Salton Sea.
The Navy at that time recognised that the flight pattern was irregular, and indicated further investigations were ongoing.
Support free-thinking journalism and attend Independent events
Nearly two years ago, two Navy pilots likewise drew a penis in the sky over Washington State, leading to disciplinary measures for those individuals.
Register for free to continue reading
Registration is a free and easy way to support our truly independent journalism
By registering, you will also enjoy limited access to Premium articles, exclusive newsletters, commenting, and virtual events with our leading journalists
Already have an account? sign in
Join our new commenting forum
Join thought-provoking conversations, follow other Independent readers and see their replies